Freshman Varsity athlete Nastia Belova masters tennis and dance
At only 11 years old at the 24 Seven Dance Convention and Competition, Natia Belova danced against hundreds of other dancers in a prestigious audition. Later that weekend, she found herself standing on the big stage, looking over the vast room of dancers and receiving her first scholarship for dance intensives and new competitions. 
Now a freshman, Belova continues her dance journey. She has exposed herself to new styles of dance and learned from the best of the best in dance intensives in places like Interlochen for a summer program (which she plans to attend again for Summer 2022). Her long-term dedication to her passion has landed her an important role in the PDT (Prelude Dance Theatre) Senior Company at Lake Forest Dance Academy.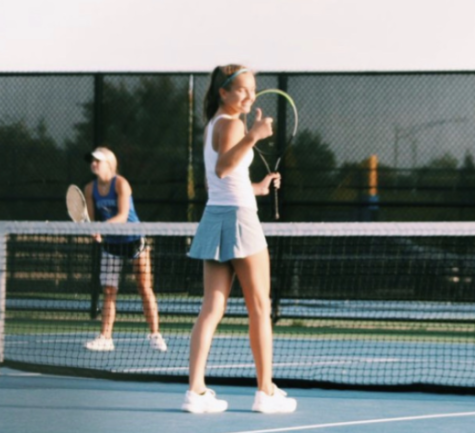 Her drive for dance is also seen in her life of tennis. Ever since Belova can remember, tennis was a sport that her family loved to play. It brought them together and was a fun activity. As Belova grew older, she realized that she had a talent for it. Her fast movements and swift swing helped her land a spot on Varsity Tennis in the fall of 2021 as a Freshman.
Tennis and dance have always been her sports of choice, and she has consistently made sacrifices for her love of these activities. Her social life was sacrificed as a kid, going from tennis to dance almost every day.
Being a freshman, high school can be a challenging transition to learn how to balance school and other activities in a totally new setting. However, Nastia has found comfort in the fact that other freshmen share her experience.
"I feel like it was stressful at first, but everyone's going through the same thing, so it wasn't too bad," Belova said.
On top of studying for up to two hours every night and attending long and late dance rehearsals. Belova challenges herself academically. She takes classes like PSGH (Plane and Solid Geometry Honors), Chemistry Honors, and AP Computer Science, which are typically advanced classes for sophomores and upperclassmen.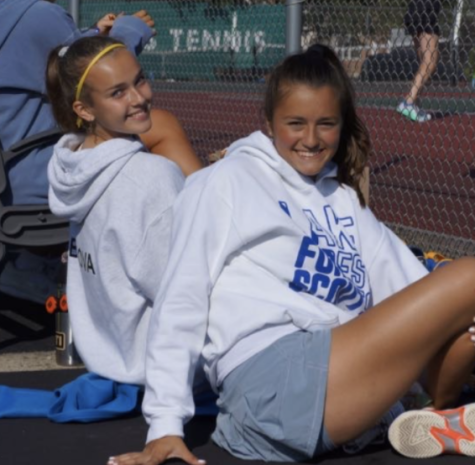 "My favorite class is probably AP Computer Science because math is one of my best subjects, and CompSci has a lot of math," Belova said.
Belova has played tennis for around seven years now. During the tennis season, the long practices, carpools to matches, and a sense of teamwork gave her strong bonds with her teammates that she is forever grateful for. 
Belova felt like the tennis season made going into high school a lot easier. However, tennis was stressful at first due to the demands of being a Freshman on varsity.
"I feel like there was a good amount of pressure from the coach, but they were also super supportive. It wasn't bad pressure, but it was just challenging me to play better," Belova said.
Besides the pressure, Belova said tennis was always very enjoyable for her.
"It was really fun. I felt like I was being challenged by people that were older than me, and they all kind of felt like older sisters," Belova said.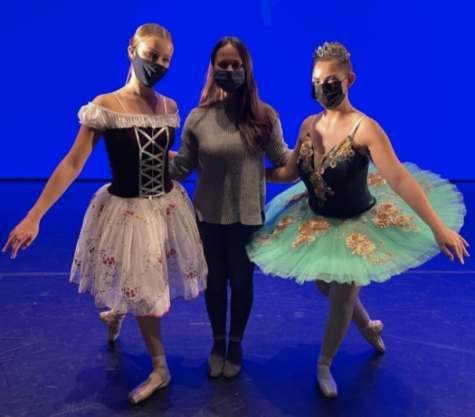 Her environment was very supportive, and she grew not just as an athlete but as a teammate and student during the tennis season. Although the official Varsity Tennis season is over, tennis is a year-round commitment for Belova. She practices almost every day to keep her maintain her skills for the following Varsity Tennis season. 
"Nastia is such a great teammate and friend. She's one of those people who puts in 110% always but still knows how to keep things fun," dance teammate Sheila Falls said. "I truly don't know how she can balance tennis and dance but it doesn't surprise me; she's one of the most dedicated and talented people I know."
On top of playing tennis for six hours a week, she is in the dance studio for over 10 hours a week. Following her long tennis matches or practices every day, Belova heads right to dance at Lake Forest Dance Academy.
"It was pretty stressful to balance both dance and tennis at first, but I feel like I managed it pretty well," Belova said.
Belova has dancded for around six years and has worked throughout the dance season to perfect her routines.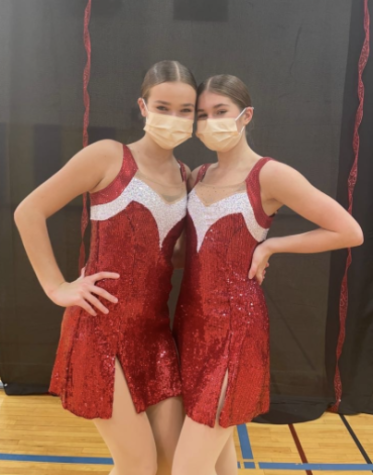 This past weekend, Belova attended KAR (Kids Artistic Revue), a nationally ranked dance competition and convention. She ended the competition successfully, placing 1st overall in the Teen Intermediate category. Earlier this month, she attended YAGP (Youth American Grand Prix). Youth America Grand Prix is the world's largest international student ballet competition. 
"I'm really happy with how the competitions went. It is always so much fun to be back on stage again," she said. 
Belova, a tremendous asset to her Senior company at Lake Forest Dance Academy, excels in about every style that dance has to offer. From ballet and pointe, contemporary and modern dance, to jazz and hip hop, she is not limited to just one genre. 
"Nastia is a great addition to our company. Not only does she dance with great technical skill, but it is empowered by a strong sense of artistry," senior Ellen Cha, a member of PDT Senior Dance Company, said. "She always finds a way to brighten all of our days during class."
Belova hopes to continue dancing and playing tennis for the rest of high school and maybe even after high school. 
"High school is already so fun; I can't wait for what will happen in the future," she said.