College Corner: Sports Commits
In this special edition of College Corner, Kathy Peterson-Ross plans to play soccer and basketball at SUNY Plattsburgh
Sports Commits is a special edition of in-depth interviews with some of our college commits. This week it  is the future of senior Kathy Peterson-Ross in her coming transition from high school to collegiate athlete. 
A little over 7% of high school athletes go on to play a varsity sport in college. Out of the small percentage, an even smaller number go on to play two sports in college. Kathy Peterson-Rossis both a strong basketball and soccer player. She plans to continue to be a double threat on both the court and the field throughout her college career.
Committed to play at SUNY Plattsburgh, a liberal art college in upstate New York, Peterson-Ross prepares to not only attend the school,  but also play both basketball and soccer for the school. She has grown to be part of a larger family within each team and has sustained an impressive career over her four years at Lake Forest. Both a varsity basketball starter and member of the varsity soccer team, Peterson-Ross has connected deeply with both sports. 
Peterson-Ross has a bubbly and uplifting personality that she utilizes to support her teammates on and off the court. As her senior season of Varsity Girls Basketball draws to a close, she is shifting into the start of her soccer season. Often a time of reflection on the past four years, Peterson-Ross gives insight into her start in both of her sports and hopes for the future. 
How long have you been playing soccer and basketball, and why did you start playing?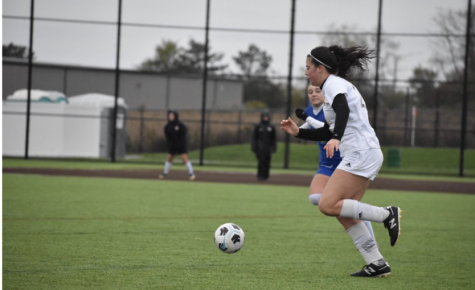 "I started playing basketball when I was in fourth grade. I started on the rec center team with Tricia and  Rachel, the two varsity basketball players."
"I saw my brother playing basketball, he started playing a couple years before me and I started watching him during one of the practices. I realized that I wanted to do that too. A couple of years ago, when I first went to high school, I think I started to realize that I actually loved the sport too."
What is your favorite memory of your high school career?
"I just love being around all of the girls and just making friends, really the whole atmosphere of the basketball [team]. Also when we beat Stevenson in Regionals two years ago."
Do you have any goals going into your college career?
"I just really want to play well. I'm dreaming big and want you to do well in conference and go far in the playoffs."
What is your biggest fear about the transition?
"The people. I've seen the college, I've met the coaches, I know the sport but the thing is I don't know who I'm going to be playing with. I know it's probably going to turn out really well, it's always a little nerve wracking going in."
Do you have an intended major or area of study for college?
"It goes back and forth a lot, right now I'm thinking about Environmental science, and I want to get a law degree."
What drew you to SUNY Plattsburgh and pushed you to commit?
"I first reached out to Plattsburgh because my dad actually went to school there, he's an alum. I ended up  really liking the coach and then I found out on my visit there that they had a really good Environmental Science program, which I'm interested in right now. The stars kind of aligned and it just has everything I wanted academically. I really like the coach, I like the campus."
Who is your biggest role model?
"My dad, honestly, he shoots with me everyday and he rebounds for me and creates new moves for me to use and is really encouraging. He's really into basketball and watches film of my games and the other teams and likes to give me advice."
Do you have any rituals or special preparations for games?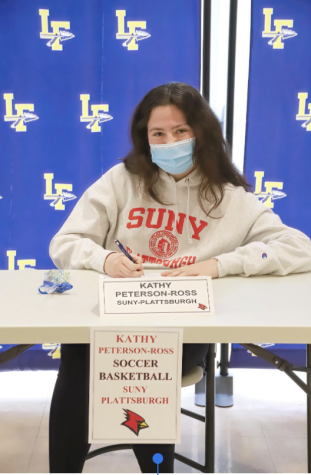 "On the bus rides before the games or before we start warming up, I really like to listen to sad music, like the classics. It feels like it gets you in the zone."
Peterson-Ross attended the winter signing day on February 2, officially committing to Plattsburgh and taking another step towards her athletic career.