Inside Intramural: Final Power Rankings and Playoffs Preview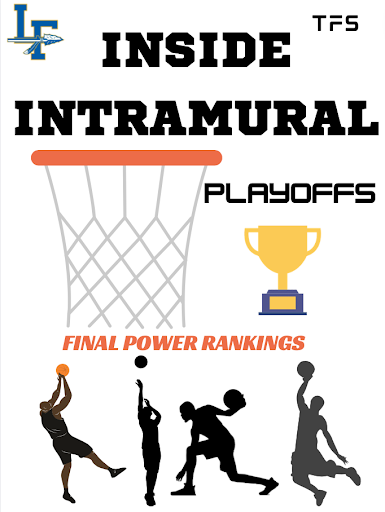 After seven weeks of some great and some not-so-great basketball, the Intramural season is coming to a close.  Unlike previous years, the playoff bracket will include all teams. This grand finale is sure to produce some moments of magic, and with the two final teams having to play 4 games in a row, the added fatigue will no doubt add to the excitement of the final. 
Throughout the season, we have been ranking the 22 men's teams and 6 women's teams based on record, team talent, and other variables. However, as best stated by NBA great Russell Westbrook, "You get in the playoffs, it's 0-0." 
So here we present to you our final rankings of this year's participating teams, records omitted. 
Our Final Rankings:
Boys Pool:
No friends in the industry 

Loveshaqs

Heezy Bop 

Shake and Bake 

Vatican City

Victorious secret 

Shanghai Shootaz 

Bug eaters 

Bricklayers 

Garrigan State 

Vanilla Long Johns 

Cream Team 

Gryffindors

Team Coht 

Swan wranglers 

Puck Bandits 

Handlers 

Team Halo 

Curry Crusaders

Dabois 

Tropic Thunder 

Youngbloods
Girls Pool:
Snoop Dawgs
Patty's Daddies
Chicken Noodle Hoops
Airball Grabbers
Tommy's Tots
Ballerz
Tommy's Tots Vs. Airball Grabbers  (Winner Plays SnoopDawgs)
Chicken Noodle Hoops Vs Ballerz  (Winner plays Patty's Daddies)
The final will be played between the winners of the two Semi-Finals @1:30 in the Competition Gym.
The official bracket was based solely on record, and this is the result of this year's regular season:

Boys Pool MVP: Aaron Kurian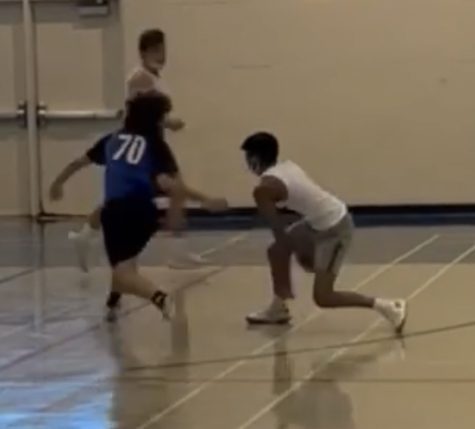 Aaron did it all for "No Friends" this year. He showed how unguardable he is when on his game, as well as his ability to improve the play of those around him. He performed in big games down the stretch against the likes of the Heezy Bops and Love Shaqs, taking them both down with relative ease. 
Coming into the season, he was an MVP favorite, and he has proved his merit. Regardless of his team's result in the playoffs, there is no player in the boys' pool more deserving of the Most Valuable Player award than Kurian.
The girl's pool MVP will be announced following results of the playoffs due to how close the race is.
The season is far from over as this Sunday we will have a wild 25 game win or go home finale. Many people have put their money on No Friends, but it is not a done deal yet. They are clearly the hottest, most star studded team, but anything can happen on a Sunday in February. 
The Love Shaqs and Heezy Bops both hope that they will throw a wrench in this perfect season and take the title. For the Love Shaqs, they will need to shoot lights out and contain Aaron and Mac on defense. 
"Jobs not finished, we gotta keep the same approach we have all year, take it one day at a time. Any game could be our last so we have to enjoy the moment," Loveshaq's head coach Louis Novelli said. 
The Heezy Bops are in a similar situation: they will need Kai Popov to get hot early and stay hot.
"Since the playoffs is a four game, one day tourney, I like our chances even more. Our team consists of some of the most physically fit players in the school," Heezy Bop's head coach Sam Gibson said. 
These two are definitely major frontrunners, but we cannot count out Shake and Bake and Vatican City. S&B star Patrick Lindemann has been in these big moments before and came out on top. 
"After another season of 25 point games and ejections I have finally reached championship Sunday. We are looking for a deep run and I'm ready to put it all on the line," Lindemann said. 
Vatican City will need to play incredible to make a run for it, but we have seen crazier things happen. 
"Vatican City might be a big underdog but I think if our defense is locked in and the offense is flowing, we are a team that nobody wants to play against," Vatican City star Anthony Fiordaliso said.
In what could quite possibly be both the most exciting and least exciting game in basketball, the girls championship is really anyone's game given the unexpected nature that the girls' pool has seen all season. However, Patty's Daddies and the SnoopDawgs look to be the favorites for the title. 
"We are planning on tightening our defense and working on our shots to make sure we have a strong force on both ends of the court," Patty's Daddies head coach Tricia Gray said. 
Our other girl's pool favorite is the SnoopDawgs, who have remained on top of the standings for the past 4 weeks.
"Our plan is to defend our undefeated streak and leave the gym wearing some new T-shirts," SnoopDawgs star Sydney Schafer said.
Good Luck to all teams this weekend, let's keep it relatively clean and have some fun.