Preview of the Boys Basketball Senior Night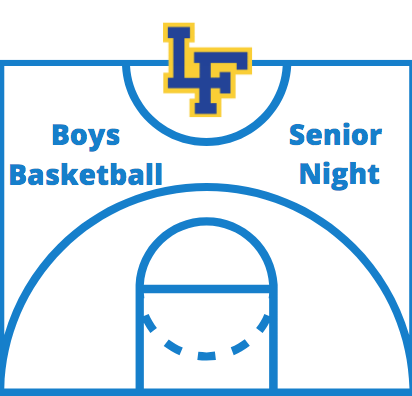 Boys Varsity Basketball has had an eventful and successful season in the past few months, and as the end of winter sports approaches, annual senior recognition nights are held. Senior night is a beloved tradition that highlights the hard work that the seniors have given to their sport over the years, and recognizes how much time and energy they have spent giving their all to LFHS athletics.
The team has had a very impressive track record this season, so far they have gone 21-6 in their three month season most recently beating Mundelein 52-32.
The team consists of 19 athletes, nine of them being seniors. They will be recognizing Sam Gibson, Tommy McCarthy, Louis Novelli, Johnny Theodore, Alex Forowycz, Connor Duncan, Cade Nowik, Aaron Kurian, and Jonmarc Ranallo.
Starting shooting guard Alex Forowycz is thankful that his senior year has turned out so well after all the unpredictability COVID brought. Forowycz has been playing since he was 8 years old and basketball has always been a major part of his life.
"This season has been great for all of the seniors. Being able to play tough competition throughout the season only makes our team better and more prepared… I'm also very grateful to have a somewhat normal senior season compared to the past couple years," Forowycz said.
Last year, the varsity basketball team had a shortened season and weren't able to compete in the playoffs, so naturally many of the senior athletes are thankful that they have the opportunity to cap off their final season at the high school with semi-normal playing conditions. The athletes don't have to wear masks during their practices or games.  
Senior Johnny Theodore said how happy he is about how his team has performed so far this season, and also about how the team dynamic has made this year memorable for him. 
"This season has been awesome. This is by far the best basketball team I've ever been on, and most fun. I couldn't ask for a better senior season with any better people… I'm going to miss playing basketball, but for now I'm just happy to spend these days with my teammates winning games," Theodore said.
The varsity boys basketball games are some of the most attended by students, and the support the student body has shown this team throughout their season has been overwhelming. These athletes have given their all to each game and have been representing the Scouts in the best way possible through their work ethic and talent. Senior night ceremonies will be held on Saturday beginning at 4:20 pm. Then at 5 p.m., they'll be going head to head against Lake Forest Academy in the competition gym.