Lake Forest Native's Teaching Journey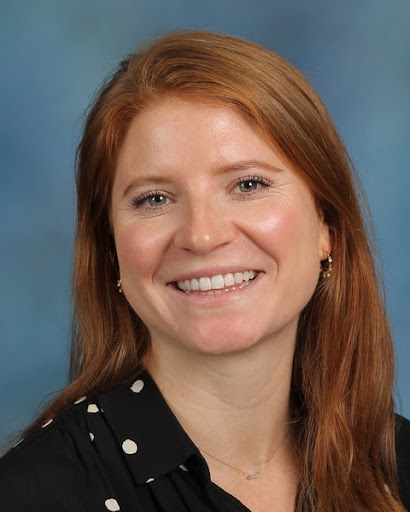 English teacher and Varsity soccer coach Mrs. Meaghan Cook gave birth to her son almost a year ago and is currently pregnant with her second child. Juggling work and the demands of being a new mom must be difficult, but ask anyone, and they'll tell you that Mrs. Cook seems to balance it all, and her cheerfulness makes her a favorite among students.
Mrs. Cook attended LFHS as a student during her high school years, and it's safe to say she really enjoyed her experience. After high school, she attended Santa Clara University in California, and majored in English, while also completing an urban education minor. Initially, when starting college, she had no interest in teaching whatsoever. 
"I went off to college really thinking I was going to get into nursing," Cook said. "I was not thinking I was going to get into teaching at all, actually. It wasn't even remotely on my radar." 
However, Mrs. Cook's love for English, combined with the encouragement from a mentor, began to spark an interest in teaching, and eventually, she returned to her hometown for the 2014-2015 school year. 
"I realized that English was always something that I loved, and I had great English teachers when I was a student at Lake Forest High School. So, then, that kind of sparked something in me," she said. "I think I truly loved my time as a student here at LFHS, and I wanted to be able to come back and give back to my community and be in a place that I felt like I could reach students in a way that maybe other teachers couldn't."
Mrs. Cook is adored by many of her students. She has a way of making her classroom environment relaxing and comfortable, while also challenging her students to dig deep into their work. Her wit and cleverness keep students energized and engaged, and her unique fashion sense emphasizes her sophisticated charm. 
"My classmates and I truly love her class because you can tell how much she cares about her students," said junior Maeve Bradley. "No one is ever scared to share which shows what a friendly environment she has created."
Mrs. Cook is also the assistant coach for the Girls Varsity soccer team at LFHS. Her first season as a coach was in 2015, the same year the team won the State Championship. 
Like everyone, Mrs. Cook has experienced the challenges of teaching during COVID, but what makes her experience even more unique is that she has been pregnant with both of her children during the pandemic, and this hasn't been easy. 
"I was in a state of fear and unknown, and didn't really know what to do or what to expect," Cook said. "This time around, there are more answers and clarifications, and I could be vaccinated during this pregnancy versus the other one."
Wearing a mask at school while pregnant also hasn't been easy, but Mrs. Cook has shown incredible dedication by remaining in the building to teach, while at the same time, being mindful of her health and the health of her unborn baby. 
"The longer I go into my pregnancy, just wearing a mask and breathing is not ideal," she said. "But I think I'm just so used to it now I don't even think about it."
Perhaps most importantly, Mrs. Cook says that the journey of becoming a mom has reinforced the importance of family. 
Prior to the birth of her son, Mrs. Cook would always prioritize her job over everything. Now, however, "I always prioritize my family," she said. "As a mom, and soon a mom of two, my family is my first priority. I make sure to put my time with them first, and then school and teaching as a close second."