Optimism at Halas Hall
On January 10th, the Bears finally did the inevitable. The reign of Matt Nagy and Ryan Pace is no more as the McCaskey family fired the pair after seven years of work from Pace and four from Nagy.
A rollercoaster of emotions throughout those four years as the Bears finished with a 34-32 record, one NFC North Championship, and two playoff appearances. 
This may sound promising, but the digression from the amazing 2018 season to the disastrous 2021 campaign, fraudulent playbooks, questionable draft picks, and lack of discipline led the Bears Organization to move on to bigger and better things. 
General Manager Ryan Poles
This new future began last Tuesday as the Bears officially hired Chiefs Assistant Director of Player Personnel Ryan Poles to become their new general manager.
Poles joined the Chiefs at the age of 24 as a player personnel assistant in 2009 and began to work his way through the ranks. After only one year, he was promoted to College Scouting Coordinator. In those years, he helped with the recruiting process of players like Travis Kelce and Tyreek Hill. 
In 2016, Poles was promoted to Director of College Scouting. This meant that he entirely led the scouting on Patrick Mahomes who was a controversial pick at number 10 but has clearly shown to be the best pick out of the 2017 draft and arguably the best pick in Chiefs franchise history.
Believe it or not, Poles was also a former Bear before he began his scouting career. He was an undrafted Offensive Lineman. This means that the offensive line will be one of his main focuses. Even though his time here as a player was short, we hope that his time here as general manager is as long as possible.
Something that stood out to many Bears fans was that Poles' one condition on joining the team was that he was going to be the one who chose the head coach. This was a very important step because team president Ted Phillips and Chairman George McCaskey in years previous were heavily involved in all hirings of coaches. This was also the same chairman who himself claimed that he was not a football guy but rather a "fan" which led many Bears fans into misery.
Although Poles has yet to establish himself as a General Manager, there is a lot of optimism and trust among the bears community in him. He has proven to have the ability to be one of the better GM's in the league so it is only a matter of time before he shows it. 
I love this hire because it takes a lot of responsibility off of George McCaskey and Ted Phillips who have proven to be unreliable year in and year out. Not to mention the impact that Poles had on the Chiefs up and coming dynasty, there is not much you can really hate about the guy.
Ryan Poles Hire: A- 
Head Coach Matt Eberflus
Immediately after settling into his new position, Poles got to work completing interviews with the three "finalists" head coaches that the Bears narrowed their list down to in Jim Caldwell, Matt Eberflus, and Dan Quinn. They ultimately chose Colts defensive coordinator Matt Eberflus to lead the charge.
Eberflus, 51, has had 30 years of experience in football–13 in the NFL and 17 in college–and has spent the last four years as the defensive coordinator in Indianapolis.
Many Bears fans were outraged that the team decided to elect a defensive coach as our head coach because of how atrocious our offense has been the past couple years, but the team did a total wipe of the front office, meaning that it was an entirely new clean slate with a new offensive coordinator, defensive coordinator, and more. This means that they can focus on a solid offensive coordinator to call plays and truly run that offense rather than struggling to find an outstanding "offensive guru."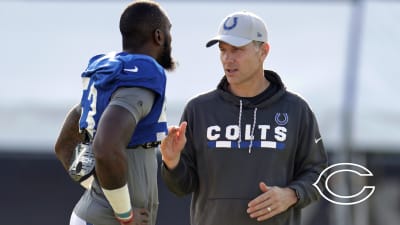 And as for Eberflus, there is no doubt he can coach. He explained a story about how every new team he comes to, he explains that his camp will be the hardest thing the players will ever do: "When I come back to you after one year, what I said to you about it being the hardest thing you'll ever do, was it true? And every player that I have ever said that to has said 'coach, you weren't lying!'" 
Eberflus' leadership and tough coaching may lead this outstanding defense back to its 2018 roots. 
When Eberflus became the defensive coordinator for the Colts in 2017, their defense was ranked 30th out of 32 in both scoring against and yards allowed with a 4-12 record overall. After one year as DC, he improved not only the points against to 10th and yards allowed to 11th, but the teams overall record to 10-6. His unit also did not let up a single 100 yard rusher that year despite facing five of the top 10 rushing leaders.
Although his success at defensive coordinator was immense, he decided that he will not call defensive plays and leave that to whoever the new defensive coordinator is so he can focus on being a true head coach. This was appreciated by the front office of the Bears.
"I couldn't be more excited to have Matt become the next head coach of the Chicago Bears," Poles said. "His experience, passion, character and attention to detail made him the right man for both the job and the culture we intend to establish here at Halas Hall. Throughout the search, Matt impressed me when detailing his vision and plan for our team. We look forward to getting to work and assembling a top-notch staff and roster that will help us consistently compete for championships."
This plan for the team that Poles highlighted was centered around 2021 first round draft pick Justin Fields: "Building the offense around him and his strengths," Eberflus said, via ESPN. "What does that look like? I don't know right now. We have to look at him. We have to evaluate him. We have to see where his skill set is. And then see his camera. How does he see the game? How fast does he process? How fast does he do things and how can we stretch him as we go?"
This sounds like someone who is committed to the pieces given to him rather than ignoring the talent in front of him, something Bears fans are not used to.
Similar to Poles, though, Eberflus has never been a head coach in his career. All the optimism is there from Bears fans in him, but some may be scarred from past Bear head coaches and inexperience at the head coaching position.
When Eberflus was first hired, I was not very ecstatic, especially with other offensive options available like Brian Daboll or Byron Leftwich. But as time passed, I realized that offensive head coaches aren't as important as some think and Eberflus is a true gritty head coach who very well has the ability to turn this team around. I also love that he has laid out a game plan for Fields and sees him as the future of this organization.
Matt Eberflus Hire: B+
With Matt and Ryan part two coming into fruition, the Bears hope to turn their hopes into reality and, eventually, end up as championship contenders.