Inside Intramural: Week 4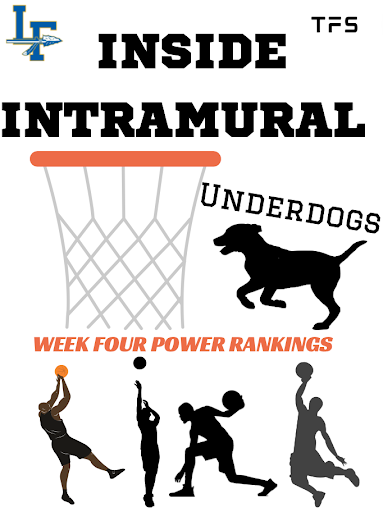 The halfway point of our season is behind us. The quest for a championship is dwelling for some teams and is becoming a reality for others. This week, we saw some teams fall from grace. More excitingly, we saw some teams find their identity and claw themselves out of the bottom of the rankings. This week we look back on Week 4 of the LFIBA.
CP:   ↑     ↓
Power rankings:
Boys: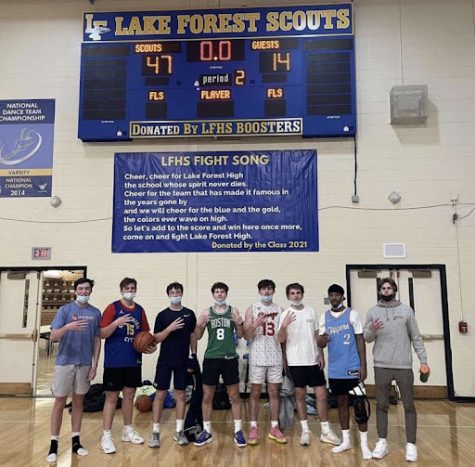 No friends In the Industry (6-0)

–

LoveShaqs (6-0) 

–

Heezy Bop (5-1) 

–
Shake and Bake (6-1) ↑

2

Victorious Secret (4-1-1) 

↓ 1

Vatican City Valedictorians (4-1-1) 

↓ 1

Garrigan St. Antelopes (4-0) –

Vanilla Long Johns (3-3) –

Shanghai Shootaz (2-4) ↑ 6

BrickLayers (2-2-1)

↓ 1

Cream Team(2-3)

↓ 1

Tropic Thunder (2-3)

↑ 1

Puck Bandits (2-3)

↓ 2

Scandinavian Swan Wranglers (2-3)

–

Handlers(1-4)

↓ 3

Gryffindors (2-4) – 

Bug Eaters (1-4)

–

Team Halo (1-4)

 –

Curry Crusaders (1-3-1)

 –

Youngbloods (0-4)

–

Team Coht (0-6) ↑ 1

DaBois (0-4) ↓ 1
      
Girls: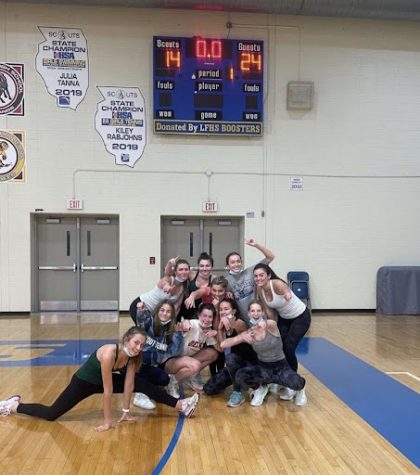 1. Snoop Dawgs (4-0) –

2. Chicken Noodle Hoops (3-1) –
3. Patty's Daddies (2-1) –
4. Ballerz (1-4) ↑ 1
5. Airball grabbers (1-3) ↑ 1
6. Tommy's Tot's (1-3) – ↓ 2
Underrated teams: 
The Garrigan State Antelopes have quietly jumped up to number seven in the rankings after winning once again this week. The team won despite showing up 10 minutes late for the third time. Logan Uihlein, Graham Garrigan, and Murphy Moorhead headline this team and have led them to their success so far. This team certainly has what it takes to upset top teams, they will just need to be firing on all cylinders (and show up on time) in order to do so.
The Bricklayers showed that they can put up lots of points this weekend by putting up 47 on the LoveShaqs. Junior Rocco Caputo was raining in threes and their big man was attacking down low.  Although it wasn't enough to win, it showed us that they can compete. If they want any chance of earning a ring they will need to step it up massively on defense. 
Team Coht has struggled all year, from showing up to getting the ball in the hoop, nothing comes easy for them. With that being said, Coht showed flashes this weekend of what their team can do at full strength. They are led by junior Harry Kotlarz, who needs to be on his game in order for them to win. Coht lost a heartbreaker to a very good Shanghai team without their own twin stars Henry and Fitz. This was enough to pull them from 22nd to 21st in the league. If this team can get the twins back and stay healthy, they have potential to win big games. 
What to watch for:
Cream team(+8.5) v.s. Vatican City 
The Cream team has yet to show us a big win and they're going to be hungry for it this week. Vatican City is still playing well and gets their star back so it should be a good game. 
Scandinavian Swan Wranglers(-1.5) v.s Handlers 
This is a rivalry game between two solid sophomore teams. This game is the future of the league and should include tons of points and physicality. 
Snoop Dawgs (-4.5) v.s. Ballerz 
This is a matchup we saw earlier this year that came down to the last few possessions. We will see if the Ballerz have any upset strategy having already played the Dawgz, or if the Dawgz keep rolling.