2021 Grad Kailey Albus Appears in New HBO Show
It's not often that a person graduates high school and shoots their first television series in the same year. But LFHS alum Kailey Albus has never been one to shy away from a challenge, and after being awarded the class of 2021's "Most Likely to Win an Oscar" senior superlative, the pressure is on.
Albus took one step closer on Jan. 16, appearing in the pilot episode of HBO's new comedy series Somebody Somewhere. 
The show's plot centers around Sam, played by Bridget Everett, a 40-something Kansas native who moves back to her hometown to take care of her sister who is dying of cancer. After her sister's passing, Sam struggles to find purpose and eventually reconnects with her love of singing.
Albus plays Sam's niece, Shannon. She is credited as a recurring guest star for her role.
The pilot was shot in 2019 and given a series order by HBO in 2020. However, the project was delayed due to COVID-19, and Albus "wasn't sure if I would be brought back as a character for the rest of the series because of it."
Despite the delay and the casting adjustments that followed, Albus retained her role and filmed the rest of the first season over this past summer. 
While the series was Albus' first major TV project, the show's cast was rounded out by some industry veterans.
"I could brag about the actors in the cast for hours, but I especially love telling people that Mike Hagerty, who plays my grandpa, was in Friends, Seinfeld, Curb your Enthusiasm, Grey's Anatomy, and a bunch of other shows," Albus said. "He is literally a legend."
But walking onto a set full of professionals wasn't entirely without its own challenges for Albus, who was a junior in high school when the project first began.
"As a seventeen year old, the environment couldn't have been more unfamiliar to me," Albus said.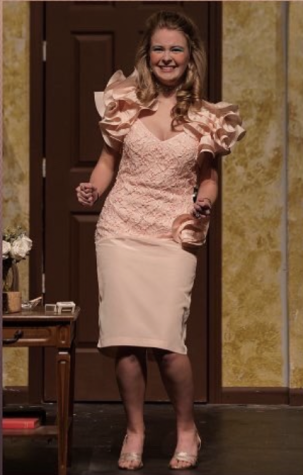 Albus, who began acting at age nine and signed with a talent agency shortly thereafter, is by no means a newcomer to the acting scene. Over her four years at LFHS alone, Albus constructed quite the theater resume, performing in nearly every school production possible while balancing her various professional opportunities.
Still, the fast-paced environment of a professional film set was unlike any of her previous experiences. On her first day on set, "I was so nervous that I was going to be in someone's way, mess up a scene, or somehow inconvenience the people that hired me," Albus said. "I truly didn't know where I belonged in a room of legitimate professionals."
Despite being overwhelmed by both the talent and volume of people on set, "I was pleasantly surprised at their kindness," Albus said. "Nearly every person on set took the time to introduce themselves to me, and that effort made all the difference."
Aside from her first day jitters, Albus quickly fell into stride. Working with such a talented cast made Albus' job much easier, she said, so much so, in fact, that "acting with them felt effortless."
With a lengthy list of credits for shorts and feature films, Albus certainly has more on-screen experience than most, but her primary background is in live theater. Though people commonly believe acting in film and theater are one and the same, the two "hardly compare to one another," Albus said. 
Because of the subtle but important differences between the two styles of performance, few people are able to excel at both. Albus, however, is one of the few, and she attributes much of her success to the people she has met along the way.
Albus said she "wouldn't have been able to do any of it" without the help of her previous directors and theater teachers, including those of LFHS. 
"Mrs. MacBlane, Mrs. Dreiling, Mr. Wanninger, and Mr. Pulio all taught me how to be authentically myself on stage. They showed me the importance of self-assurance, dedication, and conviction in approaching a variety of different characters," Albus said.
This is the source of Albus' mobility between the two mediums, as "both TV and theater acting require these traits," she said. 
Though her path hasn't been traditional, it's been one marked by achievements, and more importantly to Albus, she said, memories. 
After wrapping a scene for episode three, Everett ran off set and returned with a bouquet of flowers. "She said, 'These are for our graduate,' and the whole team started clapping for me," Albus said. "I don't even remember telling her that I graduated high school the day before. It was moments like those that made the project so special." 
With three of the seven episodes already released, Albus is set to appear in two of the remaining four episodes of season one. 
So far, Somebody Somewhere has received rave reviews from critics, even scoring an "Average Tomatometer" rating of 100% from the notoriously harsh film and television review website, Rotten Tomatoes. 
Yesterday, HBO renewed the series for a second season three weeks ahead of the season one finale– a testament to the series' rapid popularity.
But as for now, Albus is focusing on her education. She is currently attending Emory University in Atlanta, Georgia, where she is pursuing a Film and Media major. 
"I'm someone who values self-growth and self-discovery more than anything else, and performing has always been an outlet for me to do that," Albus said. "Now, as a college student, I want my liberal arts education to inform my performances and creativity."
Having completed her first semester, Albus has already discovered new interests in race relations and the social construction of gender in the US through her sociology courses. "I hope that I can one day incorporate that into my work," Albus said.
Though the college freshman has already achieved more than many people with film aspirations do in their entire careers, she doesn't plan on slowing down anytime soon.  The class of 2021 is still waiting on her Oscar acceptance speech, but until then, Scouts can check out HBO at 8:30 p.m. CST on every Sunday for the next three weeks to see one of their very own.