Female Athletes Don't Receive the Recognition They Deserve
Junior Bella Ranallo has been a standout point guard for the Varsity Girls Basketball team since her freshman year. In her time competing as such a high-level athlete, it has been impossible to ignore the inequity when it comes to the representation of women's sports compared to men's sports. 
"The school does not promote women's sports nearly as much as the boys, which is very heartbreaking," Ranallo said. "We work as hard and have a tough schedule like them, but no one seems to talk about us."
Some may think that female representation in sports has become more equal in the past few years because the issue has gotten more coverage, but in reality, there are still vast discrepancies. 
Even at LFHS, female athletes feel there is not enough representation. 
"I just don't feel appreciated," Ranallo said.
"
I just don't feel appreciated"
— junior Bella Ranallo
Issues of inequality have become apparent on social media as well as even LFHS's morning announcements.
"The boy's track team goes by '@lfhstrack,'" junior Alisa Beyzin said in reference to the team's Instagram account. "While the girl's team has the profile '@lfhswomenstrack.'"
This is not just limited to the track team; it is a pattern that can be seen in the usernames of the basketball teams, hockey teams, and golf teams, among others. 
This distinction, while it may seem minor, only plays into the need to differentiate female athletes from the "actual" athletes and the idea women's sports are not taken as seriously.   
If the girls teams have to include they are females, shouldn't the boys teams have to include they are males?
In general, girls' teams just don't receive equal attention, even if they are just as or even more successful than their male counterparts.  
"For the tennis team, we definitely don't get as much coverage as some of the other guy's sports," junior Lainey O'Neil, Varsity tennis state champion for doubles, said.  "That's kind of how it is for a lot of girls' sports." 
While both girls and boys teams have had great successes in their sports, girls teams are praised less for their wins. 
"I won conference last year individually and nothing was said," junior Olivia Adams, a member of Varsity Golf, said. 
The girl's Varsity golf team won regionals in 2018 and 2019 and placed 5th in 2021 but has rarely been mentioned. A few members individually went to state this year and it wasn't even acknowledged; when the boys team went to state, they had a clap out. 
The morning announcements are another example of girls and boys sports not being recognized equally.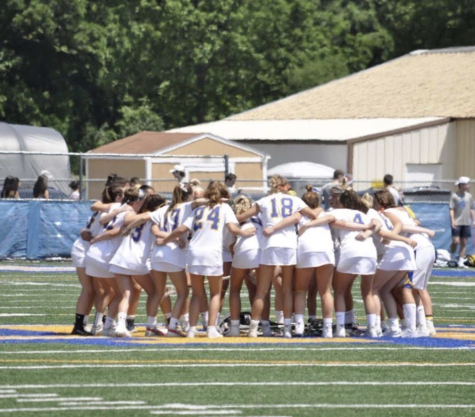 "The loudspeaker person announced the boy's lacrosse being undefeated and all of their wins when the girl's team was in the exact same boat," senior Francesca Pezza said.
Boys sports also have more support from the student body; there are always more students attending boys' games than girls'. 
"There was a little bit of an imbalance in the energy, level of excitement, and hype compared to the boys," junior Chelsea Tzau, a member of the Girls Varsity Lacrosse team, said when discussing the crowd at one of her games. 
Many female athletes hope for bigger turnouts at their games.
"I look up in the stands and only see parents," sophomore Kendall Snodgrass, a player on the Girls Varsity Soccer team, said.
Junior Rachel Kaus, a captain of the Varsity Girls Basketball team, finds that the majority of their fans are parents and relatives.
"We would love it if there was more support from the student body," Kaus said. 
While the eventual goal is to have completely equal representation, that might not be plausible in the immediate future; it is a deep-rooted issue. 
The first step is to speak out about it, reach out to someone.
"If you feel like there is some kind of inequity between sports or programs, use your voice," Reanna Lindsey-Perera, Assistant Coach of Varsity Girls Basketball, said. "Talk to your coach, talk to the Athletic Director. Don't be afraid to bring awareness to that."