10 Questions with Lacrosse Captain Kate Kaptrosky
Senior Kate Kaptrosky will begin her fourth and final lacrosse season for Lake Forest High School next month. During her four years on the Varsity lacrosse team, Kaptrosky has been a crucial offensive asset.
As Kaptrosky preps for her last season at Lake Forest High School, she uses her past experiences to motivate her.
With spring sports beginning, let's talk to the Varsity captain about what to expect for the upcoming season.
What are you most excited about regarding the upcoming 2022 season?
"This season is going to be a big year. Coming off of last year's upsetting loss in the super sectional game, we are hungry for a state run, and this year is the time to do it. Although we have a young team, our team consists of a lot of skills and athleticism. It is also going to be the last time that I can make a mark, as it is my senior year."
How are you going to create a strong team atmosphere as a captain this year? 
"I will lead by example—create a competitive environment that will push us to work towards our goal of making an appearance at state this season. I will always put my team first. And lastly, I will have a good work ethic."
Who is going to be the team to beat this season?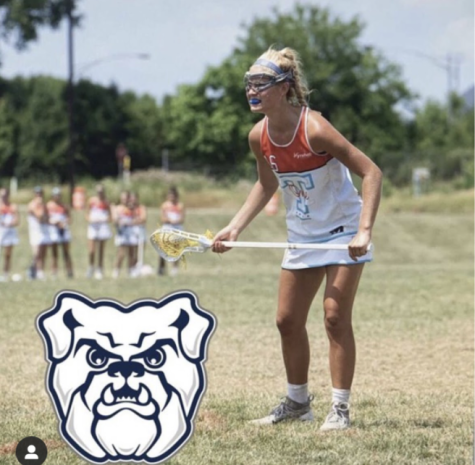 "GBS and Evanston are both highly skilled teams that we have faced in the previous years and have lost to. We had an unexpected loss to GBS in the super-sectional game and a loss to Evanston in the regular season. These games will be very intense and highly competitive. I am excited to rematch and win this time around. Loyola and New Trier are also always top competitors." 
What makes your team better than the other teams in our conference? 
"Overall, we have a great team atmosphere and play as a team on the field. On defense, we have a lot of grit and we are very intense." 
What is your favorite memory from your four years on the team? 
"Being the conference champions last season. We played against Libertyville High School, and this game was very intense. It came down to the last seconds of the game. When it came down to it, it was the grit that our team had that allowed us to win the game and become North Suburban conference champions. I remember getting on the circle and the game being tied with very few seconds left to go. Our team got the ball and Blythe Karras scored the goal to win the game. Our team rushed over to our goal and piled on top of each other with all of the excitement in the air."
Who is a former LFHS alumni you looked up to on the team? 
"Blythe Karras was a former lacrosse player who I had the opportunity to play with for 3 years on the varsity team. Blythe was someone who I always looked up to and thought of as a sister to me. She guided me through High School, and I am grateful that I got to be able to play with her. I can't wait to support her throughout her collegiate career playing lacrosse at Kenyon!"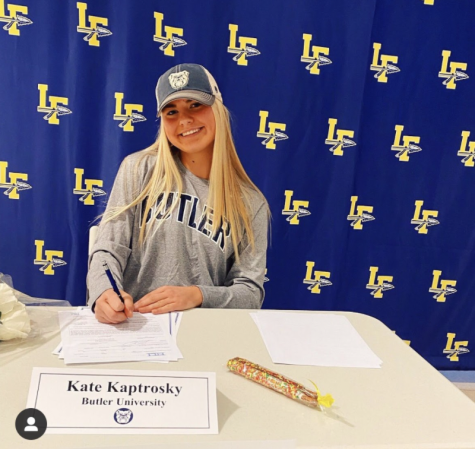 Following this season, where will your lacrosse career go?
"After my last season here at Lake Forest High School, I will be continuing my lacrosse career playing Division 1 lacrosse at Butler University and representing the Big East conference. This conference is very competitive and contains many top teams. I am excited to be able to continue playing lacrosse." 
Why did you decide to continue your athletic and academic career at Butler? 
"I chose Butler because it has everything I want in a college. As soon as I stepped foot on campus, it felt like home. Butler has the balance of outstanding academics and competitive D1 lacrosse."
What advice do you give to other captains at LFHS? 
"Create a fun but competitive atmosphere at practice. Be someone your teammates look up to and feel comfortable talking to and be supportive of everyone on your team." 
What is advice you would give to your freshman year self? 
"Learn all you can from the upperclassmen."
Be sure to follow the Varsity Girls Lacrosse team this season as they make their run for the state title!