Q&A with Student Body President Joey Nassar
As Student Body President, Joey Nassar has the challenging task of  helping guide students through the challenges of the pandemic. The Forest Scout sat down with Nassar to ask him how he has got through this tough year as president.
Have you made any changes to the school as Student Council president?
"As Student Council president, I have tried to increase school spirit and listen to the voices of my classmates as much as possible. While I unfortunately don't have the ability to cancel finals, give days off of school, or change what is served in the cafeteria, I feel that I have still bettered the school by bringing multiple new spirit weeks, traditions, and events to LFHS." 
What other events are coming up that you plan on doing for the school? 
"On Saturday, March 12th Student Council has planned "Retro Fest". So what exactly is retro fest? Retro fest will take place inside Lake Forest High School, and with an 80s theme will include roller skating, bumper cars, and glow in the dark mini golf. Food will also be provided for students, including cotton candy, potential food trucks, and more! More information will come out closer to the date. It's going to be an awesome event, and we hope that most of the student body can make it!"
Do people ask you when you will do something in the hallways or in classes or in sports?
"Yes, before finals week of this year, many people asked me to cancel finals for seniors. While I don't have the power to do that, I do appreciate it when students come up to me and ask for improvements they want to see in our school."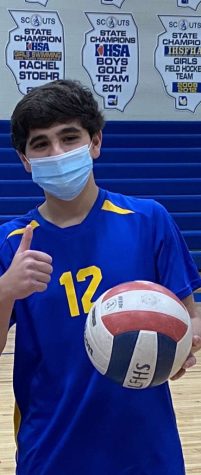 How does being the president affect you in classes, sports, and in your social life?
"I don't think that being president has impacted my classes, sports, or social life too much, other than the frequent comments and jokes from my friends and classmates about my role as president. I am extremely grateful for my position and for all the people who voted for me, and it is such a great opportunity to represent the student body."
Are there any changes to the school you wish you could make, but can't?
"I wish I could change the parking situation for students at LFHS. Even though I am lucky enough to have a spot in the senior lot, I feel bad for my peers that have to walk all the way from the train station to get to the school, even in cold temperatures. I don't know a clear solution for this issue, but it is something I wish I could change."
What is your favorite movie? 
"The Polar Express or Spider-Man: Into the Spider-Verse"
What is your favorite music artist?
Drake
What sports do you play?
"I play soccer and volleyball for LFHS, and play basketball recreationally."
What made you want to be involved in student council?
"I got involved with student council because I wanted to be able to impact the school and my learning environment, while representing my friends who wanted changes made in the school."
If you could go back in time would you tell your junior year self to run for student council or would you say not to? 
"I would definitely tell my junior year self to run, as I take great pride in being the representative of my peers to faculty and school leadership. I think that while being Student Body President can be tiresome and a lot of work at times, the benefits of being able to shape your school community outweigh any downsides."
What do you like to do in your free time?
"In my free time, I enjoy spending time and playing sports with friends and family. I also look forward to watching the Bulls and the Bears play when they have games."
What is your favorite video game of all time?
"Fortnite or NBA 2K"
What is your favorite food place?
"Portillo's"
Do you like any sports teams that are based out of Chicago?
"I am a lifelong Bulls and Bears fan, and I also like the Cubs and Blackhawks, but I don't watch them as often."
What is your dream school?
"I don't have a particular dream school in mind right now, as I am still waiting to hear back from most of the schools I applied to." 
What is your favorite vacation spot?
"I enjoy going to Hawaii every spring break with my family."