Inside Intramural: Week 3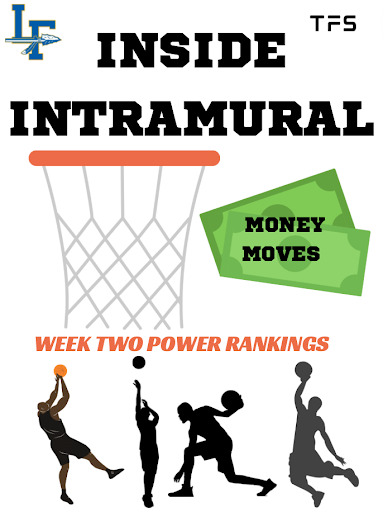 Week three in the LFIBA (Lake Forest Intramural Basketball Association) saw some crazy occurrences. While the NFL had one of its most exciting weeks of all time, it would not be out of order to say this week's slate of intramural games was just as riveting. We saw some new additions this week, as well as some players switching teams. This shook up the rankings and set the scene for an even more exciting year than we thought. 
Power rankings:
Boys:
No friends In the Industry (4-0) –

LoveShaqs (4-0)  –

Heezy Bop (3-1) 

↑ 1

Victorious Secret (4-0-1)

↑ 2

Vatican City Valedictorians (3-0-1) 

↓ 2

Shake and Bake (4-1)

↑ 1

Garrigan St. Antelopes (3-0)

↑ 1

Vanilla Long Johns (3-1)

↓ 1

BrickLayers (2-1-1)

↑ 7

Cream Team (1-2) –

Puck Bandits (2-2)

↑ 5

Handlers (1-3)

↓ 4

Tropic Thunder (1-3) –

Scandinavian Swan Wranglers (1-3)

↓ 2

Shanghai Shootaz (1-3)

↓ 1

Gryffindors (2-3)

↑ 4

Bug Eaters (1-3)

↑ 2

Team Halo (1-3)

↓ 5

Curry Crusaders (1-2-1)

↓ 1

Youngbloods (0-3)

↓ 1

DaBois (0-3) –

Team Coht (0-5) –
Girls:
1. Snoop Dawgs (3-0) – ↑ 1 
2. Chicken Noodle Hoops (2-1) ↑ 1
3. Patty's Daddies (2-1) – ↓ 2
4. Tommy's Tot's (1-1) –
5. Airball grabbers (1-2) –
6. Ballerz (0-4) ↓ 2
Money Moves:
Gig Day joins the Bug Eaters
A former Basketball player and seasoned point guard looks to possibly stake his claim in the MVP race and lead the Bug eaters up the rankings. 
Jahari Scott moves to Shanghai Shootaz
The shifty running back leaves the vanilla long johns in the bakery, and heads to the biggest city in China, joining the Shootaz and bolstering their roster. The shootaz now have a few quality players and could possibly put together a playoff run. 
Heezy Bops acquire Charlie Drake
Heezy Bops were very short on players this week so they headed to the waiver wire and signed Charlie Drake. The Heezy Bops impressed, even with no subs, as they won by 44 points. Charlie had 2 threes and looks to build on this good performance next week. 
Updated MVP race:
Boys Pool:
1: Aaron Kurian 
Solid showing by Kurian, but will need to play well against top teams to seal the MVP.
2: Patrick Lindemann
Lindemann is no newcomer to being an intramural star as he helped this LoveShaqs win it all in 2019 and looks to do the same with the Shake and Bakes. 
3: Steven Sinclair
Steven is also a former standout basketball player, and leapfrogged up these rankings after dropping a league high 33 points last weekend, if he keeps up these numbers he has a shot. 
4: Saint Golden-Irby
Saint returned this week in style by throwing down a few dunks in the Heezy Bop's blowout win and gave his team some much needed passing abilities. 
5: Jonmarc Ranallo 
The LoveShaqs keep winning and Jonmarc keeps cooking. The feathery-haired phenom dropped 17 points and had tons of 3-point celebrations to show for it. 
6: Anthony Fiordaliso
Anthony was able to keep his team in it against a strong opponent and proved that he can carry his team against tougher opponents. 
Girls Pool:
1: Ellie Digby
The Chicken Noodle hoops keep winning big games and Ellie is a big part of it. She is a good defender and has proven to make timely baskets. 
2: Caroline Keil
The one bright spot for the Ballerz has been Caroline, she leads the league in scoring and drained 5 threes last week. However, we will need to see these points convert into wins in the future for her team, because they are struggling.  
3: Kate Kaptrosky
Pattys Daddys was hot before they suffered their first loss this week and Kate was the driving force behind their streak. We will see how she deals with their first real adversity in the coming weeks. 
What to watch in week 4:
LoveShaqs (-13.5) vs Vanilla Long Johns
Two senior teams playing each other is always a good sight and these teams are both pretty physical so it should be an intriguing matchup. Some highlighted matchups include Will Decoster guarding Tyler Shachter and Jade Khater on Mikey Gray. If you like trash talk, this is the game for you. 
Shanghai Shootaz (+16) vs No Friends in the Industry
Another senior matchup that highlights two top teams. This is the No Friends best opponent to date so we will look to see how they play. The Shootaz have had some bad luck so far with Covid forfeits and close games and are trying to prove a point against the top team in the league. Logan Horan on Mac Chamberlain is a great matchup of two former Lake Bluff Bobcat standouts and this is their first time playing on opposing teams. Should be fun. 
Garrigan State (-3.5) vs Bug Eaters
Garrigan State is playing well and the Bug Eaters just picked up a big free agent. GSU sophomore Murphy Moorhead publicly stated his frustrations with not being on the MVP voting list last week, so he may feel like he has a chip on his shoulder. Well Murphy, if there was ever a time to shine, it's Sunday against the Bug Eaters.