The Poms team prepares for Nationals
The LFHS Varsity Poms team plans to leave for the UDA National Dance Team Championships Feb. 5, for the ESPN World Wide of Sports in Orlando, Florida. 
They qualified for Nationals last July through a UDA summer camp and began choreography for performances in early November. 
To learn both the jazz and pom routines, they spent a combined 36 hours learning the choreography from Zach Galasso and T.J Maple, both returning choreographers for the team. Maple's choreography helped the team take second place back in the 2020 competition.
To prepare, the team practices every weekday for two and a half hours, even spending up to eight hours on some weekends. 
"I'm most looking forward to seeing the progress the team has made," said senior captain Ava Douglass. "After months of hard work and rigorous practices, Nationals is our final time to show everyone all the hard work and dedication we have put in and I couldn't be more excited to take the floor for my last year with my 19 sisters."
They begin shark week Jan. 31. 
This not only includes the team's gift exchange with each other, and dressing up with their roommates, but also the final three days before the team leaves for Florida.
"For those last days we have to perfect everything we've worked on," said junior Elsa Dahlgren. "We get pushed a lot physically but it's also a lot of fun." 
This year, we can expect a lot from the team consisting of five sophomores, seven juniors, six seniors, and even two freshmen who made the team in late October of 2021.
"I'm looking forward to all the special memories I'll be able to make with my team, and being able to perform and show everyone what we have worked so hard for so long," said freshman Reese Harper. 
The team has two dances planned to compete in the jazz and pom categories. The jazz performance is to a cover of Fleetwood Mac's The Chain by Lexi Saal, and the pom routine is a mashup of songs including Shawty Got Moves, Don't Stop The Music, GDFR and Delirious. 
The performance days consist of prelims, semis, and finals. 
To start off, prelims is where teams compete against each other in smaller groups. The then highest scoring group can move straight to finals. The jazz final will be held on Saturday, Feb. 5, and the pom final will be on that following Sunday.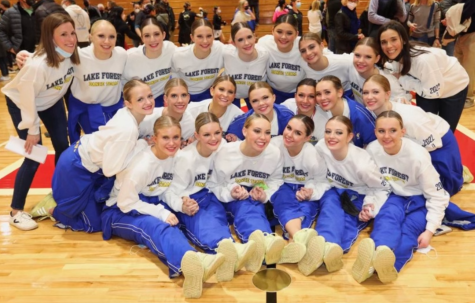 Nationals isn't just a place for the team to showcase the tremendous work and talent they bring to the floor, but it is an experience with many beloved traditions. 
From parking lot practices to the Disney Park completing shutting down just for the teams, this weekend is something they have looked forward to for the past year.
"I'm most excited to see the castle for the first time because it's something that when you're on JV you look forward to," said junior Bentley Frost. "Seeing it for the first time is something you only get to experience once, and I feel like finally being able to see it is going to symbolize all the hard work this team has put in." 
This tradition is where the new dancers get to see the stage floor for the first time. Due to covid last year, this tradition took a pause as Nationals was virtual and teams had to submit videos to compete.16 members on the team now get to see it for the first time, making this year especially unique and memorable. 
"Our motto 'Can't stop, won't stop' is truly applicable to this season and how hard we've worked to get to this point," said senior captain Lauren Milanak. "I know, no matter the placement with our amazing and challenging choreography, we will all be proud of what we put out on that floor and I'm blessed to do it one last time with my 19 best friends."