Inside Intramural: Week Two Power Rankings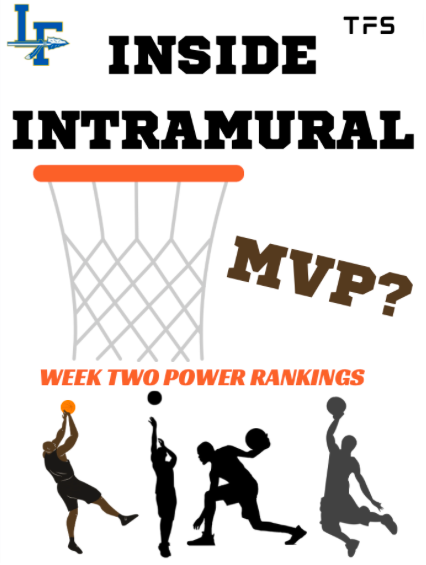 The atmosphere surrounding week 2 was boosted after the release of last week's Inside Intramural. The games got scrappy, and teams were giving it their all in an effort to stake their claim at the coveted number 1 spot. 
This week's slate of games were admittedly a bit more exciting. We saw some top teams battle it out, and upsets caused huge changes in the table. From body checks to blowouts, this week had it all, and here's how the rankings are shaping up: 
CP:   ↑     ↓
Power rankings:
Boys:
No friends In the Industry (3-0) –

LoveShaqs (3-0) 

↑ 1

Vatican City Valedictorians (3-0) 

↑ 2

Heezy Bop (2-1) 

↓ 2

Shake and Bake (3-1)

↑ 1

Victorious Secret (3-0)

↑ 1

Vanilla Long Johns (2-1)

↓ 3

Garrigan St. Antelopes (2-0)

↑ 1

BrickLayers (2-0-1)

↑ 7

Cream Team (1-1) –

Tropic Thunder (1-1)

↑ 3

Handlers (1-2)

↓ 4

Puck Bandits (1-1)

↑ 5

Scandinavian Swan Wranglers (0-2)

↓ 2

Gryffindorz (1-2)

↑ 4

Shanghai Shootaz (0-3)

↓ 1

Team Halo (0-3)

↓ 5

Curry Crusaders (0-1-1)

↓ 1

Bug Eaters (0-3)

↓ 8

Youngbloods (0-2)

↓ 1

Team Coht (0-3) –

DaBois (0-1) –
Girls:
Patty's Daddies (2-0) –

Snoop Dawgs (2-0) –

Chicken Noodle Hoops (1-1)

↑ 2

Tommy's Tot's (1-1) –

Ballerz (0-2)

↓ 2

Airball grabbers (0-2) –
Stock up 
Love Shaqs:
The Love Shaqs came through big this weekend, beating the #2 ranked Heezy Bops team 21-16. Holding this high-powered offense to 16 points will be something we rarely see this year, and this is why they have moved up a spot in the ranks. Leo Anderson, Harry Proeh, and Tristan Kerr did a great job guarding tough matchups, and this team will be put on watch moving forward. 
Vatican City Valedictorians:
The Vatican City Valedictorians went 2-0 on the weekend, which could be the greatest sporting victories the nation has ever seen. His holiness was delighted while they took down a tough Vanilla Long Johns team 23-14 and beat Team Halo in a similar fashion 24-14.
Bricklayers:
The Bricklayers started their Sunday off with a bang, beating a senior team, the Bug Eaters, with a final score of 39-28. Just before this, they took down Dabois, however the score was not reported. This 2-0 day was enough to propel them out of the basement, landing them in a midtable spot at ninth.
Stock Down
Vanilla Long Johns:
The Vanilla Long Johns had quite the ugly performance this weekend against the Vatican City Valedictorians. For a team that talks the talk, they sure didn't back it up. They were, however, missing key player Sam Gardner. The Johns look to get back to winning ways this weekend against a young Puck Bandits team.
Handlers:
The Handlers suffered a massive loss to the Love Shaqs and looked completely discombobulated as a team. Their body language showed it, constantly flailing their arms and looking for phantom fouls. They even tried to sneak Heezy bops player Kaden Wilhelm onto their roster mid game. Top player Tadgh Burke cooled off after a good performance last week and the team was never able to show consistency on offense. Although the Love Shaqs do have a top graded defense, shooting sub fifteen percent from beyond the arc will make it hard to win. This team is still a top sophomore team but will need to grind to become any type of T-Shirt contender.
Bug Eaters:
Things are not looking good right now for the Bug Eaters despite signing experienced point guard Joey Nassar. The class Pres will need to work his magic to flip this team around. Many say winning a game may be his greatest achievement since winning Freshman year election. One positive for the Eaters is that their jerseys are very unique and one of the top in the league.
Ballerz:
The Ballerz have a knack for keeping it close; unfortunately, that is not enough in the cut throat intramural league they find themselves in. They impressed us in Week One with a heartbreaking defeat to the #1 ranked Patty's Daddies. In Week Two, we saw them lose again despite a solid performance from Caroline Keil and even a late deep three from Maeve Bradely. Chicken Noodle Hoops, who were ranked #5 at the time , was able to out-muscle them down low and made the Ballerz look worn out.  Their bad luck has caused them to fall down the rankings, landing them just one spot off the bottom.
Our Early MVP Watch:
Aaron Kurian: 
Do not mistake Aaron Kurian's small stature for a lack of basketball ability. Aaron is the shiftiest player the league has seen in a while and has a shooter's touch around the rim. If you want flashy, just watch his layup packages: he has a great ability to weave through defenders and make acrobatic finishes. Kurian is also a top shooter in the league, shooting over forty percent from three. Kurian dropped an easy 20 against the Bug Eaters, but will need to prove his play against top competition before we hand him the award. Make no mistake, however: No Friends in the Industry has acquired a generational talent in the form of a do-it-all point guard.
Saint Golden-Irby:
Although Saint Golden-Irby's name would warrant a spot in Vatican City, he has excelled for the Heezy Bops so far. Despite the fact that he missed Week Two, Saint's basketball ability does not need to translate to the stat sheet in order to be recognized. The shifty pass-first point guard is the glue that holds his team together, and he could be a huge player in the Heezy Bops' push for this year's T-shirt. His skillset could be compared to all-time great CP3.
Jonmarc Ranallo: 
Jonmarc is the force that drives the well-oiled machine for the Love Shaqs. He is a prolific passer and is the king of the "drive and kick," which allows for their shooters to get clean shots off. He also brings lots of enthusiasm and grit on the defensive side that should not go unnoticed. If he can keep shooting with substantial efficiency, he will keep his name in the ring for MVP. 
Anthony Fiordoliso:
Anyone who leads a roster like the Valedictorians to being top 3 in the power rankings deserves to be in the MVP conversation. Anthony is a great facilitator and makes his team a contender. He brings his past basketball experience and has led his team to success so far. Take him off the team, and this team may not crack the top 10. We will see how he fares against high competition as the season progresses. 
Mac Chamberlain:
The Yin to Aaron Kurian's Yang, Mac Chamberlain is No Friends in the Industry's secret weapon. While Aaron Kurian impresses for the camera with his flashy moves, Mac Chamberlain scores from beyond the three point line, like an Artillery Battery raining fire upon unsuspecting foes. In addition to his shooting prowess, his size makes his shot nearly unblockable to the average intramural player. No Friends are certain to be a tough opponent with their dynamic duo in Kurian and Chamberlain. 
Kate Kaptrosky: 
Patty's Daddies are a team blessed with natural athleticism, as well as Butler lacrosse commit Kate Kaptrosky. Kate's ability to turn defense into offense, using her speed down the floor, is a force to be reckoned with. Not to mention her shooting ability: while the majority of her female counterparts are lackluster shooters, she was able to put together a respectable 13 points against Tommy's Tots, including two 3 pointers.