Inside Intramural: Week One Power Rankings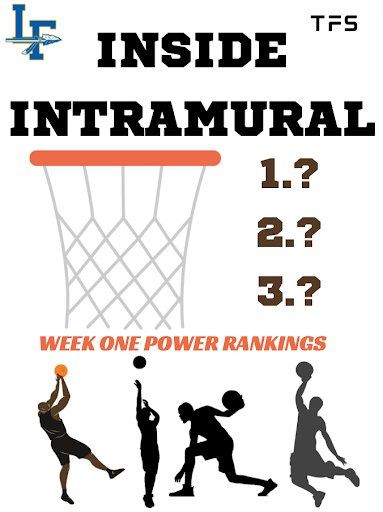 Everyone's favorite intramural sport made its long awaited return on Sunday. The hype that comes behind intramural basketball is unmatched; just ask any of the boys during lunch or pull up the dozens of hype videos on Instagram. This year's excitement is amplified by the fact that Covid restrictions did not allow for a 2021 intramural season. 
Now this is not your grandpa's basketball league; intramural basketball is less of a typical basketball game, and more of a downright war of mental toughness and physical fortitude. 
Before we get into the rankings, we must give props to Mr. Werner, and Mr. Duval for deciding to spearhead the intramural basketball season and sponsor this widely cherished pastime. 
So without further ado, we present the post week one Intramural power rankings. 
Power rankings:
Boys:
No friends In the Industry (2-0)

Heezy Bop (2-0)

LoveShaqs (1-0)

Vanilla Long Johns (2-0)

Vatican City Valedictorians (1-0)

Shake and Bake (1-1)

Victorious Secret (2-0)

Handlers (1-0)

Garrigan St. Antelopes (1-0) 

Cream Team (1-1)

Bug Eaters (0-1)

Team Halo (0-1)

Scandinavian Swan Wranglers (0-1)

Tropic Thunder (0-1)

Shanghai Shootaz (0-2)

BrickLayers (0-0-1)

Curry Crusaders (0-0-1)

Puck Bandits (0-1)

Youngbloods (0-1)

Gryffindorz (0-2)

Team Coht(0-2) Double Forfeit
      N/A. DaBois (0-0) BYE
Girls:

Patty's Daddies (1-0)
Snoop Dawgs (1-0)
Ballerz (0-1)
Tommy's Tots (1-0)
Chicken Noodle Hoops (0-1)
Airball Grabbers (0-1)
Our early favorites: 
Heezy Bop – The Heezy Bops stayed busy during the long offseason, adding top free agent Saint Golden-Irby and re-signing Kai Popov. Led by experienced coach Sam Gibson, their team got off to a great start and picked up two quick wins against "Team Halo" and "Shake and Bake". 
These two wins were highlighted by the flashy play of Saint Golden-Irby and the rare athleticism of Jake Milliman. This one-two punch is going to be a lot to handle for teams all year. To pair with this duo, the Heezys have some of the best outside shooters in the league. Nick Fontana and Kai Popov have proved to be reliable bucket-getters from beyond the arc. 
Rounding out their squadron are good athletes like Nick and Ben Winebrenner. Another key to this team is the trash talking ability of Quinn Garrigan and Kechad Butler. They are the cream of the crop when it comes to establishing real estate in opponents' heads. 
No Friends in the Industry – One of the biggest offseason dramas was star players Mac Chamberlain and Aaron Kurian dipping their toes in free agency. As a matter of fact, these players contacted the League's front office about their departures less than a day before the deadline. Needless to say, this news shocked the intramural world. The Heezy Bop superteam was no more. 
"It felt like the right thing to do to balance out the league," 2020 star Heezy Bop point guard Aaron Kurian said.
Their roster is composed of the most dynamic duo in the league of Aaron Kurian and Mac Chamberlain. Kurian has shown his ability to move the ball as well as score in many different ways. Chamberlain showed Sunday why he is one of the early favorites for MVP. He is a sharpshooter who stretches the floor while grabbing rebounds with his lanky, almost spider-like build. 
Marcelo Gadbois adds to the team with his athleticism on defense and his Draymond Green-esque playmaking. Quinn Mulligan had a remarkable day from deep, knocking down five threes. No friends in the Industry are proving their name to be a motto to play by, going 2-0 with an astounding point differential of 69 points. 
LoveShaqs – The LoveShaqs are the only team on the list with championship experience. As freshmen, this team pulled through to win their rings. They are a pass-first team who appear to have great chemistry so far. 
Jonmarc Ranallo showed out on Sunday and proved why he's not just the basketball manager, but a player too. The point guard is a quick lockdown defender who has elite finishing at the rim. 
Working down low for the Shaqs is former Deerpath basketball stud Harry Proeh. Harry is a good rebounder and has height that makes this team competitive. Additionally, Jack Marshall adds size and experience as well as an ability to bring the hot sauce from the 3 point line. Mikey Gray is another sleeper with his crazy vertical and aggressiveness. 
This team's key to success lies in the hustle of the players, going after loose balls and making chippy plays. Lucky for them, Cade Nowik is at the helm and is a master at each. Coach Nowik is going to have to mend these boys into shape if they want to overcome their lack of depth and add to their ring collection. 
Patty's daddies – What Patty's Daddies lack in shot form, passing ability and overall Basketball IQ, they make up for with height and pure strength of will, grinding out a nail-biting 18-15 win against a team of juniors, the Ballerz. 
Although they were not the highest scoring girls team this week, their ability to defend the paint will be a huge asset this season, especially in a girls league dominated by post up shots and around the rim finishing. An athletic guard duo in Lucy Rogers and Kate Kaptrosky, coupled with height in the post in the form of Sloane Weisberg and Megan Margolis is a force to be reckoned with, and we will see how they matchup next week against another 1-0 team, Tommy's Tots.
Intramural basketball resumes next Sunday with some key games including:
Heezy Bop Vs. Loveshaqs
Vatican City Valedictorians Vs. Vanilla Long Johns
Tommy's Tot's Vs. Patty's Daddies