Country Thunder 2022: Preview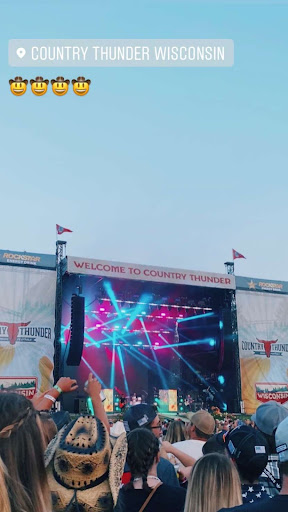 If you're a country music fanatic like me, you're probably counting down the days until one of the most beloved music festivals of the summer: Country Thunder.
The four-day festival has gained a national reputation as one of the best country music festivals. It's loved by people of all ages, and has locations all across North America. They have venues in states like Arizona, Tennessee, Iowa, and Florida; and in Canadian Provinces Saskatchewan and Alberta. Twin Lakes, Wisconsin, is another location of the adored festival, and is the one many from the Lake Forest community attend as it is only an hour drive. Country Thunder has a strong line up of performers every year, and they never lets fans down.
The main headliner is Morgan Wallen… I feel like I've been waiting 7 Summers for this. Wallen has taken over the country music industry this past year. His double album Dangerous was released in January, and it was the all genre best selling album of 2021 with over a billion streams, and was #1 on the Billboard 200 albums chart for 10 consecutive weeks. It's safe to say country fans are psyched to see him in Twin Lakes this summer.
Next up is Florida Georgia Line. This iconic duo has had 18 singles at the top of the country Billboard charts, and their song 'Cruise' surpassed 10 million sales. FGL will definitely put on a show you won't want to miss.
Twin Lakes will also be having performances from Chris Young, Lee Brice, Hardy, Granger Smith, Chris Janson, Chase Rice, and more.
The music isn't even the best part about Country Thunder, however. Kids from the community love it because it's a great event to go to with friends and family; and if you just go with friends, it's a great experience to gain some independence over the summer. Country Thunder 2022 will take place July 21-24, and you can buy tickets online here.