Reviewing Trader Joe's New Holiday Items
Anddddd we're back! Obviously, we couldn't skip this opportunity! After shopping at Trader Joe's the past few weeks, we decided to give another review on their seasonal holiday desserts that you can only get around this time of year. YOU CAN NEVER GET RID OF US!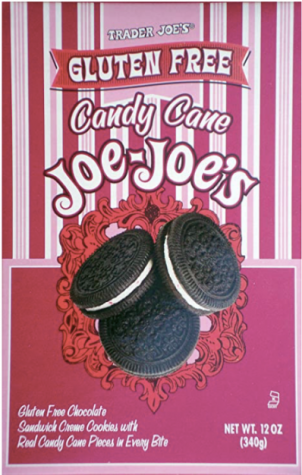 Gluten Free Peppermint Chocolate Sandwich Creme Cookies:   
Molly: After seeing this product, I was initially really excited to try it. I know what I like, and these cookies sounded like the perfect sweet treat to try around the holidays. These gluten free, off-brand Oreos had the perfect crumbly texture combined with a sweet peppermint creme. I would 100% recommend buying this product before the season is over. Trader Joe's did a good job of creating a cookie with the perfect combination of chocolate, creme, and a hint of peppermint. For anyone hesitant about buying anything gluten free, I would say that this product tasted like any other cookie and that there were no concerns about it tasting weird. The gluten free peppermint chocolate sandwich creme cookies definitely deserve a 10/10.
Emily: I would have to say that we started off pretty strong with these cookies. I'm usually a little skeptical about peppermint products because they can taste like toothpaste, but these were perfect for the peppermint flavor. The cream and the crumbly cookies were a perfect duo, and deserve a 10/10.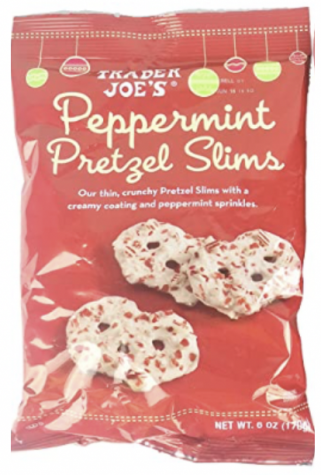 Peppermint Pretzel Slims:
Molly: When we first picked out this item, I wasn't sure if I would like it or not. I'm a big fan of pretzels, but white chocolate with certains things doesn't taste the best in my opinion. But after having a bite, I was pleasantly surprised by how much I liked the combination of white chocolate, pretzels, and peppermint. This product contained thin pretzels coated in a layer of white chocolate, topped with peppermint shavings. I was also kind of nervous about how much I would like the peppermint, but they honestly added the perfect amount of sprinkles. Even if you are not big on white chocolate, I would still recommend this product to you. Trader Joe's did a good job of balancing the sweet white chocolate with the salty pretzels, so nothing was overpowering in this snack. My overall rating would be a 10/10.
Emily: I was super excited to try these. I love pretzels and chocolate so I, obviously, could not resist. The sweetness from the white chocolate is balanced nicely with the saltiness of the pretzel.  If you are looking for a sweet and salty snack, these should be your go to. I will also give this a 10/10. 

Dark Chocolate Orange: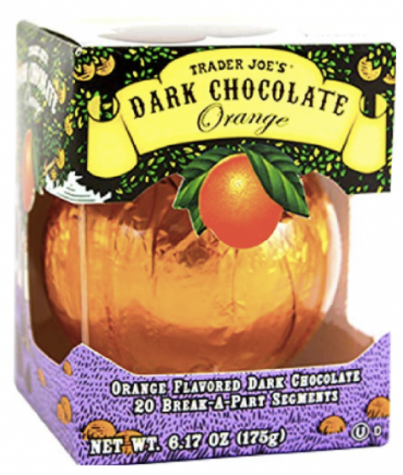 Molly: At first, I was honestly really excited to try this chocolate because it seemed like a fun snack, but, overall, I wasn't the most thrilled with this product. I was expecting it to be some sort of semi-sweet chocolate, but instead I got an overpowering taste of orange with the chocolate that I wasn't expecting. The dark chocolate would be good alone, but I was not a fan of the orange flavoring at all. I would rate this dessert a 5/10.
Emily: Once I laid eyes on this product, I had to get it. The chocolate orange came with little slices that resembled an orange. In order to try it, you had to break it so the slices would fall apart which was kind of fun. The chocolate has a really strong orange flavor, which I wasn't expecting at all, but I actually really liked it. This is by far one of my favorite food combos. I would rate this an 8/10.

Dark Chocolate Covered Peppermint Joe Joe's:
Molly: After first finding this product in Trader Joe's, I immediately wanted to try it. This dark chocolate coated in peppermint seemed like the perfect item to buy for the holidays so we weren't hesitant at all about buying it. We especially wanted to buy it after a worker in the store pointed out how good this chocolate was. But after trying one bite, the peppermint almost had a toothpaste kind of flavor that overpowered the dark chocolate a little bit. It was a tad too strong for me, but if you really like peppermint, I would recommend buying this chocolate. The chocolate combined with the peppermint in the middle had a similar texture to a cookie, which was one thing I really liked about this product. My rating would be a 7/10.
Emily: Right before we checked out, strangers came up to us and told us how good these cookies taste. I will have to admit, they were not wrong! To sum it up, it was pretty much a peppermint Oreo covered in dark chocolate. And who doesn't like oreos and chocolate? I would have to disagree with Molly because I didn't get the toothpaste flavor. I would rate it a 10/10.