Starbucks Holiday Drink Review
With the holiday season approaching, Starbucks finally brought back their classic holiday drinks that we couldn't resist trying. In this review, we'll be rating four of Starbucks' annual drinks that are only made around this time of year.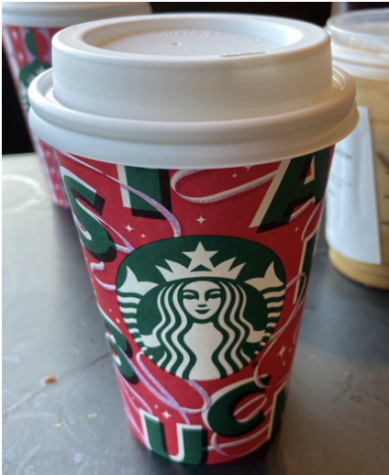 Peppermint Mocha:
Molly: Personally, I'm a big fan of Starbucks' Peppermint Hot Chocolate, so I was initially really excited and curious to try this drink. The peppermint mocha tasted almost exactly like their hot chocolate with a hint of mocha flavoring. I would 100% recommend buying this drink if you're in the mood for hot chocolate, but want a little bit of caffeine. I could give this drink a 10/10.
Emily: I LOVED this drink. It basically tasted like hot chocolate with a hint of peppermint. It wasn't too sweet and the peppermint wasn't overwhelming to the extent that it tasted like toothpaste. My one critique is that there really wasn't anything different about this drink than the peppermint hot chocolate. I give this drink an 8/10.
White Chocolate Peppermint Mocha:  
Molly: As someone who wouldn't normally pick white chocolate as a first choice, I was pleasantly surprised by how much I liked this drink. The White Chocolate Peppermint Mocha tasted very milky and included a hint of white chocolate that wasn't too overpowering. For someone who doesn't like white chocolate that much, this drink was surprisingly one of my favorites that I tried today. My only critique would be that it was very sweet, so I wouldn't buy it as my everyday drink, but I would definitely consider getting it again this season. My final rating would be a 9/10.
Emily: I don't like white chocolate at all, so when we got this drink, I was a bit skeptical. This drink was way too sweet for me. You couldn't taste any coffee whatsoever, only this strange sweet taste that didn't really resemble white chocolate. To me, it tasted like vanilla ,which pretty much defeats the purpose of mocha. I give this drink a 2/10. 
Caramel Brulee Latte: 
Molly: For our third drink, we got an Iced Caramel Brulee Latte topped with whipped cream and chocolate shavings. When I first saw this drink, I was kind of hesitant to try it. It didn't have the most appealing look to it, but it ended up tasting much better than I anticipated. Despite the slightly strong sweetness, I would rate this drink an 8/10. This drink included the taste of espresso mixed with creamy brulee flavoring and a hint of sweet caramel. This was definitely a fun holiday drink that I recommend trying. 
Emily: In my freshman year, my diet consisted primarily of iced caramel lattes, so when I laid my eyes on this drink, I couldn't resist. Although the Caramel Brulee Latte is preferred hot by most, we decided to get it iced to change it up a bit. As soon as I tried it, I was overwhelmed by the sweetness. The more I had, however, the better it tasted. The flavor was there, but I would advise you to ask for a few less pumps of the caramel brulee syrup unless you're a caramel fanatic. My rating is a 6/10
Sugar Cookie Latte: 
Molly: Over the past month, I've heard mixed reviews about this drink, so we had to give it a try. Starbucks was spot on with this drink because it had the exact flavor of a sugar cookie. You would think that the combination of cookies and coffee would be a little much, but the flavors were surprisingly very balanced. Nothing was too overpowering, but I would still rate this drink an 8/10. The latte was a well-made drink, but it wouldn't be my first choice to drink if I wanted something with caffeine. 
Emily: After trying the Caramel Brulee Latte, I was expecting the sugar cookie latte to be plain sugar and milk with a touch of coffee. I was also a bit thrown off by the sprinkles on top of my drink, but I was wrong! The Sugar Cookie Latte was my personal favorite. There was a nice balance between sugar and an actual coffee flavor and the sugar cookie flavor was all there. As someone who doesn't like sugar in their coffee, I would get this again with maybe a few less pumps of the sugar cookie syrup. Rating is a 9/10.