Freshman/Sophomore Play Success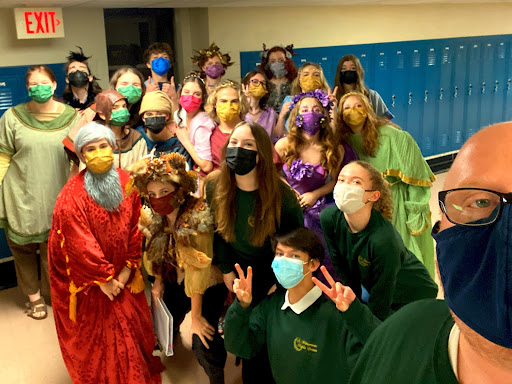 The LFHS Theater Department did it again, a perfectly executed performance that went off without a hitch. 
The freshman/sophomore play, A Midsummer Night's Dream, directed by John Wanninger, is a Shakespeare classic that depicts the story of four Athenians that run away to the forest, only to have Puck the fairy make both of the guys fall in love with the same girl.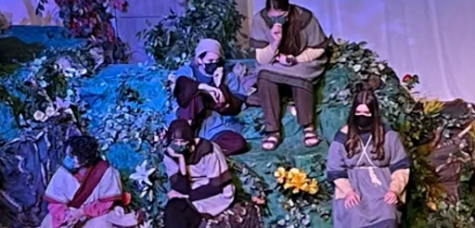 The play is a roller coaster of themes: love and romance, dreams and reality, chaos and order, and gender roles and patriarchy. 
Saying that the cast rode the roller coaster with enthusiasm and skill would be an understatement.
Starting the show off strong, Lysander and Hermia, played by sophomore Ryder Gamrath and sophomore Alexa Richer, captivated the audience. Though they may be novices when it comes to LFHS plays, they appeared as if it was their fourth year performing upon the Little Theater stage.
After their opening dialogue, all chaos set loose in the story plot-wise. 
At the root of A Midsummer Night's Dream is a strange story: a play within a play, fairies that manipulate love, and unrequited love  (that ends up being reciprocated). The audience dealt with all of this confusion, while also trying to understand the bewildering language that Shakespeare is known for.
However, unclear the story and words spewing out of the actor's mouths may have been, the complexity was simplified through the animated looks of the cast, describing the events of the play without having to say a word.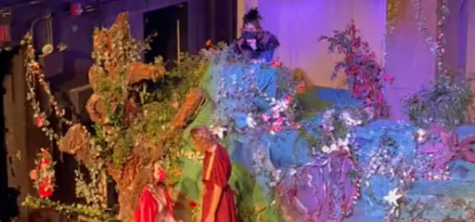 Puck, played by sophomore Taylor Ross, exemplified this perfectly. Ross performed for thousands of people (in a room where only 72 sat). 
Puck arguably had the most baffling dialogue at moments, but Ross'execution held the audience's interest.
This review would not be complete without also giving credit to the amazing Bottom. 
Bottom, played by freshman Jessica Taylor, was a complete show stopper. Every moment Taylor was on stage was filled with amazing commentary, emotional connection with the audience, and the right amount of comedy. One could not stop wishing for an encore of Taylor's performance. Her comedic execution during the final act was enough to get almost every person in the audience giggling. 
All in all, the freshman/sophomore play was a success that shouldn't go without praise. The actors performed beautifully, the sets were extravagant, and the overall commitment to the piece was exquisite. Every dollar spent on the ticket was worth it.