3D Printing Allows Students to Get Creative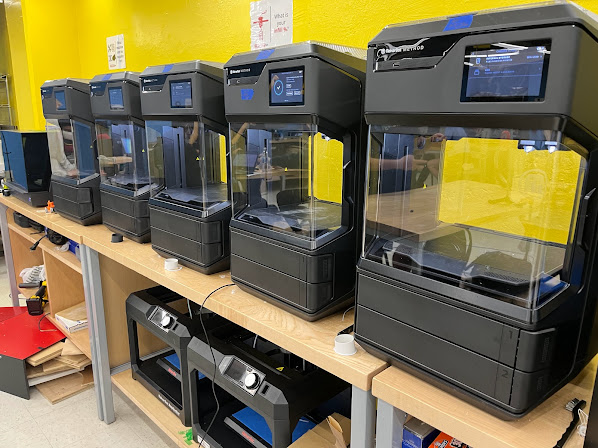 LFHS has a long history of being early adopters to new technology, 3D printing being no exception to that. As early as 2016, the school purchased six 3D printers. In 2020 the Lake Forest High School Foundation issued a near $20,000 grant to buy six new 3D printers, ensuring the school stays up to date on new technology. 
The type of printers the school uses, which are also the most common type, use a technique called fused deposition modeling (FDM). Although this sounds complex, it simply involves taking a strand of solid plastic and heating it until it melts. The printer then lays down lines of melted plastic and layers them on top of each other to form a cooled, solid model. 
3D printing allows students to easily turn digital creations into real objects, which is particularly useful in computer-aided design (CAD) classes. In classes like CAD Architecture, 3D printing is used to assist the visualization of projects.
"In CAD Architecture, students have designed rooms like a library or entire houses that we end up 3D printing," CAD teacher Mr. Joseph Dudeck said. 
However, in other courses, 3D printing presents a challenge to students. 
 "3D printers add an extra engineering element to the Robotics Class," Robotics and Physics teacher Mr. Matthew Wilen said.
Designing a 3D part requires more pre-planning and thought, rather than just letting students dive straight into building a robot.
Outside of class students are welcomed to print anything they want and exercise their creativity. Students print all sorts of custom designs, from miniature figures to cosplay masks.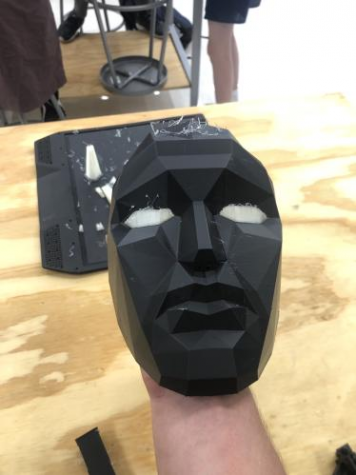 Other students, with less technical knowledge, use sites like Thingiverse to select from millions of freely available models that can be printed here at school.
"I have used [3D printers] in positive ways not only for the class but for my own projects as well," sophomore Evan Hauserman said. "I have printed hubs to gears and even drone frames."
Senior Alex Salkin used the printers to create a Halloween mask that "would have been virtually impossible [to make] without 3D printing," he said.
"I made the mask by using publicly available STL files printed at the school's Makerspace," Salkin said. "I then got black spray paint to add a slight metallic effect to the mask and it was done. It made a great comedic prop for Halloween."
Many students don't know where the printers are. They are currently located in the Makerspace, which is in the basement to the right of the technology help desk. The teachers in the Makerspace are happy to help students and teachers alike get started using the printers.