Masks Required for Most Winter Sports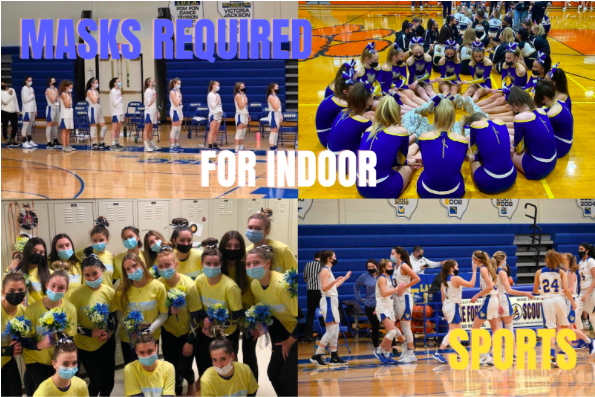 The state mask mandate requires the majority of indoor sports to wear masks during training, competition, and other contact like in the locker room. 
The Illinois Department of Health states "for sports played indoors, individuals aged 2 years and older who can medically tolerate a mask, regardless of vaccination status, must wear a mask and maintain physical distancing to the extent possible."
This rule applies to winter sports, including basketball, cheer, dance, wrestling, gymnastics, and swim/dive when doing activities outside the pool. The list continues, as many sports have to wear masks when training indoors during their off-season. 
However, there are exceptions to these restrictions. The American Academy of Pediatrics (AAP) recommends cheer and gymnastics not wear masks during tumbling, stunting, or other tricks, due to the potential choking hazard or accidental vision impairment. They also suggest that wrestling should remove masks during contact because of the choking hazard, unless monitored closely by a coach.  
For all sports, the AAP tells coaches and organizers to assess whether the risk of mask use outweighs the risk of spreading COVID-19. For example, competitive dance is allowed to remove masks solely during performance, if approved by the team's administrators, because the duration of close contact is less than 15 minutes.
The CDC states that masks do not significantly restrict airflow, and they are safe to exercise in.  Other sources have found that when exercising, people are most likely getting plenty of air, but the lack of airflow causes athletes to "panic and not feel normal."
For many athletes, wearing a mask feels physically difficult.
"You're breathing in your own sweat. It's terrible," said Asa Thomas, a junior on the varsity basketball team. 
"It adds an extra level of difficulty, making [gymnastics] even harder than it already is," said varsity gymnast Reagan Fisch. 
Despite the challenges, athletes are excited to be back to play this season after a previously rough year, even if that means wearing a mask.
"I've been waiting to dance at the high school for forever, and my freshman year was mostly spent having practices online, so I'm really excited that this year is in person and normal for the most part," said sophomore pommer Rachel Silvers. 
"Nobody enjoys wearing a mask while dancing but it's worth being able to be back with the team competing," she added.