Stanley's Suggestions
In the first edition of Stanley's Suggestions, Lyn Stanley reviews PUP's album "The Dream is Over."
I wouldn't say I have the world's most unique taste in music. I love the oldies, I love some new music, and just about everything in between. I live and breathe music. 
According to my 2020 Spotify Wrapped, out of the 525,600 minutes in a year, I spent 132,850 minutes listening to music. With a bit of quick math, I spent 25% of the entire year of 2020 listening to music. Honestly,  I think that adds to my music reviewing credibility. It all comes from a genuine love for music. There might be more well-educated people to review music, but my wealth of knowledge stems from experience; everything I say comes from the heart.
The purpose of this series is to shine a light on my favorite albums that most people might not have heard of or have heard of the band but just never bothered to check out their full discography. My first choice is extremely biased since they are my favorite band, but PUP deserves the recognition.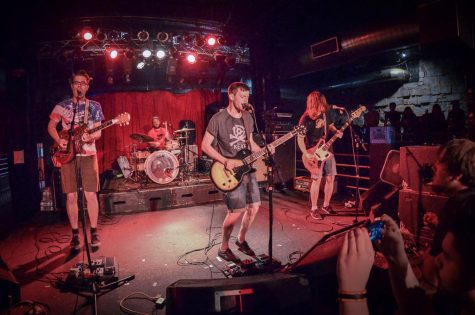 PUP is a Toronto-based punk band with four of the most unassuming men you've ever seen. If I saw them on the street, I wouldn't recognize them and they're my favorite band. With a modest 413,923 monthly listeners, PUP definitely is nothing to scoff at as far
as fans go. But their music, especially their sophomore album "The Dream is Over," deserves much more attention than that. 
"The Dream is Over" is supposedly a direct quote that the lead singer Stefan Babcock heard from his doctor after getting damage to his vocal cords assessed. Rather than just taking that damning diagnosis and giving up PUP confronts it in an album full of music that makes you want to headbang so hard that you give yourself whiplash.
This album is all about overcoming the odds; it's about surprising the people that want to see you fail and taking pride in your life going down the drain. PUP capitalizes on the strength of these feelings by working them into lyrical stories that are supported by the stylings of their guitarist Steve Sladkowski. Babcock, the lead singer, is an important figurehead to the band, but they wouldn't be anything without Sladkowski. His guitar throughout this album carries so much emotion and pulls you into the world of each song. 
In my opinion, there's only really one skip-worthy song on this album. I don't find "If This Tour Doesn't Kill You, I Will" memorable because of  its drawling beginning vocals. It just doesn't really hook you until the second half of the song. I'm sure that it's a fantastic live opener, but when it randomly comes up when I'm shuffling my playlist, I find myself skipping it. 
On the other side of the coin, there are some songs on this album that I believe everyone should hear before they die. In particular, my top three in order would be "Familiar Patterns", "The Coast," and "Doubts." All of these songs embody the things I love most about PUP. Babcock is a masterful lyricist and weaves engaging storylines into almost all of his songs, but the stories held within these three songs are the best. 
"The Coast" has a haunting story about people being swallowed up by a lake in a small town. 
"The town is always on alert/ In the spring they patrol the coast / fearing the worst / but no one can seem to accept the fact / the lake gives us life and she takes it back" Babcock sings.
This personification of the lake into some kind of being that could give or take really adds to the metaphorical layers of the song. 
"Doubts" and "Familiar Patterns" both are able to recount tumultuous relationships that make you feel truly invested in the outcome and make you relate them to your own relationships. These songs all bore a hole into my head and make me want to scream from the mountaintops how good they are. 
In all honesty, I just want more people to know this album exists. Anyone who's down on their luck or feels fed up with the injustices in their life could use "The Dream is Over." All of its relatable anthems encourage you to let loose and let go of the things holding you down. Rather than bottling it all up, turn this album on, get in the car, and scream your head off!