Pucks and Poms returns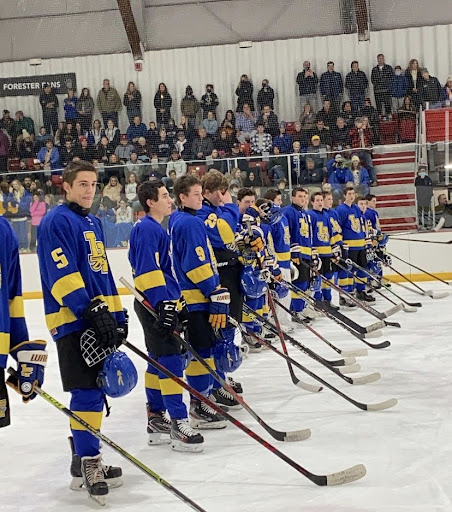 This year, "Pucks and Poms" was a complete success. Yes,  the Varsity team did lose in the end, but that doesn't mean the event was for nothing. All the money raised went to the hockey team and the Great Lakes Adaptive Sports Association.
"Pucks and Poms," which was canceled last year, is the hockey team's' homecoming event. Parents and students are invited to a triple header, with both JV and the Varsity teams playing back-to-back.
Throughout the event, concessions were available, along with 50/50 raffles. There were even fun events in the middle of a Zamboni run.
Mrs Haggerty, former Scouts hockey treasurer, said Scouts hockey donates anywhere from $3,000 to $5,000 annually to GLASA, with a significant portion of this amount raised by the Pucks and Poms event.
While the stands were packed with parents for both the JV Blue and JV Gold games, it wasn't until the Varsity game that the stands were packed to the brim with students. The student section was filled with hyped up students looking forward to the great goals and huge hits against the opposing team, BWHS
The stage was set for the most exhilarating match of hockey that LFHS has had this night.
The first period was electric: Senior Bobby Vedra got the first goal of the game for the Scouts, and the other team bit back, scoring a goal of their own. It seemed like the entire ice arena was shaking and quaking, unable to hold the excitement of both sides.
The second period continued to rack up tension between both sides: Some of the biggest hits of the night were the middle of this period.
Even the clearing of the ice held a bit of excitement for the fans. A couple of LFHS fans went out on the ice and took their best shot at a target from center ice. When one person made it, the whole student section rallied against the glass.
Finally, the zamboni exited and the varsity team came out for one final period of play. Every single student was back on their feet, hoping for the Scouts to come back on top.
The third period was the unsatisfying end to a well-played game by the Scouts. The opposing team scored with around five minutes left and scored one final time on an empty net to close out the evening.