10/10 with Varsity basketball captain Tricia Gray
Every week, TFS will be asking a 10/10 LFHS student 10 questions to dive into their passion. This week, we chose Tricia Gray.
With the long-awaited start to winter sports, girl's basketball is forecasted to have a successful season. Starting off strong with a record of 6-1, they are hoping to take home some titles this season, their last being regional champions in 2020. 
Senior captain, Tricia Gray, has been a key team player on varsity since her sophomore year. Pushing her teammates in practice, having high energy, and being a force to reckon with on the court, she is the ultimate leader. 
When did you start playing basketball?
"I started playing basketball in first grade."
What is your go-to pregame meal?
"Before my games, I go to Forest Greens and get the "Go-bananas" acai bowl."
Who is your funniest teammate?
"Probably [sophomore] Maddie Williams, she's always cracking the funniest jokes and has such a fun, high energy."
Do you have any pregame rituals?
"We always dance with the team in the locker room to get hype for every game."
What does it take to be a good basketball player?
"You have to be able to see the court, look to where your teammates are, and know when to shoot, dribble, drive, etc."
What is your favorite memory from LFHS basketball?
"Probably when we beat the number one team, Benet, in state my sophomore year. It was so exciting."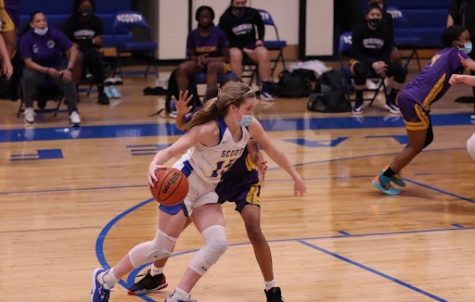 What is your pump-up song?
"Mr. Brightside."
What is your favorite game you have ever played?
"My favorite game is probably the Carmel game last year because we were the underdogs, but put up a good fight and ended up losing by only two points."
Who is your biggest fan?
"Definitely my dad. He's always supporting me and I can always count on him to be cheering me on from the stands."
How are you feeling about this season?
"I'm really excited. I think we have a great team, we're all super close, and we have so much talent this year. We've had a great start."