Luke Combs What You See Is What You Get 2021 Tour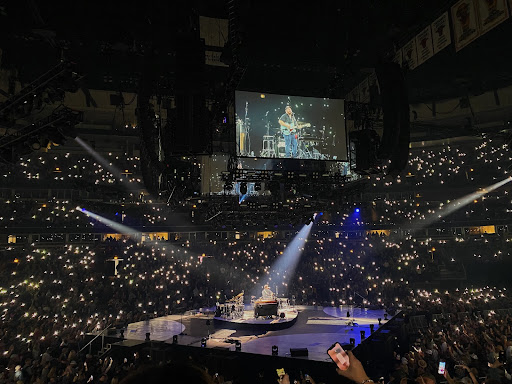 As a die-hard Luke Combs fan, I can honestly say that the United Center was the place to be on Nov. 5. From the overall energy of the stadium to the stage presence from Mr. Luke Combs himself- it was truly a night to remember.
For those of you who don't know who Luke Combs is, he's a 31-year-old country singer who has earned the hearts of hundreds of thousands across the United States with his famed country songs. 
You might've heard of Beautiful Crazy, When It Rains It Pours, or Forever, After All, a few of his most well-known songs released. If country music isn't up your alley or you just haven't gotten around to turning on one of his albums, I highly recommend you listen.
The AC/DC Thunderstruck beat began to blast over the stadium's speakers and all attention turned to the center of the arena as everyone looked for Combs in the midst of the massive crowd.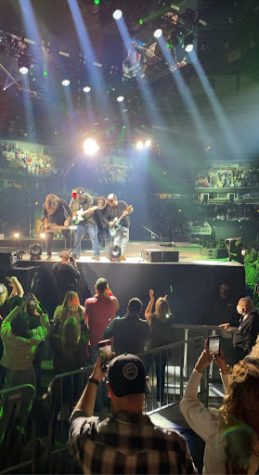 As soon as he stepped on stage, it felt surreal to be back in this kind of concert setting- loud, packed, and lively. Opening with a fan favorite, "When It Rains It Pours," from his 2017 album This Ones For You, the crowd already seemed riled up and ready for the two-hour experience.
Throughout the night, there were a number of impressive performances that shouldn't go without recognition. Though they didn't make our top list, these songs seemed to deliver an abundance of emotions for both the audience and Combs himself. In his performances, "Houston We Got a Problem, and Hurricane," Combs perfectly portrayed the heartfelt emotions behind each lyric. 
One extremely unforgettable moment from the night had to be before he sang his 2019 single "Even Though I'm Leaving." Combs shared a touching story about his parents, revolving around his appreciation for them since they've always seemed to support his dreams as he grew up. 
Mentioning his hometown, and when he moved out, the speech seemed to tie in perfectly with the storyline behind the song.
"I won't be here, but I'll always be right there, even though I'm leavin', I ain't goin' nowhere"
Bentley's Top Picks
Picking my top two favorite performances of the night was honestly a massive challenge.I won't lie, I went back and forth between a few before I finally landed on "She Got the Best of Me and Must've Never Met You-" both from his fourth album 'This One's for You" released in June of 2017. 
These performances stuck out to me because they're just simply both classics, they're two of his most popular songs, and two of my favorites. Although some might say these are basic picks, you truly can't go wrong with them, and Combs' performance did not underwhelm me as he performed both as if it was his last time singing them.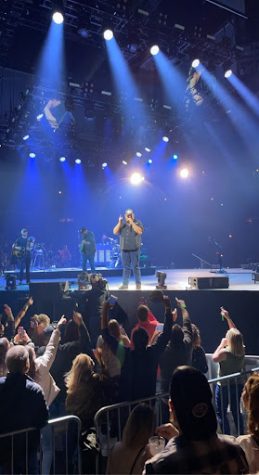 Walking into the United Center that day, I was easily most excited to hear Comb's perform "She Got the Best of Me." The impressive ballad that reached #1 on the country charts back in 2018 seems to always leave me singing in my car, and I couldn't wait to hear it sung live. 
And even though it was released as a bonus track to the album, I think it's safe to assume that it's a favorite among Luke Comb fans. Hearing Comb's singing this song raw had me tearing up as I felt every pitch change within the chorus. And as much as I love the original track, I can easily say that I much prefer his natural, live version of the song.
Although "Must've Never Met You" is one of my personal favorite songs that Combs has ever released, that isn't the only reason I choose to include it in my top picks. I picked this particular performance because of how it affected the audience's vibe.
It was the first slow song of the night, and it brought the audience's energy down in the absolute best way possible. The upbeat songs leading up to this such as "Honkey Tonk Highway" and "When It Rains It Pours," had every person in the arena on their feet jumping around to the powerful backbeat. But as soon as the heartfelt country song's intro started playing, the stadium went quiet as everyone waited for the first lyric to be sung. 
I saw the arena's energy become a little more mellow, which let the audience really connect with Combs and pay attention to every last detail of his performance.
Maeve's Top Picks
After rewatching a few shakey videos I managed to take, I concluded that "Beautiful crazy" and "One number away" were easily highlights of the show. Both also from his fourth album This One's for You, were strong performances. They certainly deserve recognition as each contributed such different and powerful energy. 
I'll admit- the lyrics to "Beautiful Crazy" are a bit cheesy, but I think that's what makes it so memorable and catchy.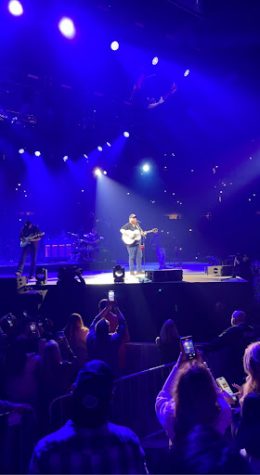 I was hoping this intro would play after he wrapped up each of his other songs because I just couldn't wait. It was, after all, the song that originally introduced me to Comb's music. 
What I loved about this part of the show was that the spotlight came down on just Comb's and his guitar. Throughout the concert, we didn't see this instrumental side to Combs, which made this performance really stand out. It goes to show that he isn't just a talented singer, but a musician as well. 
On the contrary, I loved "One Number Away" for the energy it brought to the crowd. I wouldn't consider it one of my favorite Luke Combs songs, but in my opinion, it certainly outdid other performances of the night. His third single off his debut album, This One's for You gave Combs his third number one country hit overall. 
That being said, it was with no doubt a huge hit within the stadium as fans went crazy with just the first verse. "One Number Away" has the perfect build-up to a strong chorus, making it such a fun song to sing along to. Not to mention, his vocal performance was spot on as it sounded exactly like the original track. 
I don't think anyone in the audience could've been let down by the execution of this performance, it was most definitely a highlight to the show. 
With the popular and favored hit "Hurricane," the concert was coming to an end. 
Walking through the crowd, Combs had made his way off stage. But saved by the encore, he still had two songs left to play. Both singles from his 2020 album, What You See Is What You Get, "Better together" and "Beer Never Broke My Heart" were perfect selections to top off the show. With completely different rhythms, one being slow and the other upbeat, it was a great mix to settle his performances. 
If you haven't already listened to Comb's albums, I would start now. It's safe to say his performance exceeded our expectations.