Senior travels to COP26 to advocate for climate change
"Time and time again, politicians don't care about climate justice"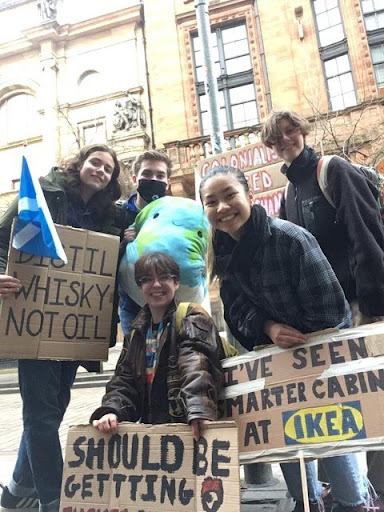 Senior Gregor Sharp is a climate change activist who spent six days in Glasgow, Scotland, with an organization called Earth Uprising to protest during the 2021 United Nations Climate Change Conference, or better known as COP26.
When did you first become interested in climate change? 
"When I was younger, I traveled with my family to San Diego, California, for a road trip. Midway through, around the Palm Springs area, we parked for the night near a forest fire. Sometime during that, a piece of ash or ember landed on my right hand and burned it. After that experience I started to research forest fires and how climate change influences natural disasters. Greta Thunberg also inspired me to really act on climate change by her zero waste traveling ,which surprisingly is really hard to accomplish."
What was your main goal when you traveled to Glasgow?
"My main goal was to genuinely try to use my voice as a member of the youth to get the real change that is needed to properly ensure a secure future for our Earth."
How did you feel before traveling to see the conference?
"I was very nervous about attending the conference before leaving. I felt like political leaders were not putting the effort needed into actually properly making changes we need to prevent climate change."
Were you optimistic that the UN could come up with good solutions to help prevent climate change?
"I was very hopeful that the UN would come up with a couple good solutions to help prevent climate change, but obviously I'm never going to be optimistic about it unless they show the true determination that's needed to address this serious issue."
What surprised you the most when you first arrived at Glasgow?
"The genuine sense of community that the youth climate movement had surprised me. The sense of inclusion the youth had was really important. Some of the more well-known activist groups have elitist views upon each other."
What were some ways you contributed to the conference? How did you become involved?
"I contributed to the conference by using my voice for political speeches, protests, and negotiating with people involved within the almighty and powerful blue zone. They listened to what me and my peers had to say and devolved on how we were already experiencing the beginnings of massive climate damages to our societies."
What was your favorite part of your trip?
"My favorite part of the trip was almost certainly meeting other climate change activists!"
Are you happy with the results of COP26?
"Overall, I'm not happy with the results of COP26. It just seems that time and time again, the politicians don't care about climate justice and are not fully addressing the climate movement."
Do you think you will go again in the future?
"Well, the organization I'm a part of has definite plans of attending COP as an individual delegation next year in Egypt so I will probably be there too."
What's an easy way students at Lake Forest can help combat climate change?
"Students can recycle, invest in composting, use our student voices to implement changes to the systems in place in our school that contribute to increased pollution, and thrift second hand instead of new clothes!"