Gymnasts flipping over return to normal season
First away meet is Wednesday at Libertyville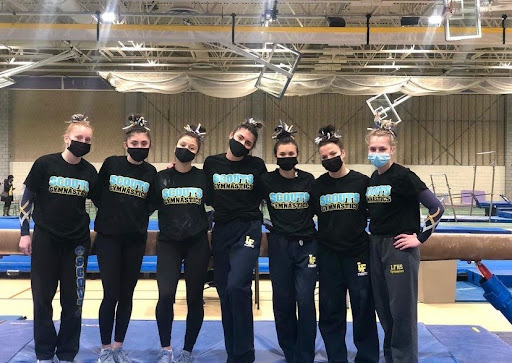 After COVID limitations for part of last season, members of both the JV and Varsity gymnastics teams are excited to get back into their normal routines in the gym.
"Pretty much the only thing we could do last year online were group workouts," senior Emily Chabraja said. "We couldn't even do gymnastics."
Team bonding has been easier this year, senior Rachel Pogany said.
"I'm so excited to be back in person for gymnastics this year. It's so much fun to bond with the team and work on gaining new skills again,"she said.
The girls are preparing for their first away meet Wednesday at  Libertyville High School where the girls will compete against Libertyville and Mundelein.
On Saturday, they will compete in an invitational meet at Rolling Meadows High School.
"We are very, very excited to get this season started," Head Coach Brittney Moccia said. "We are looking forward to getting our athletes back in the gym practicing their incredible skills while doing so in a safe and healthy environment."
Of course this year will be slightly different due to the COVID precautions, but the gymnasts can compete in all of their favorite meets this year.
Moccia is particularly excited for their upcoming holiday meets. The Holiday Quad meet is Dec. 16 and the annual Lake Forest Invitational is Jan. 6.
"The motivation and energy from our gymnasts this season is palpable and exciting. The level of talent is stronger than ever and the skills our gymnasts will be competing are extremely impressive," Moccia said.
Chabraja is looking forward to the gymnastics team's meets later in the year.
"I'm super excited for the meets later in the season like conference and sectionals," senior Emily Chabraja said. "Those meets are always so fun because by then we are so close as a team and also very confident in our routines."