In their season opener, Scouts Boys Basketball cruises past Round Lake: 69-21.
WINNETKA, Ill. — Oftentimes, the first game of the season can be tough for basketball teams, as it is the first opportunity for them to play together in season. On Monday night, the Scouts were on the other side of that narrative, defeating Round Lake High School 69-21.
The first quarter was nothing but a blowout as the Scouts led the Panthers 19-0. They continued their incredibly hot start with an unfathomable halftime score of 43-1.Fans who arrived late often did a double take at the scoreboard to make sure it wasn't a glitch. Seniors Sam Gibson and Alex Forowycz and junior Asa Thomas led the team with 11 points each at the break. 
"Our defense took the lead for us as we didn't let up a point for the first quarter and a half. It helped us get more settled in with the offense throughout the first half which was huge," Thomas said.
The second half started quickly for the Scouts as two charges taken by Alex Forowycz on consecutive possessions got the Scouts bench on their feet. However, they seemed to be more relaxed with the ball as they slowed down and worked through their plays on offense. With 5:01 left in the 3rd quarter, the Panthers scored their first field goal of the night, starting somewhat of a run, as the 3rd quarter ended with a score of 62-14. 
To start the fourth, both coaches agreed to have a running clock, and the Scouts scored 7 points and beat the Panthers with a final score of 69-21. On top of a strong defensive game, the Scouts dominated on offense, scoring effortlessly for all four quarters.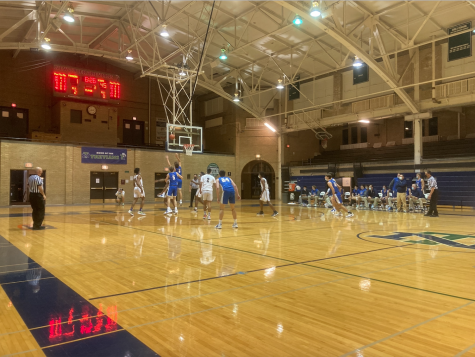 The blowout was fueled by a stellar performance from senior Alex Forowycz. The offensive threat had 17 points and tied the rest of his performance together with a few forced turnovers in big moments. Senior Sam Gibson chipped in 11 points and top ranked junior Thomas added 11 points as well. Senior Louis Novelli provided second half fuel for the Scouts, scoring eight points during the quick second half.
With the commanding win, Lake Forest is off to a great start to the season as they travel to Loyola on Tuesday to take on Chicago Bulls College Prep, who went undefeated last year.