Taylor Cekay: Journey to Success
Multi-sport athlete earns 6th in State for Diving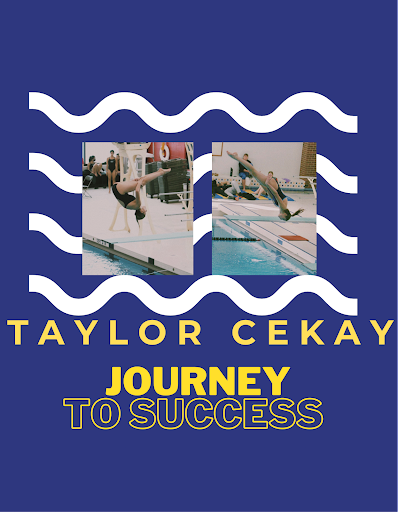 A competitive gymnast her whole life, senior Taylor Cekay has managed to transfer her twisting and flipping skills from the beam to the diving board, finishing sixth in the State finals in Westmont, Illinois. 
Cekay started competitive gymnastics at six years old. She is a star gymnast with a collection of more than 200 medals and awards. Along the way, she picked up diving and soccer.

She started diving at the Lake Forest Club as a kid but began dedicating large portions of her time to club diving once the high school season sparked her interest.
"She was super consistent throughout the season and pushed herself to do the hard dives. That got her to the finals. She's really good with keeping calm and focused," diving teammate senior Emily Chabraja said.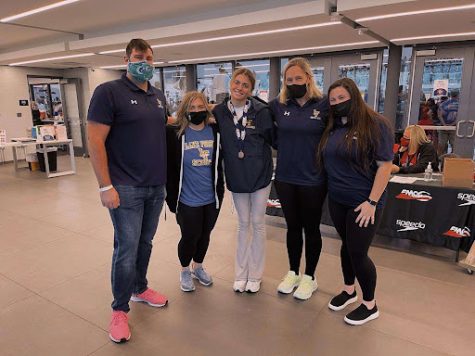 But as relaxed as Cekay may have appeared to her peers, she faced anxious emotions as a first-time finalist for diving.
"I was so nervous going into it. I seriously thought that I was having heart palpitations for the entire week before because I had no idea what to expect," said Cekay. "I felt confident in what I was doing, but sometimes I feel like an amateur competing with some of these girls that are committed to big-time schools for diving." 
Cekay maintains a modest attitude, regardless of her high rankings. "I was still completely shocked I had made it there after the other 36 divers had been cut the day before, and they were all extremely talented," she said. 
Cekay is a captain for both the Varsity gymnastics team and the Varsity diving team. She has broken one diving record and four gymnastics records at LFHS, and she is a true leader on all of her teams. 
"Taylor was an amazing captain who encouraged me to try new dives every day," junior and diving teammate Reagan Fisch said.

As smooth as her path to success in diving may have seemed, she encountered some bumps in the road. 
"A lot of it came naturally from gymnastics, but when I had to start learning new dives, it was so embarrassing. It's hard to get out there in front of people and try new things. There were a lot of failures that made me never want to go back," Cekay said. "But I knew I couldn't take the easy way out and quit because I would not be happy with myself, and the only way to get better is to keep trying."
Many of her accomplishments have resulted from her hard work on the diving team, but she also prospers in several other sports at LFHS. From the diving board to the gym, to the soccer field, Cekay spends the majority of her before-school and after-school hours at practice. She is a three varsity sport athlete with impressive drive and dedication. 
"My favorite part of sports is being able to compete for my school and do it with some of my best friends and make new friends," said Cekay. "The feeling of being at state finals or in the playoffs with the soccer team is the best feeling: the moments we all work hard for."
Cekay's teammates commend her work ethic, but also her compassionate character. 
"She is not the type to give up if she doesn't get a skill the first few tries and keeps working until she is where she wants to be," said junior Annie Swift. "And whenever I need advice about gymnastics or anything else, I know Taylor will help me out. She cheers everyone on at meets and is loved by all," said Swift. 
Although Cekay's diving season has come to an end, she has left behind an exceptional legacy in the program, surely headed to carry her strengths over to the gymnastics and soccer teams as well.