Veterans Day Ceremony reminds community of importance of service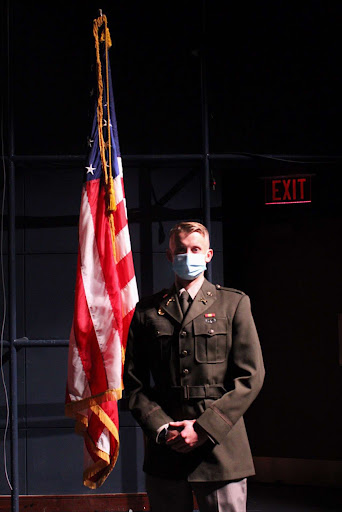 In a presentation that brought some audience members to tears, the LFHS Veterans Day Ceremony returned this year with its message of  honor and respect.
The wind ensemble, led by Janene Kessler, opened with a rousing patriotic piece, building up to emcees Sarah Mack and Andrew Terkildsen, who spoke about how grateful they were to have the opportunity to host the event.
"It was a huge honor," Mack said. "I come from a military family myself, so I found a lot of this relatable, and I loved being a part of an occasion so close to my heart."
Next came the Presentation of Colors by the Lake Forest American Legion Post 264, where members presented the flags. This is a ceremony of great importance and a new experience for many in the audience. The flags were presented with a sense of seriousness that set the tone well.
Following this was the National Anthem played by the band and sung by senior Amelia Myers. Her powerful voice combined with the talented band members enthralled nearly everyone in the audience. Myers and the band continued to amaze with a rendition of "America The Beautiful," performed as a slideshow of students' loved ones played across a stage projector. Despite technical difficulties, this was handled with grace and turned into an emotional experience for not only those whose family members were shown but everyone watching as well.
Commander of Post 264 David Lipinski reminded the audience about the importance of patriotism. Then the wind ensemble played one piece for each branch. As a new piece began, members, veterans, and their families from their branches were called to stand. The applause was thunderous. The band played a huge role in this, executing their music very well.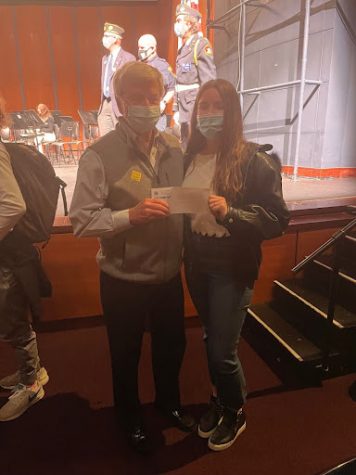 Alumnus and US Army Infantry Officer Spencer Oakley ('17) spoke about his experience as a representative of the United States.
"I get excited at the ability to deliver for my people and my country in whatever ways possible," Oakley said. "When someone thanks me for my service, they are not just thanking me. They are thanking every veteran who did their part and served with honor before me."
Post Commander Lipinski then congratulated the winners of the Lake Forest American Legion contest. This year's theme asked, "What does Veterans Day mean to you?" After announcing runner-ups sophomore Sydney Kirages and senior Sophie Huddlestun, he granted first place winner senior Christina Carris her prize of $1,500 for a video interview she made with her grandfather.
Half of the prize will go to a club of Christina's choice. She plans on putting the rest towards the Disabled American Veterans Charitable Service Trust Fund, as well as into her college fund.
Christina's grandfather, who she lovingly referred to as "Papa," served in the army from 1965 to 1967.
"He's such a role model for me," Carris said. "I love learning about him and his life because he has done so many amazing things, and all of it has been to benefit other people. I strive to be as selfless as him."
Following applause for Carris and her grandfather, local veteran and member of the Lake Forest Fire Department Eric Farr was congratulated as Post 264's Veteran of the Year. In his speech, he became choked up as he explained the emotion Veteran's Day brings him.
"I served my country with great honor, and I hold my head high as a veteran and a Marine," Farr said.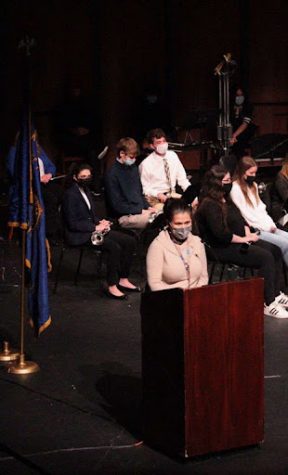 He also called out the importance of  saying "thank you" to veterans. "They live among us," Farr continued. "They're our teachers, our pastors, nurses, public servants, every profession imaginable. If you see a veteran, just say thanks."
Talented trumpet players juniors Isaac Poulton and Koen Brown then played Taps, which is unique to the United States military, and can traditionally be heard at funerals, wreath-laying ceremonies, and memorial services.
To close, the audience listened to a speech from Principal Dr. Erin Lenart.
"It's hard to give a speech about veterans without starting to cry… this one's always a tough one for me."
She also explained her experience as a military wife. Getting emotional, she spoke of the hardships she faced getting only two 15-minute video calls over the span of 14 months.
"Many knew that you had to have your phone on you at all times because at any point you could get a 20-minute phone call from a crackly extension your spouse was calling from," Dr. Lenart said.
After the ceremony, Farr said he became emotional because the ceremony reminded him of all the sacrifice veterans make.
"I hope in such political times, we realize we are all Americans whose souls have a common, united goal. I also hope people know that Veterans come from all walks of life, and all backgrounds, so it's so important to never take anything for granted. Remember all of your freedoms," Farr said.