10/10 with Jahari Scott
Every week, TFS will be asking a 10/10 LFHS student 10 questions to dive into their passion. This week, we chose Jahari Scott.  If you want to see Scott in action, cheer him on tomorrow at 1 p.m. against Prairie Ridge at West! Get your tickets here: Quarter-final Tickets

The LFHS football team has been extremely successful this season, recently advancing to the state quarter-final game after a 13-8 win against Harlem. With an impressive 17 rushing touchdowns, senior captain Jahari Scott has been a vital element to the team. 
When watching a Scouts football game, Scott is hard to miss. He is quick, sneaky, and always has something up his sleeve to get the crowd going nuts. In the game against Carmel, Scott defied gravity and jumped over an entire player while rushing. 
Scott is hopeful to bring home the win this Saturday in order to advance to the state semi-finals.    
When did you start playing football?
"I started playing football freshman year."
What is your go-to pregame meal?
"I usually eat a stick of sharp cheddar before every game."
Who is your funniest teammate?
"Definitely Quinn Garrigan. He's just goofy and always has everybody laughing. [Coach] Spags gets mad at him sometimes, but he's still funny."
Do you have any pregame rituals?
"I pray during the National Anthem before every game."
What does it take to be a good running back?
"You have to be fast, you have to be shifty, and you have to be able to take a hit."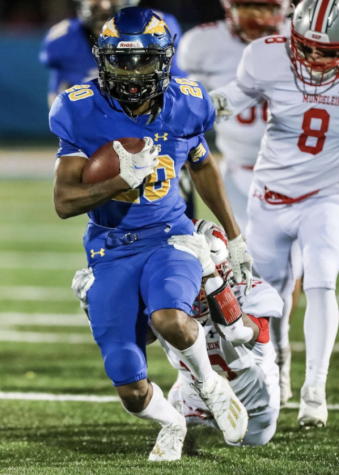 What is your favorite memory from LFHS football?
"My favorite memory is probably scoring the kick-off return against Libertyville."
What is your pump-up song?
"The Grinch by Trippie Redd."
What is the most memorable touchdown you've scored?
"Probably the Lake Zurich touchdown, the 63 yarder."
Who is your biggest fan?
"Definitely my mom, she knows a lot about me. When I'm laying on the ground and people think I'm hurt, she'll be just sitting there laughing. If I got hit hard though, she'd get out of her seat and try to fight the other player. She's always there and I can hear her screaming from the sidelines during every game."
How are you feeling about the remainder of the playoffs?
"I'm pumped. I feel like we have a good chance to win it all. I think our team is one of the best teams left in the playoffs right now."