Super Scoutfits: Pink Out
This fall season, the Scouts have really been showing up and showing out. At the game against Mundelein, I saw many fashionable Scoutfits worth talking about.
Someone who really stands out to me is senior Jack Blume. Whether it's hockey games, or football games, Jack goes all out. He is noticeably one of the most spirited Scouts and I think it's time he gets some credit for it.
I mean come on, Jack literally showed up in a blow up morph suit. Here he is front and center, ready to go.
Jack radiates nothing but good energy at all sporting events, and is a prime example of what it means to be a Scout. 
Not forgetting the cause, he has two cancer awareness signs on his face. 
Ugh. Juniors Sophie Delhey and Victoria Lang were absolute show stoppers.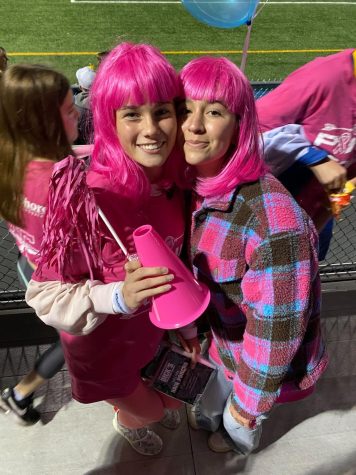 First of all, I loved Sophie's plaid fuzzy jacket which had hints of hot pink. Perfect combination with her hair due which was very hard to miss. 
Not many people can successfully pull off these wigs, but they managed. 
And hey, if you're ever struggling with how to be more spirited, take notes! These wigs slay. Perfect for blue out, scout out, or any colored themes. 
Next we have senior Mimi Gordon. Mimi is fully pinked out, head to toe. 
Proving you can look cute and spirited, Mimi wears the classic 'Pink Out' shirt layered over a pink long sleeve. All pink on the bottom too, she wears leggings with a fringe skirt.  
Mimi did not miss. She even holds the head of senior cheerleader Katie Gildersleeve in honor of senior night. What a supportive friend!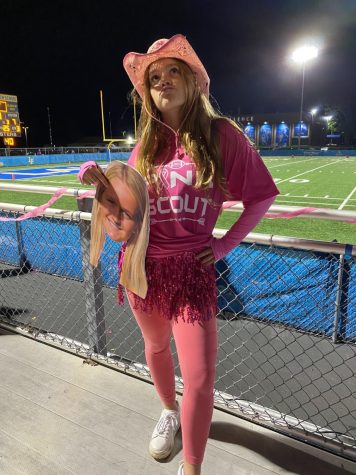 My favorite part of the outfit is the pink cowboy hat. Matching her leggings perfectly, this hat is the perfect asset to the outfit. 
Cowboy hats are always the move. Cute and festive!
At every game, senior Sydney Schafer is the show stopper. 
Maybe Sydney is featured in all of my stories, but maybe it's just because her outfits are the best. Sue me. 
I mean hello? Sydney wears a tie dye tank top and pink mini skirt under a pink zip up sweatshirt. So cute! It gives me an early 2000s vibe.  
I adore  her trendy little hair style; she literally has color-coordinated hair ties.
While Sydney's hot pink fanny pack is a perfect touch, her face jewels really set this outfit overboard.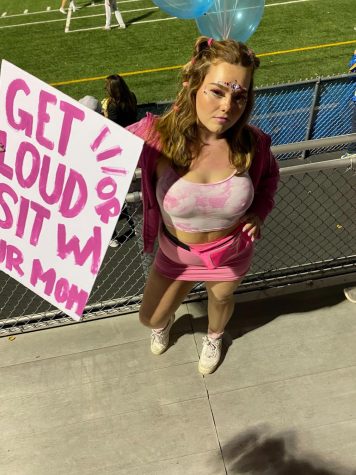 Before we finish the last Scoutfits of this football season, I think it's very necessary to point out the hard work of the band crew this year. Not only did they provide us with amazing talent, but they did a stellar job in hyping up the stands. I have never seen such determination from the band students in getting the stands excited, and I hope this enthusiasm is passed down. 
Rounding the end of the football season, us seniors are very sad to say goodbye to all the excitement of FNL. But don't be sad, I have lots of faith in our future generations to carry on our support. Whether it's the ScoutNation leadership at the bottom of the stands, the rave dancing in between plays, or the hype in the stands, I have lots of hope that our traditions will be passed down with pride. 
Anyways, maybe I'll be back for basketball games? Maybe not.. If I don't see you, SCO-.