Behind The Music
Staff Writer Jensen Borowski profiles Sydney Rubinstein, a junior and talented musician.
Listening to music is a way for people to connect with their feelings. If someone is happy, they might listen to upbeat music. If someone is sad, then they might listen to slower music. However, there is someone behind each of these songs, expressing their own feelings. 
For the past year, junior Sydney Rubinstein has been putting her own message into the music she makes.
As a kid, Rubinstein was surrounded by music. Her parents started her off on the piano, and she continued to explore the world of music, sparking her interest in a new passion – the guitar.
Rubinstein's love for the guitar, mixed with inspiration from her sister, Lucy, is what took her musical journey to the next level: writing music.
"It was really inspiring to watch her be really passionate about something, and so I kind of liked that drive that she had and I wanted to focus that on something else that wasn't necessarily classical, and so I really like the idea of being able to have self expression through music," Rubinstein said.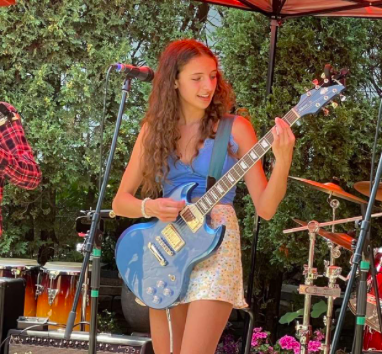 Many artists have their own personal "process" for writing a song, and Rubinstein is no exception. She starts off by creating a melody and then finding some chords to pair with it. Sometimes she even surprises herself with what she comes up with.
"When I put notes together and when I put chords together and I'm listening to it, I'm like, 'wait, that's really cool, wait I just kind of did that, I didn't know I could do that,' it's a gratifying feeling," Rubinstein said.
Her next step of the process is coming up with lyrics. However, most of the feelings that Rubinstein tries to communicate come out through the tone of her music, rather than through what she says in the songs.
To Rubinstein, music is a voice for the messages that aren't always told.
"I think a big thing about me with my music is I feel like it's a really good way to express feelings of mental health, which can be really hard to communicate to people, or at least just let those types of feelings out."