Are Ugg's now… trendy?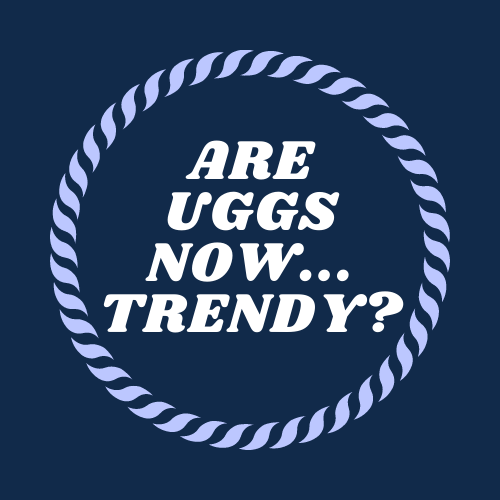 I think one mark that quarantine has left on me and, in particular, my fashion choices, is the fact that my closet probably has more loungewear than typical going-out cute outfits. Am I mad about it? Absolutely not. 
Loungewear is the new chic, and Ugg is currently leading the charge for the chicest cozy footwear out there. Introducing my latest splurge and obsession: The Disco Slide. Slippers had never really been my thing. I really only identified them as something that my grandma wore on the daily inside her house, so you could say that I was hesitant.
 Also not to mention that my mom purchased these platform slippers a year ago in the most obnoxious colors, and I am pretty sure I posted them on my private story the same day making fun of them. Now she makes sure to let me know how she, "predicted the trend before it was cool." 
Ugg has made a major comeback in the last few months. Their website is now filled with a colorful display of fun new slippers and slides compared to the bland neutral classic slippers that are now a thing of the past.
And I am actually not the only fan. Celebrities such as Selena Gomez, Kylie Jenner, and Madonna have all been spotted wearing these trendy slippers out and about. 
What I love about the Disco Slide: First is the platform. I am very frequently reminded by my friends and family that I am not exactly the tallest. So, naturally, I love opting for shoes that will give me a little height. Platform anything has been so in lately and I am living for it. They make your legs look so long and lean, and I feel so much more confident with a few gained inches. 
The elastic strap at the end adds great security, preventing the slide from flying off your foot when walking. I know that sometimes in my classic Ugg slippers I find them almost hard to walk in and practically sliding off my feet. 
What I don't like about the Disco Slide: They definitely do not remain in their perfect clean state forever. You kind of have to bite the bullet and just accept that they're eventually going to get dirty. As my friends like to put it, I'm a "yellow type of gal," which is just their weird way of saying that yellow is my fav color. So naturally, when I saw the yellow option I knew it was meant to be. 
I have no fear wearing my yellow slippers outside. The only downside is that you can visibly see the shadow of natural wear on the sides of the platform. 
Would I recommend buying the Disco Slide? Absolutely yes. I really think that these slippers are an investment worth splurging on. Looking beyond the price tag, I feel these really are worth every penny and last a long time. I may have made a mistake by buying the lightest color option available, but anyone who is not a perfectionist would say they look in good condition. These bright platform strappy slides are genuinely so comfy to wear. There are so many different styles and colors to choose from. I am probably in the minority for choosing a color so loud and "out there," but there are a ton of basic colors that are so versatile and work for an all-year-round look. 
You can easily dress these up or down for different occasions. I have no joke worn them out to dinner at Authentico with my mom, pairing them with jeans, a tank, and a shacket (shirt-jacket). More often than not, however, I wear them on weekends with my jammies around the house or when I'm with my friends. 
Like I have reiterated probably too many times now, these are a 10/10.