Love on Tour: Is it Worth the Hype?
Harry Styles brings an amazing two-night performance to Chicago
On September 25 the United Center was filled with crowds of girls waiting to see Harry Styles. Harry Styles finally brought his Love on Tour to Chicago after having postponed his concert due to Covid-19. He has not been in Chicago since June of 2018, and the anticipation was rising as fans waited up to a day in advance to get into the venue. This tour he came to Chicago for two nights, both completely sold out. 
Although Harry has a huge loyal fan base, many question if his pricey tickets are worth it. The cheapest tickets are
$233 USD from SeatGeek. This is a very high price, especially because the seats are nosebleeds and in the last level. The most expensive tickets are $1,847 USD onSeatGeek; however, they are in the Watermelon GA Pit, the closest you can get to Styles and his band. 
Most would say that paying just shy of $2000 is not worth it for just a couple hours of Harry Styles, but he puts on a show like no other. To start, Jenny Lewis opened for him, singing her nine most popular songs. Although she was no Harry, fans still went crazy and danced during her songs. The real fun began, however, when Harry emerged from the center of the stage singing one of his hits, Golden. Fans went wild jumping and dancing to his song.
Many argue that you can hear his music any time over music platforms, and it is not worth it to pay hundreds or even thousands of dollars to hear him perform. Styles, however, brings a presence to his stage that many artists do not. He interacts with the audience, talking with people, pointing out signs and even singing about what some people are wearing.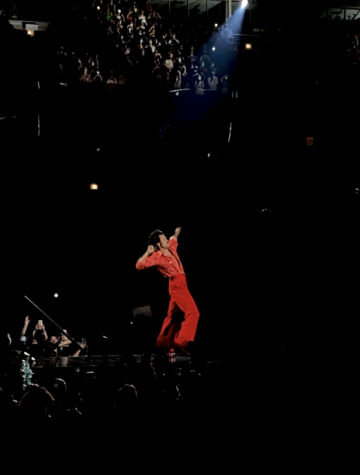 He also creates an inclusive atmosphere where everyone feels welcome and included. In Chicago, he embraced every kind of person that was there, carrying a gay pride flag and talking about how important it is to love each other, and most importantly, love yourself. 
"If there is anything that I have learned over the past 18 months, its that time with the people you love is the most important thing in the world, so please, tell the people that you love that you love them, and just take, take a moment during this next song to remember a time when we could be in the same building together and how important this is," Styles said. 
He created a unique environment just for Chicago. His first night, he asked his audience to vote for the pizzeria with the best deep dish Giordano's was the clear winner, and he even admitted it was his favorite as well. He also listed all the facts that he knew about Chicago.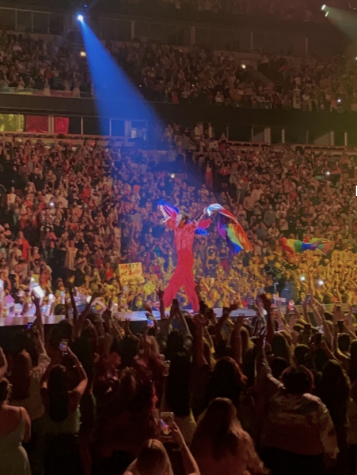 "It's been a while since I've been in Chicago, and as you've enjoyed my previous facts so much, I'll give you a few more," Styles said. "Chicago! Home of the Twinkie. Did you know that? Home of the Twinkie, Home of the Twinkie. Spray Paint was invented in Chicago. 323 miles of bike paths in Chicago. 144 dog-friendly restaurants in Chicago, did you know that?"
By doing this, Styles created an unforgettable atmosphere: fans were crying and singing and people were not afraid to be who they were. One fan even came out right before the concert, and the whole United Center broke out into applause. For many, the concert was not about listening to his songs, but being close to a man they find inspirational.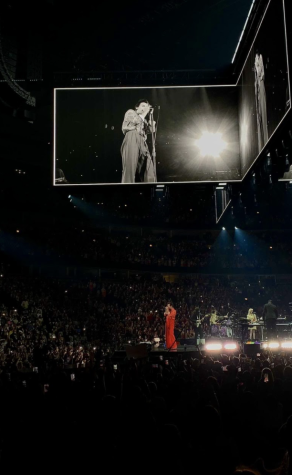 "The energy there was so positive, especially because it was the first big concert since Covid. Everyone was so nice and the environment was so fun because of all the outfits and energy that people brought to the show," senior Geneve Farrel said.
Styles also made both concerts in Chicago different in terms of how he  interacted with the audience.. He also changed up his setlist a little, for the first time this tour he sang "To Be So Lonely," and fans went wild.  
The enthusiasm that Styles brought to the stage was an unforgettable experience that was well worth the wait and the money. He made up for the pricey ticket by putting on a show like no other, and his vibrant personality is unmatched.
"The concert was 100% worth it, I've never felt so euphoric in my life. He put on a great show and his voice was even better live than it was over the radio," said senior Sheridan Leahy. "The way that he interacted with the crowd was unlike any concert that I have ever been to, and it was well worth the price."