Scouts Hockey Beats New Trier in 4-1 Thriller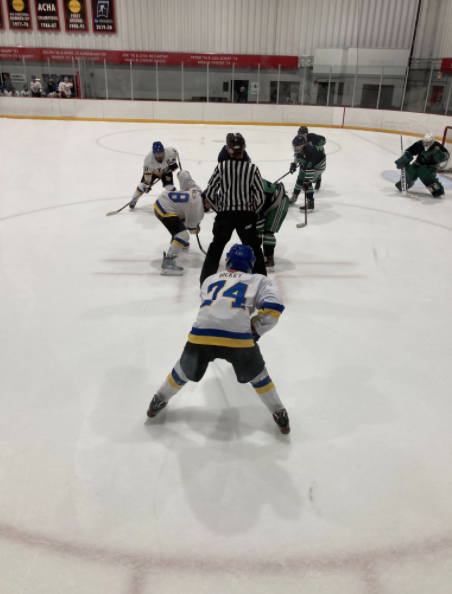 In undoubtedly the most talked about game of the season for the Scouts Hockey team, the Scouts did anything but disappoint. 
The stands filled up quickly as fans willingly stood on another section of bleachers, in an effort to get a good look at the game by any means necessary. 
The puck dropped and the team's energy was contagious. The student section had done their research on opposing players, attempting to derail the Trevians' focus as much as they could. 
After a few great chances by the Scouts, the first goal came off a beautiful assist from junior Dennis Hickey to Senior Captain Bobby Vedra in the middle of the first period. The Scouts stands were buzzing as cheers rang throughout the Lake Forest College hockey arena. Standing their ground, the Scouts held off the attacking Trevians for the remainder of the first period. After a brief intermission, the Trevians scored an equalizer early in the second and the Scouts seemingly dialed themselves in for the rest of the game as it became more of a close contest. 
Just a few minutes later, the Scouts got back on the train as junior Mark Cervieri assisted sophomore Murphy Moorhead to put the Scouts back in the driver's seat. The student section was as lively as it was all game as the Scouts went into the locker room for the intermission. 
Shortly thereafter, the New Trier team came out of the locker room surprisingly early, and attempted to get an early warm up on the Scouts. The determined Scouts then walked out onto the ice, skated a few laps, and lined up to finish what they had started.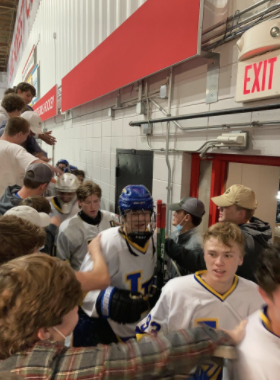 After many chances from the Trevians, the Scouts capitalized on the counter-attack as senior Charlie Drake a.k.a. "Drizzy Island" assisted junior Oliver Nalepa to put the Scouts up 3-1. 
"It's all your fault" chants echoed throughout the stands at the opposing goalie, and the bleachers appeared to tremble with Scouts fans ecstatic that their team had taken the demanding lead.
As time winded down, the Scouts were in the home stretch. New Trier pulled their goalie as a last minute hail mary backfired on them when Senior Captain, Bobby Vedra netted a fourth goal for the Scouts. The ending buzzer finally rang, and the Scouts went home with the victory. Nothing better than capping off a packed game against the Trevians with a victory. Thank you to all those who came out to support, and always remember to stay off the tracks when the Scout Train is coming.