Your Guide to Trader Joe's New Fall Items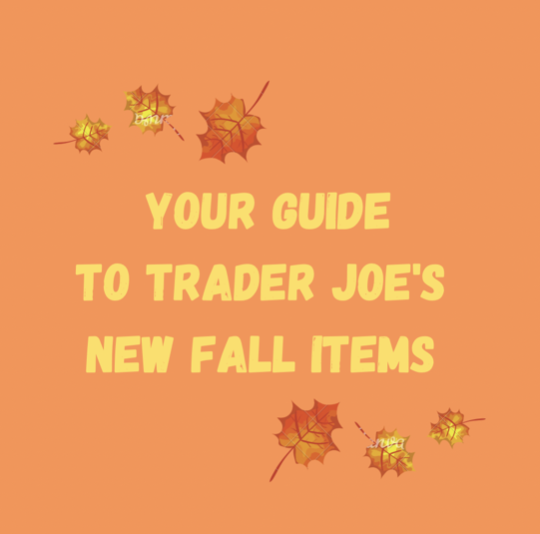 It's that time of the year again- fall is rolling in and Trader Joe's is stocking up on our favorite fall items. In case you haven't seen the recent hype that Trader Joe's has received from Tik Tok, Trader Joe's is known for having the best autumn food and we are here to review a few of their new items for you. Here are the three products we reviewed for this week. 
Organic Pumpkin Spice Granola Bark: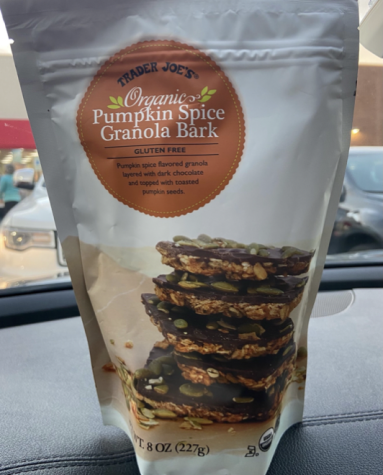 Emily: I would personally rate this an 9/10. Initially I wasn't loving it, but as I sampled more, it grew on me. As a granola fanatic, I think it's safe to say this granola exceeded my expectations. The granola had a hint of pumpkin with a thin layer of chocolate. What I really liked about this was that the chocolate didn't overpower the taste of pumpkin, instead it created a nice contrast. 
Molly: I would rate this product a 7/10. When we first picked out this snack, I wasn't sure if I was going to like it. I am personally not a big fan of seeds, but I was willing to give it a try because I love granola and this looked like an interesting new snack. I think the granola was a 10/10, but I tasted less pumpkin spice than I was originally hoping for. The dark chocolate was a nice touch to the granola and added a nice sweet flavor  overall, but I wasn't the biggest fan of the seed on the top. I didn't think they were necessary and the granola would have been fine without it.
Pumpkin Tortilla Chips: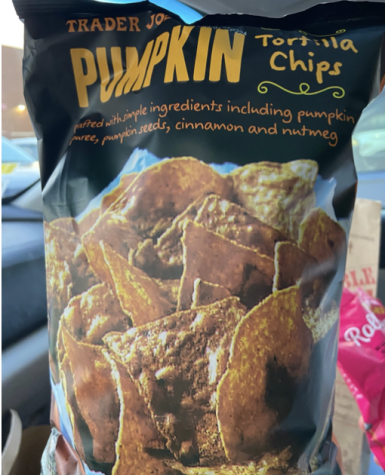 Emily: I'm not going to lie, I had no idea what to expect with these chips. To be fair, and I think I can speak for most of us, I have never had a pumpkin flavored chip before. The final verdict for these is an 8/10.  I deducted two points because it lacked the promised pumpkin flavor.  Sure, there was some there, but to me it tasted like a regular tortilla chip with a slight nutmeg flavor. Still, the texture was all there and these chips could definitely be a great binge snack. 
Molly: After first seeing these chips on the shelf, I was really interested to see how pumpkin flavoring combined with tortilla chips would turn out. These thin chips were a subtle orange-ish, brown color and had a hint of seasoning on top of them. They didn't look bad, but honestly they wouldn't be my first choice of chips to pick out at Trader Joes. Now that I tried them, I would rate the pumpkin tortilla chips an 8/10. I think there was a little bit of false advertising with this product because I tasted almost no pumpkin flavor. But other than that concern, the overall chip alone was definitely a 10/10 and I would recommend this snack for anyone looking for good tortilla chips. 
Pumpkin Blondie Brownies: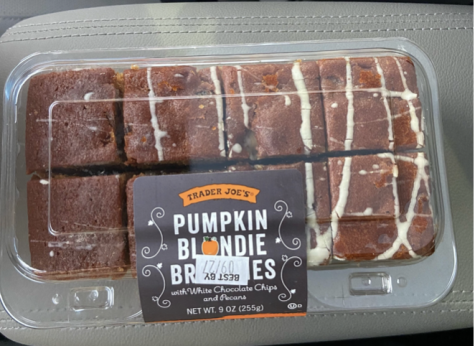 Emily: If you are looking for a taste of fall, these are your go-to. I would personally rate these a 9/10. My one critique is that the brownies have the texture of pumpkin bread rather than a brownie, but that doesn't change the fact that they are delicious. The strong taste of autumn pairs nicely with the crunch of white chocolate and pecans. I could easily finish the whole container. 
Molly: I would rate the Pumpkin Blondie Brownies an 8.5/10. I was initially skeptical over this fall dessert since it looked more like a pumpkin bread and  I wasn't sure what it would actually taste like. After trying it, I was definitely surprised by how much I liked it. I'm not a big fan of white chocolate and nuts in food but I didn't really taste them that much. If you're craving a nice fall treat, I would recommend buying this product.