Fab Five: Netflix's Best Documentaries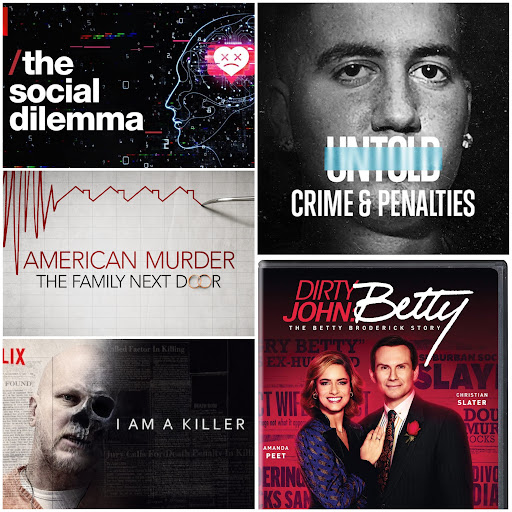 From comedy to romance, Netflix has thousands of movies and TV shows to binge. Yet lately, my "recently watched" section has been solely documentaries. 
In the past months, they have released numerous documentaries, and whether it's a series or full length, I am on the edge of my seat for hours. 
In case you are interested in becoming a documentary addict like me, I will be revealing my top five favorite documentaries on Netflix.  
American Murder: The Family Next Door
If you are looking for a nice, eerie murder story, this one's for you. Coming out about a year ago, this documentary includes real footage of the crime scene investigation for three vanished family members. 
When Shannon Watts and her two daughters suddenly disappear, interviews from FBI agents, friends, family, and husband/father are showcased, allowing us to play along and try to figure out what happened. The ending is quite disturbing and infuriating, but very unexpected. 
My favorite part about this documentary was being able to put myself in the shoes of an FBI investigator to crack the case. 
I would rate this documentary an 8/10.
The Social Dilemma
I originally heard about this documentary from my mom (the classic parent trying to get their teenager off their phone). But when I watched it, I was in awe.
 The Social Dilemma displays the impacts of social media on the world, which are apparently dangerously extensive. 
Former employees from big tech companies such as Google, Facebook, and Youtube come forward to disclose the manipulation that creates social media addiction among humans, especially teens. After watching this, I was personally disgusted with my high screen-time hours and attachment to platforms such as Snapchat and Instagram. 
It presents scary statistics about the increase of depression and self-harm as a direct result of social media usage, which opened my eyes to how much social media really does control our lives. 
I would rate this an 8.5/10.
Dirty John- Betty Broderick Series
I'm sure some of you have heard of the Betty Broderick story: the woman who murdered her ex-husband and his wife. At first glance, she seems insane, psychotic, mad… but was it all her fault? 
This documentary series features eight juicy episodes that zoom in on the real story, and showcase the manipulation of Betty's husband Dan, her forced isolation from her children, and how much she truly loved her family. I watched this series with my parents, and we each had a different take on the story and whether or not Betty really was completely responsible for her actions. 
Similar to The Family Next Door, my favorite part of this series was that I could play along as the investigator and uncover what truly happened. 
I would rate this documentary an 8.7/10. 
I Am a Killer
Outside of court, we rarely get a chance to hear a firsthand account of the crime committed by a person on death row… until now. I started watching this series over the summer when my friends and I were really into crime stories, and it is now one of my favorite true-crime documentary series. 
From murdering grandparents to brothers to girlfriends, each episode features a different criminal's story from their perspective. The stories uncover the possible reasons for the murder, some being abuse or even an act of mercy. 
I love this series because at the end of the episodes, they reveal what happened to the criminal, and some do get off, living a somewhat normal life.
 I would rate this documentary a 9/10. 
Untold: Crime and Penalties
Coming out recently on Aug. 1 as part of the Untold series, this is a must-watch documentary if you are into sports and looking for a good laugh. 
My family, being major hockey fans, watched this together over the weekend and have been referencing the ridiculous quotes all week. You may have thought that an ice hockey team, the trash industry, and the mob would never be related, but you thought wrong. 
Mobster Jimmy Galante, founder of the Countywide Carting trash business in Danbury Connecticut, buys his 17 year old son a minor league hockey team. A high school kid trusted to run a high-level minor-league team in the UHL. Ridiculous, I know. 
Including stories of former players and insane clips of on-ice brawls, this will no doubt keep you entertained. The FBI ends up getting involved, and we are able to watch a high-level investigation play out. 
I would rate this documentary a solid 9.7/10.