Scouts vs. Cats: How Deep Does the Rivalry Run?
Exploring a decades-old rivalry between LFHS and the Town Out West
With some of the season's biggest games coming up in the next week, it's important to acknowledge the rivalry that dates back decades– LFHS vs. Libertyville High School. Seeing as Libertyville is more strictly known as the "Town Out West" throughout the halls, this feud certainly isn't shallow.  Ask around the school, even around the community, and the majority will name the Town Out West as one of the more intense rivalry Lake Forest has ever faced–but why?
Years in the Making 
Let's start with a quick history lesson. Offensive Line coach Tom Soprych recounted a story fellow Coach Chuck Spagnoli has been telling for years, which may be one explanation for the very beginnings of our greatest rivalry.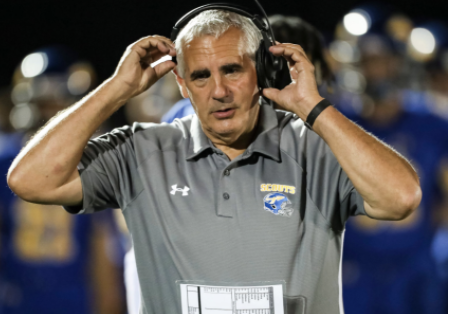 At one point, there was a teacher who began his career at LFHS and finished teaching in Libertyville. This teacher used to smoke a pipe, which became his defining characteristic. As he was loved by students and staff at both schools, they came together to form a tradition in his name. Each year, a plaque decorated with a pipe was given to the winner of the Lake Forest vs. Libertyville game.  
"When Coach Spagnoli first got here, Libertyville was really really good," Mr. Soprych said. "They used to beat us up every year."
However, this winning streak came to an end for Libertyville on Oct. 19, 2007, when Lake Forest took the lead in a 23-20 game.  After the game, Lake Forest looked forward to the honor of finally receiving a plaque with the beloved pipe.  It is alleged that our rivals had decided to stop handing out the plaques that year, leaving the LFHS football team of 2007 to walk home empty-handed after years of watching that plaque slip away.  
"We respect the heck out of them, but back then that kind of rubbed us the wrong way,"  Mr. Soprych said. "After that, I think we went on a 10-year run where we beat them 9/10 years."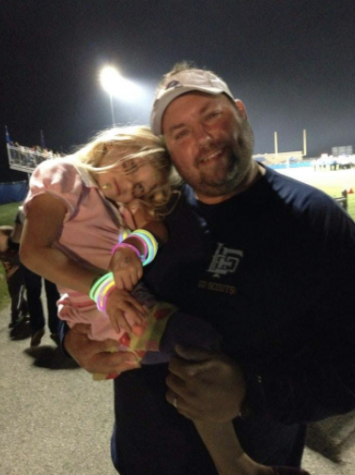 As for the nickname the "Town Out West," yet another history lesson is required.  From 1951-1978, a man named Woody Hayes was the head football coach at Ohio State University. Anyone who knows college football knows that the feud between Ohio State and the University of Michigan is one of the oldest in the nation.
During his coaching career, Hayes was faced with one of his own disciples, Bo Schembechler.  It was during this time that Hayes decided he had so much hatred for Michigan, that he couldn't even say the name.  Instead, he replaced it with "That Team Up North."
To this day, if you happen to be at Ohio State to watch film–as Mr. Soprych so often is–you will not find "The University of Michigan" titling the rivals' game, but a simple TUN, standing for "Team Up North."  
When Mr. Soprych joined the coaching staff here at LFHS, he quickly learned of the intense rivalry between the Town Out West and Lake Forest.  Using Woody Hayes as inspiration, he and Mac Uihlein, a sophomore at the time, came up with the name and ran with it.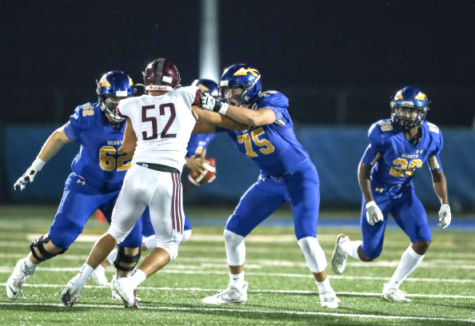 Now, the nickname is as famous as the rivalry itself. 
"Whenever I hear the Town Out West's school name, I make sure to let people know that they shouldn't be swearing in school," senior Jade Khater said.

Many other coaches and players have watched it develop throughout the years.  One such coach is Anna Colletti, who is the Girl's Varsity Water Polo coach and aquatics director at LFHS. Colletti was a new coach back in 2017, and though she'd heard talk amongst the team, she did not expect the gameplay she would come to witness as her team took on Libertyville.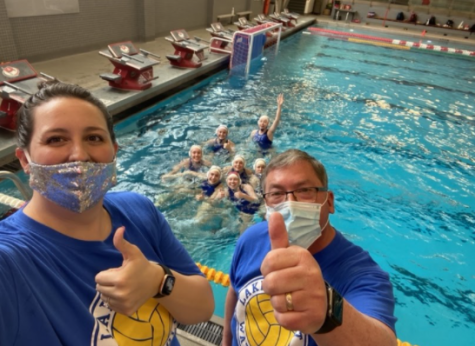 "It was bigger than I even imagined or thought it was," she said. "I never really understood why until I saw the gameplay and interactions between players."
Colletti also mentioned that there are two ways to play water polo–as there are with most sports–the clean way and the dirty way.  Sometimes, Libertyville chooses the dark side.

"It's just not the way to play the game," Colletti said.
A School-Wide Event
Though the grudge match started with football, there is no doubt that it has quickly spread school-wide.  Whether it is baseball, softball, water polo, basketball, volleyball, or soccer, the vast majority of athletes and students will agree that the day a team plays the Town Out West is one of the most anticipated days of their season.
"Everybody in the school knows that if a team is playing Libertyville, it's a big day," senior, and forward for boys soccer, Nick Fontana said.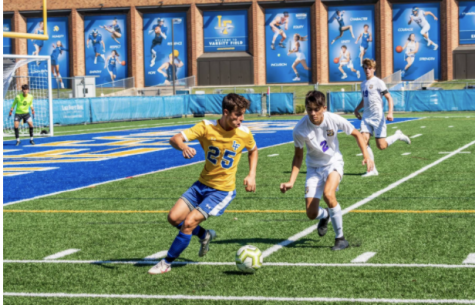 Sometimes the rivalry is bitter. Other times, it's just petty.

Mr. Soprych said the Town Out West used to have a banner hanging above their stadium entrance stating, "Welcome to Football Country."  Questioning who they were to call their field football country, the coaches came to a consensus to have their players bring passports to a game one year.
"Their banner said football country, so I guess we needed [our passports] to go win a football game," he said.
Furthermore, some football players claim Coach Spagnoli will not drive through the Town Out West to get to school, nor does the football team drive through the Town Out West to get to their games. Instead, they will drive through Vernon Hills in order to spend as little time in their rival's country as possible.
While all players and coaches have denied any sort of hatred in regards to their upcoming games against the Town Out West, some rivalries are a bit more unique than others.  Senior Sydney Pitera said most of the girls who play for both Libertyville and Lake Forest are also involved in a club called Sky High, which happens to be based in Libertyville as well.  This results in the vast majority of varsity players knowing the strengths and weaknesses of one another.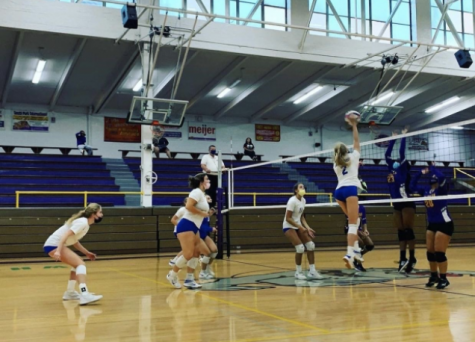 While one may think this causes a bit of tension, Pitera said "it's really fun to make competition– there's no hate at all, even if we want to crush them while playing." 
However, some rivalries are not as civil.
"Sure, [the rivalry] makes for a more competitive atmosphere, but the girls are really mean," varsity water polo player Grace Gilleran said.
Sometimes, it's this heavy competition with one another that makes the game difficult to enjoy.
"They really like to drown us, and for some reason the refs won't call it," senior Ellie Digby said.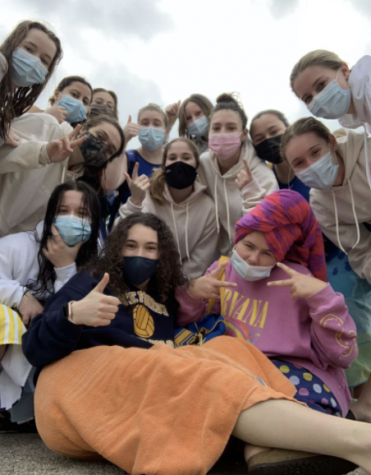 Digby also referenced some issues with referees during past Libertyville games, presenting a potential question of fairness and sportsmanship.
In fact, last year's game at Libertyville became so heated, that a referee's questionable call lead to head coach Colletti being ejected, and assistant coach Pat Boothe was left to coach varsity to their ultimate victory. Despite difficult and expressive games like this, there is no hatred between the teams.
"There is still a mutual respect after the game," Colletti said. 
Regardless of the varying bitterness among teams, there is one thing that everyone can agree on: playing a rival produces positive results. Many teams agree that despite the rivalry being intense, it is something that brings teams together, and allows them to work towards a common goal.
"It gives the whole organization a sense of drive," said Pitera."Libertyville is the main rival at LFHS, and knowing that it's a strong team with strong players, we feel the need to beat them every time so it's really fun to play against them"
Preparing to Win
Obviously, preparation for every sport looks different.  With this in mind, no matter the sport, in what ways does preparation change when confronted with a rival? Back in 2018, Libertyville's Boy's Soccer team was ranked #1 in the nation. Since then, Fontana and his team members understand it's a game they must "gear up for." This means putting everything and more into practice, using their time wisely, and staying out of their own heads leading up to their big day.  
However, Coach Soprych says his practice plans "really don't change much."  Soprych said they simply "pick up the tempo a little bit," running the similar drills to what they may see Friday night and making sure nobody is standing around for more than 10 seconds. Aside from this, Libertyville is just like any other game to the football team.  In fact, they look forward to this game even more knowing that it will be one they need to work for. 
"What's more enjoyable than beating your rival team every year?" Khater asked. "It's gonna be an amazing game."
Similarly, Coach Colletti runs over plays, but makes sure that practices are running at a more intense pace to ensure the water polo team is properly prepared.  
"I go over everything I think they could use against us," she said.
Colletti also watches film, and picks out their best defenders and shooters so that she can take note and point them out to her girls before the game.  She likes to send her players into the Libertyville game–and any other games for that matter–with as much confidence as possible.  
"It's frustrating when I see my team second guess themselves," she said. "I know they're so much stronger than them."
Things change a bit when it comes to girl's volleyball.  Seeing as they already know the majority of the girl's on Libertyville's team, it is relatively easy to know how they will play, and what techniques will be used.  Their week of preparation really has to do with adjusting to their style of playing, and taking into account situations that may be encountered throughout the game.  However, just like any team, the girls put in all the work they can to make sure it's a great competition.
"Just because they're our friends doesn't mean we go easy on them," junior and setter Mariella Haubner said. "We go as hard as we can to beat them."
Next week will be one of the biggest in fall sports.  Though sports such as boys volleyball, water polo, and baseball will have to wait until the spring to meet their rivals, both girl's volleyball and football will have their chance at victory next wednesday and friday.  It's a given that football is always supported because of the beloved "Friday Night Lights" aesthetic, but be sure to clear your schedule Wednesday, September 29 to show girl's volleyball some love too!  
As for this rivalry, it's timeless.  Surely from now through decades in the future, the feud between Lake Forest and the Town Out West will rage on.  Until then, and as always, GO SCOUTS!
| | |
| --- | --- |
|         Girls Volleyball  @ Libertyville | September 29: JV 5:00 p.m, Varsity 6:00 p.m. |
| JV/Varsity Football @ Libertyville | October 1: JV 5:30 p.m, Varsity 7:30 p.m. |
|  Freshman Football @ Libertyville | October 2: 10:30 a.m. |