The Struggle to Balance School and College Applications
A look into where students are in the college application process and advice from counselors about how to navigate it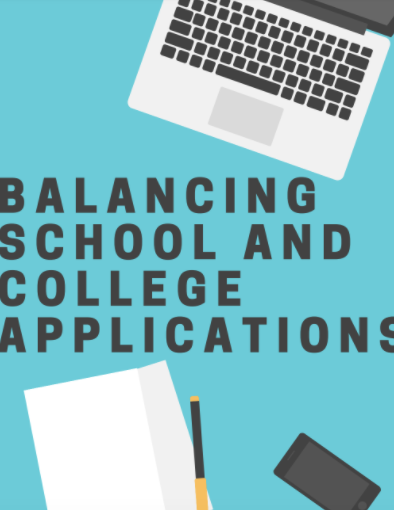 Across the country right now seniors everywhere are facing increasing stress levels. This semester, they must write their college essays as well as balance school and extracurricular activities. 
This is a challenging task no matter the year, let alone after a year of e-learning. Coming back to the classroom has been a learning curve alone, and trying to manage essays and college applications is challenging.
"Even though we are only in the fourth week of school, there is already an immense pressure to keep my grades up as well as complete all of my college applications," senior Sheridan Leahy said. "I tried to get the majority of my essays and applications completed before the school year started, however I still find it challenging balancing school and my applications." 
Numerous seniors are not as advanced in the process as Leahy. Some students have yet to start their applications or have not started writing their essays for each individual school. 
"It is very stressful hearing everyone talk about the college process because I have not started writing any of my essays. I feel very behind even though my counselor is saying that I am on the right track," said senior Genevieve Farrell. I feel like there is a lot of pressure balancing school and the college process and it's a very competitive environment right now at school."
For seniors that participate in extracurricular activities, there is hardly any time after school to get homework done, not to mention college essays. Many seniors are done with practice at 5:30-6:00 leaving only time to get school work done. 
"It's hard to find time during the weekdays to get my essays done, so I can only do it on the weekends due to all the work that I have and sports commitments." senior Francesca Pezza said.
Not only do students have to manage their time, but there is also a lot of pressure about certain stereotypes such as how prestigious the schools are that they are applying to. Many parents in the community can create a lot of competition surrounding where students are applying.
"I think there is a lot of pressure on High School students nowadays and there are a lot of stereotypes in the community," Pezza said. "I think that people just need to focus on going where they are happy instead of worrying about where other people want them to go. I think that having that mindset would eliminate a lot of stress." 
On average students apply to eight to ten schools. This means that they have to write their personal statement and at least one essay per school. Additionally some schools have two to three essays just for one application. This is very time consuming and each essay can take up to a couple hours to write. This along with the homework assigned by teachers can feel overwhelming especially because many teachers have not eased up on work loads, but rather many students feel as if they have increased. 
"This  has been a challenging year for the seniors.  Classes are back to full speed, fall sports and activities are going full steam ahead, and everyone is adjusting to picking up the pace in all areas," Counselor Mrs. Megan Miles said. "It is a challenge for these seniors to complete their applications and college visits with all of this going on.  Despite the time challenge, students are still plugging away at applications and coming into the counseling office with questions." 
There are many ways for students to ease up on their stress levels due to college essays. LFHS has many assets that can assist students with the workload and help with the crafting and editing of the essays, including the college counselors and a Schoology group, College Application Help Guide. 
"The best way to get the applications completed is to schedule some time and write it in your calendar to work on getting green check marks on each part of the common application every week.  Try to tackle one or two sections each week," Miles said. "Seniors also have access to the Schoology course on college applications which contains a lot of helpful resources for requesting the other parts of the application that need to be requested."