TPing: An LFHS Homecoming Tradition
Each fall, Varsity football players walk out their front doors to a snow fall of toilet paper on the night before the big Homecoming game.
TPing is one of the most beloved and fun traditions for the football, cheer, and dance teams. It may seem like a simple tradition, but behind the scenes, there's much more to the tradition than meets the eye. 
Each house requires multiple packs of toilet paper: about 12-24 rolls.
"The goal is to see as little of the house as possible … We just make the mess, and then the football players have to clean it up," said junior Lily Pedian.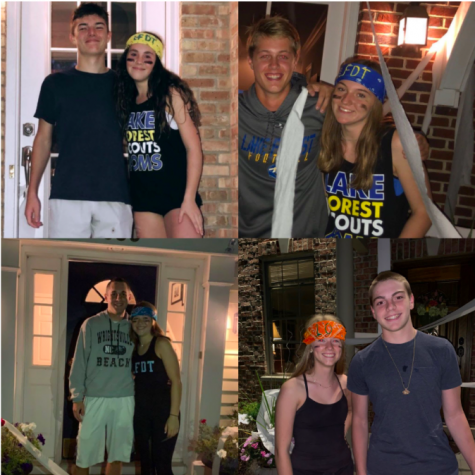 Additionally, each  pommer and cheerleader is assigned a football player whose family agrees to participate. A key part of the tradition (that some find inevitably embarrassing but it's optional) is chanting your players name repeatedly until they come outside and take a picture with you. 
"My team was gathered around one of the JV football player's front door and after chanting for almost a minute, his parents walked out. It was pretty awkward because the kid wasn't even home," dancer Mia D'Alessandro said, recalling a memorable moment from her freshman year TPing experience. "My teammate ended up taking an iconic photo with the player's parents."
Despite the awkward photos, the dance team and cheerleaders are excited to pursue the tradition this upcoming Thursday. After last year's messy football season due to Covid-19, they seem to be quite eager to get back to the normal homecoming events. 
This is especially true for the underclassman.
"Last year the sophomores didn't get to experience any of the fun Homecoming traditions, and everyone says TPing is one of the most fun nights during football season, so I'm very excited," said sophomore Alana Tennett. 
As for the football team, there's mixed opinions on the tradition.
"I think it's a funny tradition, and although sometimes it sucks to clean up, it's funny seeing everyone's house after they get TPed," senior Jade Khater said. 
Others on the team aren't as excited as Khater.
"I don't know if I'm excited.… It's a mess and draws attention to my house," junior Rocco Caputo said.  
Lake Forest Dance Team alum Angela McNicholas said she TPed when she was on the team in the early 2000s. She then asked another poms alum, who said that she was TPing back in 1988, making it a 30+ year tradition. 
All in all, the football team can expect their house to be covered in more toilet paper than ever this year. 
"We have two years worth of TPing to get done this year after missing it last year… Everyone should keep their eyes out for houses decked out in white," Alana Tennett said.