Super Scoutfits: It's Time to Improve School Spirit
Here are some of the best outfits from last week's USA-themed football game
I'm going to be completely honest here, you guys really need to step it up.
Although it's very unsettling to talk about, we only have three more home football games this year. For us seniors, this is a pretty big deal. 
I'd say about a third of the seniors have good school spirit this year, and that's pretty disappointing. We should set an example for the future Scouts, and let the freshmen and sophomores get a sense of how to make the games fun. 
I'm not fully blaming the upperclassmen for this lack of spirit. Freshmen and sophomores, you guys legitimately sit there the whole game in silence. Isn't that boring? Embarrassing? Nothing?
Anyways, when I walked up to the freshmen/sophomore stands and started yelling to get loud, everyone stared at me. 
I'm not just talking about getting super riled up in the stands, which is definitely something we need to work on. The main concern here is the fact that some of you throw on a t-shirt/sweatshirt and call it a night. 
We have themes for a reason people! We need to follow them, and go all out!
There are no excuses. Party city is only 15 minutes away. 
Last week, the theme was USA. This is such an easy theme to go all out for, and the only real spirit I saw was in the first few rows.
I was actually pretty impressed with the volume and excitement of these few rows, even though all of the girls were on one side, and the boys were on the other side. Sort of like a middle school dance!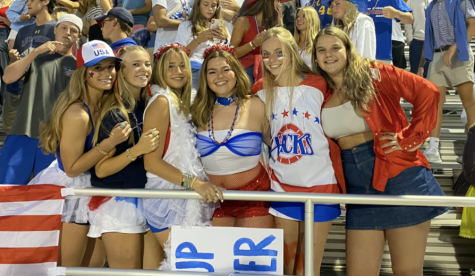 Anyways, I did see a few "super Scouts" setting the perfect example of how to properly dress for football games.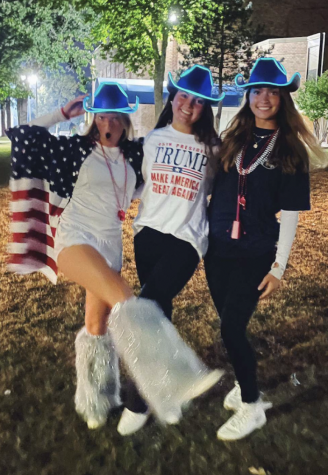 First, we have Junior Annie Swift. Annie is sporting all aspects of red, white, and blue with her blue hat, white outfit, and red whistle to set it overboard. Great touch! 
Really anyone could throw this together, but Swift sets herself  apart in a few interesting ways.  
First is her American flag cardigan/shawl which really unleashes her inner patriotism. Next we have the blue LED brim on the hat. Loving the flashiness. Saving the best for last, Annie showed up in giant, fuzzy leg warmers. Love the sparkly silver. 
Based on this picture, you can tell Annie's spirit is through the roof. Just look at how excited she looks!
Second, we have Senior Sydney Schaffer. Never showing up underdressed, Schafferhas on a white and blue top with red sparkly booty shorts. 
She wears an American flag cape, red fishnet tights, and Nikes with accents of blue. She ties this all together with a crown sporting red, white, and blue.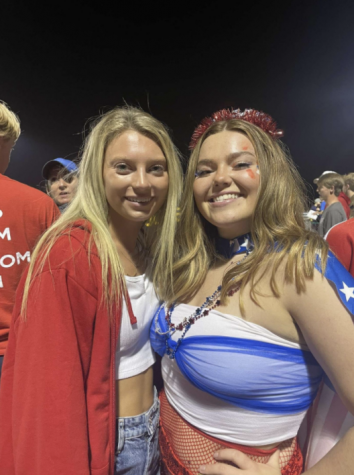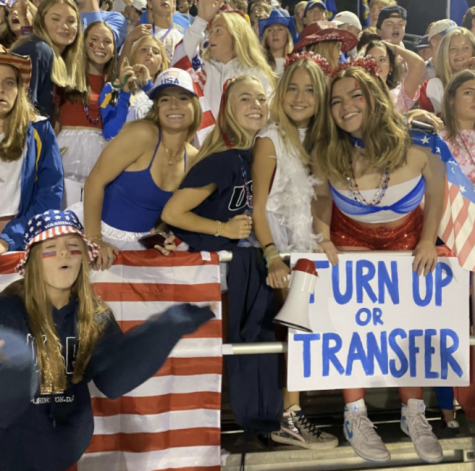 Lastly, this little trio of gals really went all out. 
Senior Jacqueline Rubin wears mostly white with accents or blue and red. Love it. She has on a cute American flag LF shirt, cut into a muscle tee which shows a red tank top under. She has on a white boa and white tutu. Lastly, the patriotic crown makes another appearance. 
Senior Lyla Walsh has the perfect balance of red, white, and blue. She wears a blue lulu tank top and white tutu, and equals it all out with red knee socks. What really sets the outfit overboard is the USA trucker hat, so trendy!
Lastly, senior Abby Hanlon wears a muscle tee sweatshirt, which may or may not be giving off major 8th grade DC trip vibes. She pairs this with a white skirt under a red, white, and blue tutu. 
Abby has red socks on and brings the outfit together with red, white, and blue hair ribbons.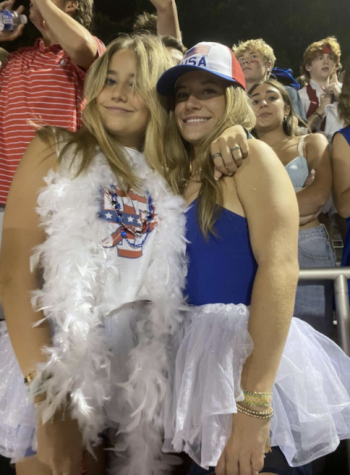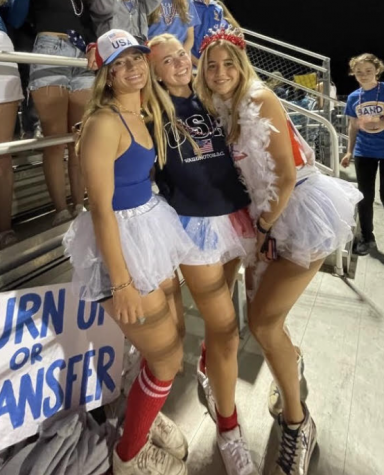 I hope you all learned how to dress for the next football game, considering it's TOMORROW! I would really appreciate it if you could go as hard as possible. 
The theme is beach party so I recommend lots of floaties, goggles, coconut bras, etc. Stay tuned for next week where I will crown the super scouts of the beach themed game. 
P.S. BOYS: you are really going to need to step it up if they want to be featured. No more plain t-shirts and shorts.