The Forest Scout Friday Five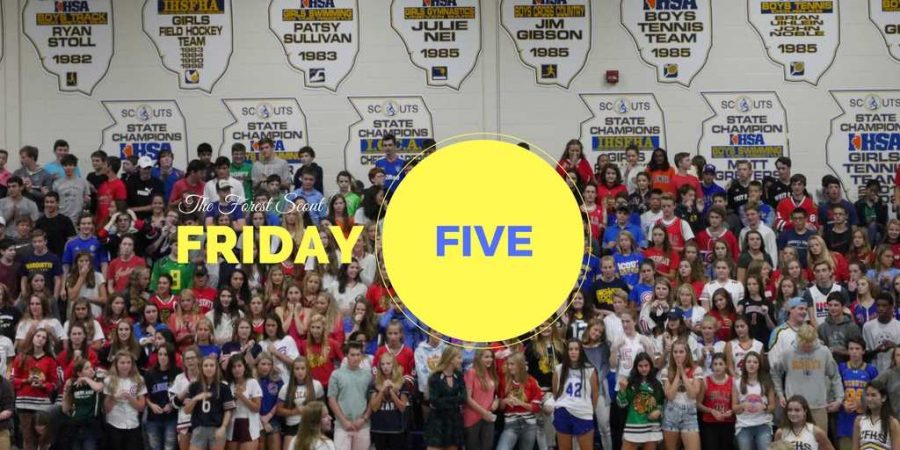 The Forest Scout Friday Five is a weekly segment that celebrates five people making a distinct, profound, and positive difference in the Lake Forest High School community. To visit last week's inaugural induction, click here. To recommend a student, teacher, support staff, or community member for inclusion in The Forest Scout Friday Five, please email [email protected] 
Grace Donahue: If you need someone to build you up, make you smile, or make your day just a tiny bit better, Grace Donahue can do that. And if you need someone to play the violin, model the behavior of a loving, supportive twin sister, teach you how to swim, or make you feel comfortable among your peers, Grace Donahue can also do that.
One of the most widely accepting people LFHS has the pleasure of calling their own, she continually reminds us of the memorable, yet seemingly insignificant happy moments in life. Grace Donahue celebrates with vigor those little moments that are needed to stay positive throughout the daily rigor of high school.
Her trademark confidence and happiness presents a contagious joy around the high school that she shares with others via her omnipresent winks and smiles. Her classmates have nothing but positive sentiments to share about Grace's presence. Faith Fietsam, a previous AP Psychology scholar with Grace, recalled her humor as a facet of Grace's personality that she holds dear. "She's really funny," marked Fietsam, while Meghan Mcgrail, a fellow CAT student with Grace smiled while sharing anecdotes of her trademark cackle. More than just seniors have great things to say about Grace, though. Junior Eleanor Asma described Grace as someone who, "embraces everyone for who they are and never fails to shout out a simple but warming 'hey' in the hallways. She's just the best. It's hard to describe."
Her idyllic relationship with her brother, Kevin, voted by the senior class as "Best Best Friends" also doesn't go unnoticed.  You can find Kevin and Grace on the pool deck for their Varsity swim team commitments, in orchestra learning and progressing at their skills, or making people's days just that much better in the commons at the high top tables and beyond.
Not only do fellow students have incredibly positive things to say about Grace, but her teachers share the joy as well. Mr. Brian Boruszak, a senior psychology teacher described her as, "a wonderful, intelligent hard worker who is a joy to have in class."
Grace Donahue, it is safe to say, continually presents herself as a silver lining in the inevitable "bad days" that high school students often endure. She is walking, breathing, swimming, violin-playing proof that there is good in these hallways.
Tommy Hanson: It's not easy being the last of four kids through LFHS, and it's especially difficult when your siblings have been as accomplished as Emily (University of Illinois), Billy (University of Illinois), and Katie Hanson (Vanderbilt University). But that's exactly the hand sophomore Tommy Hanson was dealt. You can call Tommy Hanson well-adjusted or claim that his unique politeness and amicability is derived from an upbringing rooted in religion with the St. Mary's Catholic School system, but Tommy Hanson is undoubtedly special.  "You always get a 'hi' from Tommy in the hallway. You can count on it," an anonymous student revealed. "He's not the kind of guy that ducks you, pretends that he doesn't see you, or is preoccupied with something else."
Academically speaking, he's another Hanson bumper crop–balancing an all-Honors course load while volunteering to be a TA in Mr. Soprych's Wellness for Life Class. Whether it be on the field for Scouts football in the fall or on the hardwood for the LFHS basketball program in the winter, the youngest Hanson embodies the qualities of a leader, a teammate, and a true student-athlete no matter what the shape of the ball may be. "You can always count on him to listen, look you in the eye, and follow through on what he says," Graham O'Connor-Brooks, one of Tommy's sophomore basketball coaches shared. "That's Tommy. He is always leading by example."
As an underclassman, it is often difficult to forge a positive reputation with those ahead of you in school while maintaining a levelheaded pride in your own class, but that's just another thing Tommy Hanson has accomplished in his two short years. When asked about Tommy's future, Joe Busse, who coached Tommy in football this fall mentioned, "Tommy Hanson is a great athlete, but he's a better person. He has one of the better work ethics I've seen from a sophomore–in school, in football, in everything. There are great things ahead in that young man's future, for that I have no doubt."
Ms. Linnea Wilemon: One of the most shocking things about the beginning of this year was the loss of the beloved Snack Shop. Yes, we had the promise of a coffee bar (as it was not up and running until late October) and revamped cafeteria, but everyone could agree it was not the same. As we adapted to these changes and learned to provide our own snacks, or, if that was too much to ask, stock up during lunch periods, it made us realize that there was more to the Snack Shop than $1 donuts and bags of Gardetto's. What truly made that Snack Shop special was the bright and smiling face that would ring up your Skittles and Sour Patch Kids in the middle of third period without judgment. Never without her signature cherry-red lipstick, Ms. Linnea Wilemon is a key part of the LFHS experience. Though the Snack Shop could never fully be replaced, finding Linn near the exit of the Scout Café on those first few days back–ringing up your burgers and curly fries with just as much charm and pep as before–made it all okay again. "She's always so sincere and genuine when she asks how your day is going, how you've been lately," says one Junior. "Linn makes waiting in those grueling lunch lines worth it, just to see her smiling face at the end."
Mr. Brad Naughton: The job of counseling high school students is undoubtedly a strenuous one. As each new batch of students come in, it is the task of a counselor to learn the names of each and every person that stops by their desks and learn enough about them to eventually guide them through one of the biggest endeavors of life: applying to college.
Mr. Brad Naughton, LFHS counselor for all students with the A-Ca last names, stands above the crowd in the duty guiding of his students through the twists and turns of high school. From helping freshmen in the overwhelming first few months of high school to writing college recs and helping seniors navigate through the very tricky business of finding and applying to the right schools, Mr. Naughton is a rock in the stormy sea for many students of LFHS.
Tommy Block, a senior, has had Mr. Naughton for all 4 years of high school. "He's been around long enough where he's been through every single situation twice, but however small you think your problems are–and I've had a lot of them–he knows right away how to help with them," Tommy elaborates. "He's very matter of fact with everything–very upfront, which is helpful. He's not the kind of guy to waste your time."
It's Mr. Naughton's down-to-Earth matter of factness that makes him stand out. Mr. Naughton knows that high school is tough–years of counseling would assure one of that fact–and applying for college is tough, too. But Mr. Naughton knows that tough is not impossible, and he does everything he can to help. He gets to know his students on a personal level, to the point where he can recommend colleges for them based on their personality and individual academic style. He'll keep it honest, too. He'll be the first to tell you if a certain college is a stretch, but also the first to tell you exactly what you need to do to get in, or recommend schools that are better fit. In essence, he treats all students under his counseling supervision like he would his own son, who is coincidentally a junior at LFHS, navigating the same dilemmas as many students with last names that fall between A-Ca. 
In addition to counseling, Naughton is the girls track and field mid-distance and jumps coach, as well as the coach for the boy's cross country team. A junior on the girl's track team remarks that Mr. Naughton's honest, personable demeanor transfers from the counselor's office to the track: "Naughton's very individual-based. He meets every student/athlete where they are, and works to make them better from there. He pushes and helps each athlete achieve the best that they are capable of." Although he doesn't coach baseball anymore, Naughton helped the Varsity Boys Baseball team reach 3rd place in the IHSA State Tournament during the 2002-03 season, the school's furthest advancement in history. 
Even teachers who may not interact with Mr. Naughton regularly recognize how much of a positive, memorable influence Mr. Naughton has on his students. An English teacher relinquishes his or her students once a quarter to meet with their counselors for a quick catch-up and one in particular mentioned how quickly students who have Mr. Brad Naughton rush to his designated room. "Often times when it's counselor seminar day early in their freshman year and you're calling out who students' counselors are, they can't place the name of their counselor, often because they're new or they're unfamiliar with the school and role of the counselor. But that's never happened with Mr. Naughton. Everyone who has had him knows exactly who their counselor is."
Of course, different types high schoolers require different types of counselors, based on their personality and their academic motivations. But for some, a counselor is needed who reminds you of your capacities while still fully believing in you and your future; someone who knows that high school and college isn't easy, and won't deny that, but whose honesty about life and school will help you get far.
And for that, Naughton's your guy.
Mr. and Mrs. Clegg: You've likely seen them in passing—in making your rounds through LFHS' halls, it'd be hard to miss the meticulously fashionable dean and the friendly, athletic econ teacher. Yes, they are Steve and Laura Clegg, and yes, they are everywhere.
The renowned power couple of Lake Forest High School, rightfully having earned the title "#couplegoals," as many put, can be found in the dean's office and the social studies office, or even on the track. Though they may work worlds apart (those that make the daily trek can testify that three flights of stairs is a long hike) in terms of their office locations, their strong and positive impact on the community is indisputable nonetheless. As those that know the two—one, the other, or both—are able to swear by, both of the Cleggs are certainly some of the most diligent and impactful members of the school.
In addition to teaching in the Social Studies Department, Mr. Clegg (otherwise referred to as Coach Clegg) is the man behind the successful girl's cross country team. Junior Grace Scheidler, a varsity member of the team, defined Mr. Clegg as, "the best coach (she has) ever had for anything. He really understands where each athlete or student is, and meets them where they are." Persistent in assuring that the runners are meeting their highest potential, Coach Clegg is not one to stand by idly while yelling commands from a lawn-chair, but instead a coach that runs alongside his athletes, instilling in each member of the team an encouragement and confidence that is carried well-beyond the cross country season.
Also no stranger to helping and leading high schoolers, Mrs. Clegg is constantly directing the student body; enthusiastically participating in the pep rallies every year, supervising the school's cafeteria daily, and tending to a plethora of other essential dean-ly duties, Mrs. Clegg is a tireless worker that the school would be incomplete (not to mention, barely functioning) without. An example of her supportive nature, those that sat through the grueling four-hour PSAT earlier in the year would agree that her voice through the megaphone, echoing throughout the fieldhouse's interior, was one that invoked a sense of reassurance in a time of sheer distress. Although the words "five more minutes" could easily be a phrase to cause paralyzing fear, her authoritative yet calming voice made it into one that made students think instead, "I've got this."
Although the experiences that others recount on the duo's positive impact are valuable (and true!), what better witness could there be than the Cleggs themselves? Each provided insight into the personalities and habits of their spouse, unknowing that the other would be answering the same questions. In listing three qualities of their spouse—Mr. Clegg speaking to his wife's, Mrs. Clegg speaking to her husband's—the two agreed that the other was "extremely dedicated" and "smart" (though Mrs. Clegg referred to Mr. Clegg more specifically as "wicked smart", with a laugh). As for the third, Mr. Clegg noted that his wife "cares a lot about the people that she works with," while Mrs. Clegg imparted that her husband is "a great father."
In considering the other's most important contribution to the school, Mr. Clegg mentioned that his wife is "always trying to take in the entire kind of picture of a student's life or experience. There are good things and difficult things that go through the office, and she's always well aware of all of the factors in someone's life to try to help them. She isn't about punishing someone, but trying to find the best solution to problems that come to her. She always looks at the big picture stuff to help make that happen." Mrs. Clegg spoke to Mr. Clegg's creation of "an amazing program in terms of the girls cross country team. (The team) has blossomed over many, many years, and it not only focuses on athletics, but being good people, and creating good habits."
Though the Cleggs are some of the most busy and engaged staff members of LHFS, the two are still conscientious in making time for one another. Mr. Clegg admitted, "There are days when I see her a lot, and there are days I don't see her much… I really enjoy seeing her, and we talk to each other quite a bit. But, we come in separately, we don't drive together. We usually have kid responsibilities that we're going in different directions for, after school, whether it's coaching or whatever… (but) it's the only experience we have, working together. We've never worked separately, so I don't know what it'd be like if she wasn't here." Similar to Mr. Clegg's response, Mrs. Clegg noted: "It's funny, but we actually don't see each other often. We have to seek each other out in order to find one another."
No matter how much or how little the two see of each other, they remember with relief  that the other is just a two-minute stroll away. Mr. Clegg told, smiling, "I saw her for lunch today! She's just down in the lunchroom, so I get to see her. We were in a meeting the other day, so that's pretty fun! We sent a selfie to our son when we were in the meeting together, cause it actually doesn't happen too often." On the distance between them in the school, Mrs. Clegg added that Mr. Clegg is, "horrible at texting and emailing, so if I actually really do need him rather than trying to get him via phone or whatever, I'm able to reach him pretty quickly. I can just go up to his classroom and find him."
And as students, we will always be able to find them as well. 
About the Writer
Ghost, Author
Ghost is a section of The Forest Scout that chooses to publish material anonymously in order to increase the depth of their investigative reporting. Ghost...