2021 NFL Mock Draft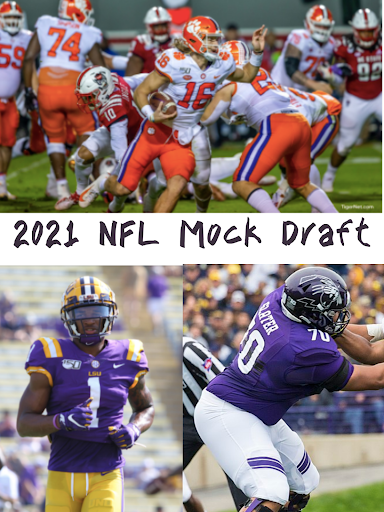 The NFL Draft is an opportunity for every team to get better and make their run for the Super Bowl. Whether your team surpassed your expectations or only served to diminish the little hope you had, the NFL Draft is a memorable experience that always kicks off a new season on the right note.
This year's draft begins on Thursday, April 29, and ends on Saturday, May 1, outside in Cleveland, Ohio. While many fans have differing opinions on which team will pick what player, I have curated a mock draft that will attempt to predict what will happen on Thursday at 7:00 p.m. CT.
1. Jacksonville Jaguars ― Trevor Lawrence, QB, Clemson
A standout quarterback from Clemson, Trevor Lawrence will undoubtedly be the number one pick in this year's draft. Lawrence has played incredibly well during his three seasons at Clemson, and the Jacksonville Jaguars rightfully believe that Lawrence can be their franchise quarterback. 
2. New York Jets ― Zach Wilson, QB, BYU
The Jets will also go the QB route, selecting BYU gunslinger Zach Wilson. In the fall, Wilson led the Cougars to a nearly undefeated season and a win in the Boca Raton Bowl. New York's most hapless team will look to get out of the dark hole they have been in the last decade, hoping Zach Wilson can do for the organization what Sam Darnold couldn't.
3. San Francisco 49ers ― Justin Fields, QB, Ohio State 
Regardless of who it is — Alabama's Mac Jones, Ohio State's Justin Fields, or North Dakota State's Trey Lance — it's clear that the 49ers are looking for a quarterback. The question is who they'll select at No. 3. The Niners have said that they have no plans to trade current quarterback Jimmy Garropolo, however, the 29-year-old has not played as well as everyone had thought and many believe it is time to move in a different direction, a departure that could be set in motion on Thursday night.
4. New England Patriots (from Atlanta) ― Mac Jones, QB, Alabama
Bill Belichick has always been sneaky around draft time, and this year, expect nothing different. Expect the quarterback trend to continue, with the Patriots trading up to select Mac Jones with the fourth pick. While many experts have argued over whether or not Jones can be successful in the NFL, no one has more insight than Bill Belichick. With Cam Newton signed with the Patriots for another year, he'll have time to sit back and soak it all in during the upcoming season.
5. Cincinnati Bengals ― Penei Sewell, OT, Oregon
While wideouts Ja'marr Chase and Davonta Smith are still on the board, the Bengals will go with Penei Sewell, an offensive tackle from Oregon. After Joe Burrow's season-ending injury, the Bengals need to upgrade their offensive line in order to protect their franchise quarterback. 
6. Miami Dolphins – Devonta Smith, WR, Alabama
Alabama wide receiver Devonta Smith is the clear pick at number six for the Dolphins. Coming off of winning the Heisman Trophy and the college football championship, Smith is an elite route running receiver that every team will struggle to defend. Current Dolphins quarterback Tua Tagavoila, who played with Smith in Tuscaloosa as a member of the Crimson Tide, already has a strong connection with Smith, making him an instant fit in the Miami offense. 
7. Detroit Lions ― Ja'marr Chase, WR, LSU
With the Lions losing their top two wide receivers in Kenny Golladay and Marvin Jones, Breshaud Perriman is currently the team's number one wide receiver. The Lions are in need of a number one caliber wideout for newly acquired quarterback Jared Goff, who is to lift the Lions out of the bottom of the NFC North.
8. Carolina Panthers ― Kyle Pitts, TE, Florida
If Kyle Pitts is miraculously still on the board at pick eight, it would be an absolute steal for the Panthers. The Panthers are in dire need of a tight end and Pitts will be able to fill that vacancy immediately. Pitts is perceived to be one of the best pass-catching players in the draft, and if he is available at eight, there is no doubt the Panthers will nab the former Florida Gator.
9. LA Chargers (via Broncos) ― Rashawn Slater, OT, Northwestern
The Chargers got their franchise quarterback in Justin Herbert in last year's draft, this year's draft is all about protecting him. Rashawn Slater thrived at Northwestern playing on the offensive line, enough to prove that he can make an impact on any team that lands him. Slater sat out the 2020 season, but his pre-pandemic tape is impressive enough to woo front offices around the league. Expect Slater to wind up in LA alongside Justin Jackson and Joe Gaziano, two of his teammates at Northwestern.
10. Dallas Cowboys ― Micah Parsons, LB, Penn State
The Cowboys defense ranked 28th last year in defensive rankings — one of the worst in the league — and it showed on Sundays. Micah Parsons will pair well with linebacker Leighton Vander-Esch. Parsons is a speedy linebacker that will be able to come in and have an immediate impact on the defensive side of the field. 
11. New York Giants ― Patrick Surtain II, CB, Alabama
12. Eagles (via MIA) ― Jaycee Horn, CB, South Carolina
13. Denver Broncos ―  Trey Lance, QB, North Dakota State
14. Minnesota Vikings ― Christian Darrisaw, OT, Virginia Tech
15. Atlanta Falcons ― Jamin Davis, LB, Kentucky
16. Arizona Cardinals ― Najee Harris, RB, Alabama
17. Las Vegas Raiders ― Alijah Vera-Tucker, OL, USC
18. Miami Dolphins ― Teven Jenkins, OT, Oklahoma State
19. Washington Football Team ― Rashod Bateman WR, Minnesota 
20. Chicago Bears ― Greg Newsome II, CB, Northwestern 
With the Bears deciding to part ways with star corner Kyle Fuller, they're in need of a player that can make an immediate impact. Newsome held his own against some of the Big Ten's top receivers for three years at Northwestern, and he'll look to do the same in the pros. The Bears just hope that he'll be doing it close to home
About the Writer
Eli Franklin, Staff Writer
Eli Franklin is a senior at Lake Forest Highschool and a first year member of The Forest Scout. Eli has a passion for a variety of sports/teams, especially...