The Return of Dach
Dach's return to the Blackhawks tells fans that the Kid is Back.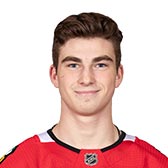 While most fans were excited when the 2021 NHL season began despite COVID restrictions, Hawk's fans were biting their fingernails. To start the season, the Blackhawk's had a record number of players missing due to injuries, including captain Jonathan Toews, veteran Brent Seabrook, newbie Alex Nylander. Longtime goaltender Corey Crawford also left the NHL after being traded to New Jersey and then choosing to retire, removing another Hawk's legend. Chicago's hockey fans were reeling with anticipation and worry over how the season would play out. 
Blackhawk's head coach Jeremy Colliton made a risky move in the wake of the numerous absences. Instead of finding experienced players with multiple NHL seasons under their belts to fill the holes, he found young rookies who had never played nationally before, such as Philipp Kurashev and Pius Suter. With Kurashev and Suter had never played with the seasoned Blackhawks, things were looking grim. Many spectators doubted Colliton's plan, and believed he was setting the team up for failure. However it seemed to prove beneficial, as the Hawks are currently sitting at 19th in the league, and 6th in the central division. 
One of the injured players was new edition Kirby Dach, who proved himself a valuable part of the team during his rookie season in 2019. He was picked 3rd overall in the draft that year, following fan favorites Jack Hughes and Kaapo Kakko. Dach was under heavy pressure to perform well that season, and he proved himself in spades. He scored 8 goals and 15 assists (23 total points); compared to Hughes's 7 goals and 14 assists for the New Jersey Devils, (21 total points), and Kakko's 10 goals and 13 assists for the New York Rangers (23 points). Dach declared himself number one at only 19 years old. 
Fans of Dach were devastated when he was announced to be out with a wrist injury. Before the regular NHL season started (his second season), Dach was named captain for Team Canada in the 2020 World Juniors Tournament. This is quite the accomplishment considering he was only 20 years old at the time. Unfortunately, Dach suffered a fracture to his right wrist during a preliminary game against Russia. He underwent surgery on Dec. 28, but was predicted to be out for four to five months. His return to the team during the 2021 season was not supposed to happen. 
However, Dach surprised everyone, even himself, by returning to the NHL only three months post surgery. He started  the March 27 game against the Nashville Predators as center for Dylan Strome and Mattias Janmark. He hit the ice with renewed energy, and didn't hold back in any way, totaling 5:27 overall time on the ice. He skated six shifts, including that of a power play for a Nashville penalty. His slick moves, signature celly, and untouchable speed were all on display during the game. 
Although the Hawks did end up losing the game 3 – 1, Dach's message was clear: The Kid is back. 
About the Contributor
Kayla Wisneski, Staff Writer
Kayla Wisneski is a junior at Lake Forest High School, and is in her first year of writing for the Forest Scout. She is involved in Big 2 Little, as well...