How COVID-19 Has Impacted College Admissions for the Class of 2021
The challenge of applying to college during a pandemic.
Now that admissions decisions are finally out for our seniors and the May 1st deposit deadline approaches, we can finally see the much-anticipated numbers behind this year's chaotic college application process.
 With the onset of COVID-19 in March of 2020, many applicants this year lacked standardized test scores, a semester or two of grades, and sometimes even an entire year of extracurriculars. This made the decision process much more challenging for admissions officers, who could not display a bias towards students who were able to submit such items. Would it be easier to get into a reach school without displaying an ACT score, or would this year be more challenging than ever?
The answer has come back mixed. Large state schools and more elite universities reported a massive increase in applicants this year, while the remaining schools actually saw a decrease. As a result, universities with a reputation for a more competitive admissions standard had plummeting acceptance rates.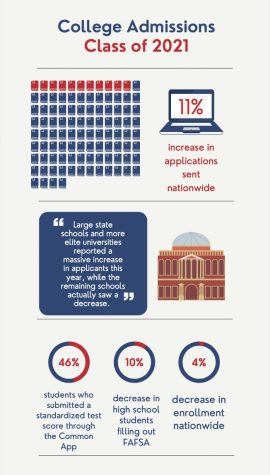 Harvard reported seeing a 57% increase in applications compared to the Class of 2020, an intimidating statistic even without the knowledge that 350 of their coveted spots were occupied by members of the previous year who had opted to take a gap year. As a result, their Restrictive Early Action acceptance rate dropped from 13.9% to 7.4%.
This is the pattern that every single Ivy League school has seen this year, in addition to elite schools such as Tulane, USC, and Notre Dame. However, the lower acceptance rates are a result of students applying to more schools rather than more students applying to school. With the pandemic setting travel barriers, much fewer students were able to visit campuses to narrow down their school search. COVID's shutdown resulted in the loss of thousands of jobs and furloughs, which might have played a role in the 2% drop the Common Application saw in applicants this year, emphasized in first-generation students and those applying with a fee waiver. There was, however, an 11% increase in applications sent, meaning that although fewer students were applying, the students that did send out more applications. Enrollment declined by a total of 4% this year, as the pandemic put many students in positions of financial or family-based stress. 
Overall, the pandemic impacted every school differently, and the schools that became most competitive were competitive, to begin with. 
About the Writer
MK Peters, In Style Editor
MK Peters is the In Style editor for The Forest Scout and a current senior at LFHS. She loves reading and writing, attending CROYA meetings, keeping up...