Top Ten Prom Dresses Under $100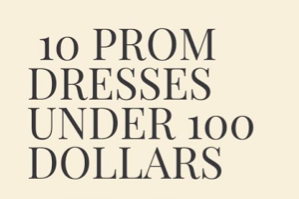 With prom officially a go, the daunting stress of finding a prom dress comes hand in hand. Not only is finding a dress you love a struggle, but finding a price tag that will leave you guilt-free is a whole other worry. 
I thought I would take the liberty of finding my top ten favorite prom dresses under 100 dollars. It is actually surprising how many hidden gems some brands have in the depths of their website. I am a frequent shopper at Zara, and if you can find a way to operate their website then you have basically mastered the impossible.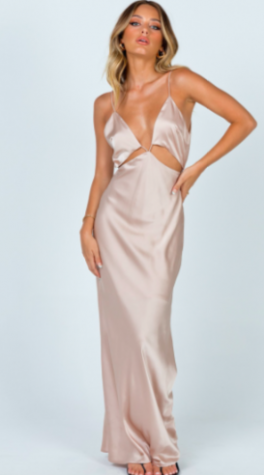 Larsa Midi Champagne $70 Princess Polly
This dress may be a little too much for some (myself included), but I think that the color of this dress really compliments the cutouts and shape. It's formal but still fresh and very trendy. I like that the cutouts are connected and not like a wrap around the number. I am a little on edge when I wear tops that wrap and tie in the back. But definitely, for 70 dollars, this is a good find. Princess Polly always has good quality material which is an added bonus to the double-digit price tag. 
Beau Midi Dress Baby Blue $65.00 Princess Polly
I am lovingggg this dress. It bods well with the trendy and popular satin/ silk trend, yet still has an accent with the front tie. Blue is always a favorite color of mine to wear because I feel like it always makes me look so tan. I love how this satin dress is still flattering and fitting. This is definitely a show stopper, and for the given price, I mean, why not?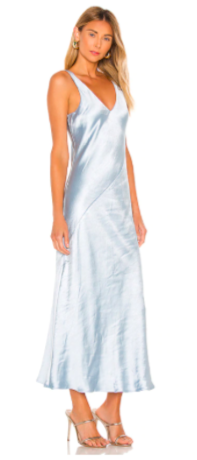 X Revolve Loulou Satin Dress $92 Line & Dot
This dress would make anyone look like a goddess. I am loving the subtle pleats and the fit of the fabric. I also really love the bottom of the dress–it is almost flowy, but not too long to where you are tripping over yourself. Again, another blue. A classic. Anyone would stand out in this dress and truly own it. I also really like the V neck–it's not too aggressive and is more subtle so it flows well.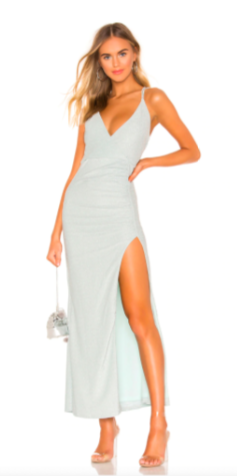 Karmin Ruched Maxi Dress $81 Superdown
This dress is definitely more mature than some of the other ones I am listing. I think that for under 100 dollars a dress like this is hard to come by. I like that the V neck doesn't just have spaghetti straps, it makes it more classy. And I feel like the leg slit and the subtle ruching go hand in hand. The length also is not too long, so you are able to wear a fun pair of heels to jazz things up. I think this color is super fun for spring and early summer.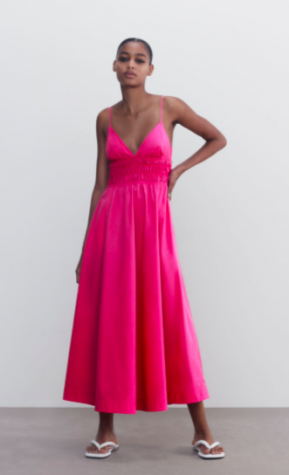 Voluminous Poplin Dress $49.90 Zara
Oh, Zara. Always a classic for me. This may not be a total formal and long dress, but I thought the color and especially the skirt part of this dress was so fun. How could I not add it. I may or may not have bought this dress to try on for prom and ended up keeping it because I just love it so much. The top of the dress and neckline compliment the skirt portion well, balancing it out with a more fitted versus "voluminous" skirt. There are so many occasions anyone could wear this dress, and for only $49.90, I mean how could you not?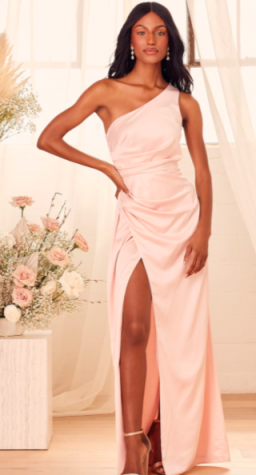 Dreaming of Elegance Blush Pink Satin One-Shoulder Maxi Dress $78 Lulus
Honestly, I always forget about Lulus and I have no idea why. There is some seriously good stuff on there. I am a big one-shoulder girl when it comes to dresses. Pretty sure like half of my school dance dresses have been a one-shoulder number. I think this color is super pretty and definitely spring-approved. The leg slit spices it up a little more which is super fun. I even really like the subtle ruching they've got going on there. It adds some texture to the dress.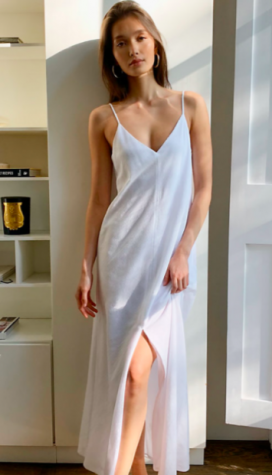 Lustria Dress $68.99 Aritzia 
Okay, I am actually really feeling this crossover slit in the middle. A lot of dresses have it on the side and I am really liking this switch up. Anything under 100 dollars at Artizia is a rare find and always notable. This dress especially definitely is super summery and cute for a late may prom. I think the V neck pairs really well with the slit in the middle. This style of dress can give off "door vibes" if you will, without any accents like this.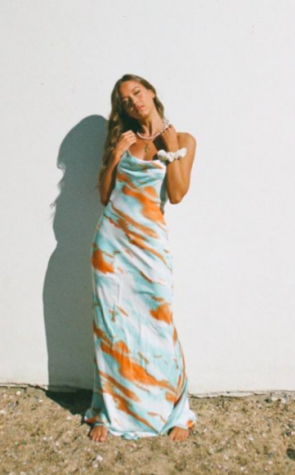 Tie Dye Slip Maxi $82.00 Sabo Skirt
To say I am obsessed with this dress would be an understatement. I am loving the tie-dye trend from this and last year and hope that it never dies. I love these colors together and the satin and basic fit of the dress make the tie-dye not tacky. I think that the style of the dress really dresses it up and especially for under 100 dollars I think this is such a steal. Hey, I may even order this dress for myself. I don't even really know why, but I would feel like such a boss walking around in this dress.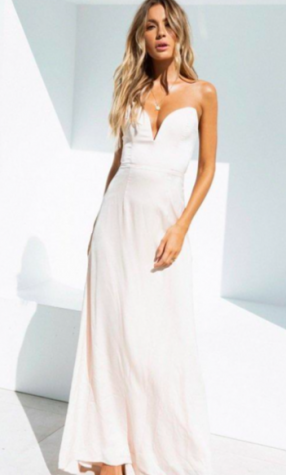 Milan Bridesmaid Dress – Blush  $122.00 (originally $244) Sabo Skirt
Is this a bridesmaid's dress? Yes. Yes, it is. But I think that is what keeps this one classy. Yes, it is also over 100 dollars, but it is on sale for 244 dollars so I think that makes it fair. I really like the silhouette of this dress. It has almost a fit and flare without being too much of a flare. I think the neckline is modern and fun but still elegant. The color is super subtle and would make anyone's tan stand out. This dress would make anyone feel snatched and like a skinny legend. 
Rouge Slip Maxi $78.00 Sabo Skirt 
I totally love this dress. As you have definitely noticed, slip dresses and satin are definitely a trend this year and a theme in this Top 10. I think it is super fun and springy, yet also still has an elegant approach. You can't see it but the back of the dress adds a lot to it, making it less basic. The neckline is also not too high or too deep. For the listed price I think this is a really good find. Anyone walking down the red carpet would slay this dress. I love a dress that will start apart from the crowd and be super memorable.