Proceed to Checkout: Broken Pearl
Upcoming online businesses by students
The endless scroll on social media during quarantine caused some students to develop sensitivity to light and others to have a sudden burst of inspiration and creativity. The burst in creativity caused some students to develop new interests and hobbies, and others to start their own businesses, especially on Instagram and Depop.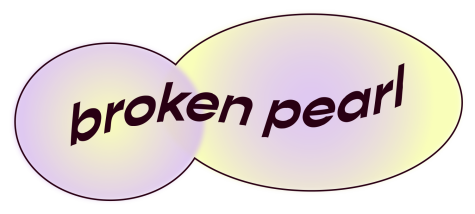 Senior Lucy Rubinstein started her own business during quarantine last year to bring in some extra money, and to offer affordable and trendy clothes to the community and beyond. 
Rubinstein began her small business endeavors on Depop and Instagram with her shop, Broken Pearl. Since the summer of 2020, Rubinstein's products have evolved and become more personalized to who she is, and what she wants her business to represent.
How did you get the idea to start an online store?
I had the idea to start an online store over quarantine. Over the summer, I started to sell my clothes from my closet on Depop. Then, I got more creative in the process as my following grew on Depop. I started doing flip thrifts – which is where you go thrift shopping and find really cool pieces, and then sew or embroider them in a unique way. I wanted to make something that is unique to me.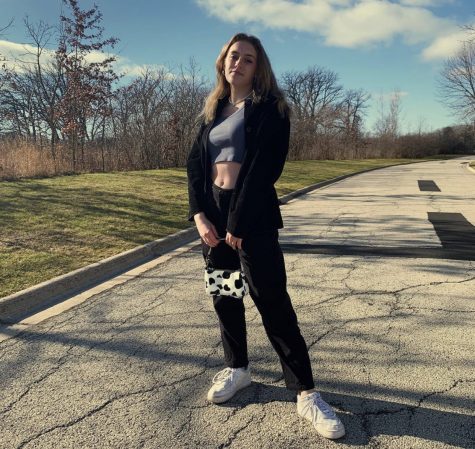 Were you planning to stay on Depop or expand into your own business?
I knew that I wanted to work for myself and begin my own brand. I knew Depop would be the best platform to start on. That being said, I originally thought that I could just sell my old clothes or do resale. But, I didn't really like just doing that because it wasn't really personal and unique to me. 
I applied for this permit through Depop which is for up-and-coming sellers and to learn from top sellers on Depop. Through them, I learned how to do photography and some behind the scene tips about how to market my products. 
From there, I learned how to sew and how to crochet. I really wanted to make pieces myself and add my own touch to everything. This made everything my own thing and more personal. 
I actually made my own website recently to expand my brand beyond just being on Instagram and Depop as well. 
Have you received a lot of outside help with your business?
I have done 100% of the research myself. I learned from Youtube videos from sewing to crocheting tutorials. I really have only received advice from the Depop sellers and Felicity from Felicity Makes Jewelry. 
What inspired you to start your store?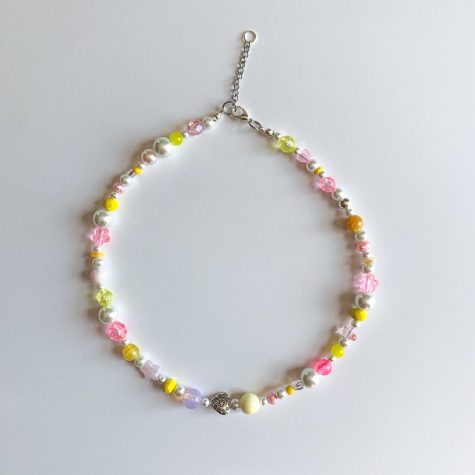 I got a lot of my inspiration from high fashion and trends right now. I wanted to take those trends and put my own unique spin on them. I wanted to make products more available in the Lake Forest area, and more affordable pieces for people around here.  A trendy necklace can go for $300, and personally, I'm not willing to spend that much money on a necklace. So, I thought to myself, why not put my own spin on it and make it more available to people around here for a much cheaper price.
Favorite piece you've made or sold?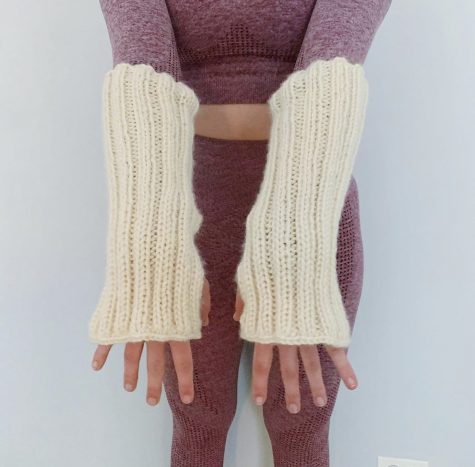 I'm obsessed with the arm warmers that I made. They're really comfy and cute. They layer very well with different pieces, and I think they are perfect for reincarnating the old trends. 
Right now, I'm starting to work with charms more and develop my own charms. My favorite piece is not listed on the website right now, but it's a little glass pig charm that I made.
Were you originally planning to only stay on Depop?
From the beginning, I knew I wanted to work for myself and start my own brand. I had a few calls with a few sellers and learned about photography and how to run your own business. Those calls inspired me to start fresh and to do my own thing, instead of reselling clothes. 
I taught myself how to sew, knit, embroider, and crochet. I really wanted to make everything I sold in my shop myself and add my own touch to everything. So, that's how I transformed it from a Depop page to make my own business. 
How have sales been?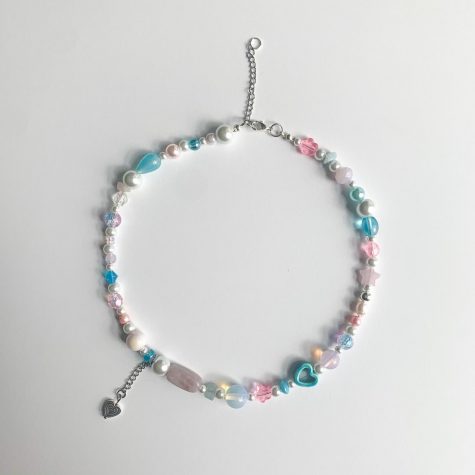 Sales have been pretty good. Depop changed its policies, so it's been harder to get noticed. But, I have been able to reach out to brand ambassadors for my business. 
I've reached out to a few girls on Instagram; one lives in the North Shore and the other lives in Houston. I know they had a strong following on social media and that they liked to work with businesses with unique products. I messaged them and said I would love to send you some of my products to help get the word out. They've all helped bring exposure to my shop in different areas. 
For the most part, though, I'm hoping that my website will bring more consistent sales and help sales take off more easily. 
Where does the name, Broken Pearl, come from?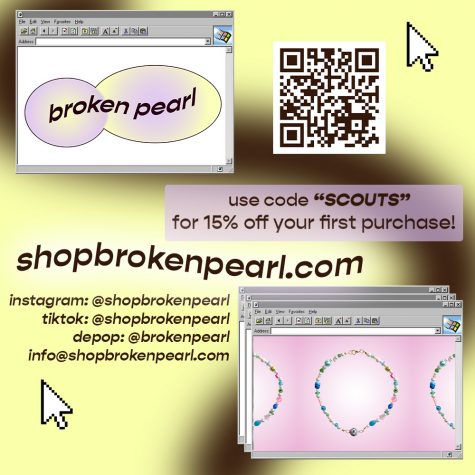 Honestly, it was super random. I was sitting in a brunch restaurant in Vernon Hills, and I wanted to make my business bigger than just being a Depop. I wanted to start taking it seriously. 
I wanted a cool name that would represent what my business was about. I chose the name Broken Pearl because I wanted it to tie back to pearl necklaces. Pearls to me represent elegance and class. But, the broken aspect adds an edgy undertone to it. It's supposed to represent that it's not a classy, delicate pearl, but it has some cracks in it. 
Rubinstein has launched her website ShopBrokenPearl.com and has a discount available to all LFHS students. Use code SCOUTS for 15% off on your next purchase.
About the Writer
Carley Walker, Editor-in-Chief
Carley Walker is a senior at Lake Forest High School. Outside of school, you can find her rowing on the Chicago River for her team Chicago Rowing Foundation...