The 2021 AP Exams Are A Double-Edged Sword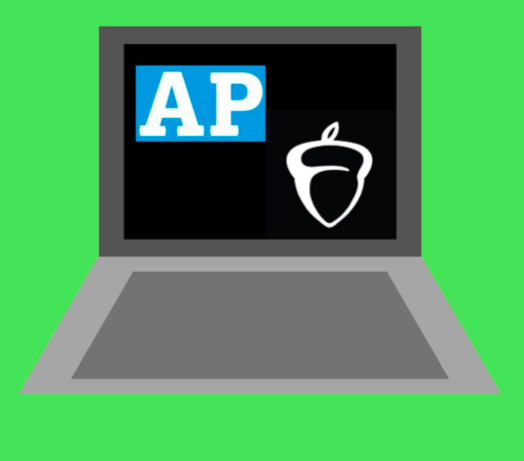 Within the academic world, COVID-19 has undoubtedly changed a lot. Classes can now be taught online, the rigidness of standardized testing scores has been somewhat alleviated, and the college application process has undergone dramatic change. 
Among all facets of academia, however, college readiness tests and programs have arguably changed the most; and for these, the College Board is largely responsible.
The College Board is no stranger to Lake Forest High School. This year, 698 students are registered to take AP exams.
Last year, the College Board adapted to pandemic conditions by administering 45 minute, at-home AP exams with a limited range of covered content. These exams were accompanied by a designated time window to upload images, a PDF, or copy-paste of your work. For some students, such as those in AP World History and AP European History, an entire year of knowledge was assessed by a single essay prompt.
Like many other students, we believed this change to be appropriate, despite how frustrating it was at the time. Last year, we didn't want to risk our health or that of our friends and families for the sake of taking an AP exam, and the College Board recognized and accommodated for the obvious gaps in curriculum coverage students and teachers experienced.  
"
As a student, it's frustrating to see an education organization with this much influence in the college readiness process ignore the obvious and overt struggle of thousands of students across the country. "
This year, however, the College Board took a different approach: most exams will be full length and cover a year-long curriculum. In short, we are disappointed with this decision. 
The COVID-19 pandemic has changed practically every aspect of our academic lives this past year, and yet, AP exams will be written and administered with relative similarity to that of pre-COVID times. As a student, it's frustrating to see an education organization with this much influence in the college readiness process ignore the obvious and overt struggle of thousands of students across the country. 
E-learning is an objectively different experience than that of being in a classroom, and we're sure any student, teacher, or administrator can attest to that.
"Laboratory investigations, discussions, and teacher-student interactions are just different in a hybrid setting," said AP Biology teacher Lena Kopecky. "I wish there was more focus on depth and not breadth during these times."     
"E-learning has affected my ability to grasp material and learn in so many ways. I can't focus as much or pay attention in any of my classes, including AP," said junior Anna Wise.
The disparities between different AP courses is relatively great, and we feel as though administering largely full-length exams is an inappropriate generalization of the impact COVID-19 has had on each unique AP class curriculum. 
"Currently, there are no changes in our AP Bio curriculum," said Kopecky. "We are lucky that AP sciences meet five days a week, so I feel that there is no impact on the time needed to teach all content in the curriculum."  
However, many instructors, such as AP Calculus teacher Rebecca Schwartz and AP Government teacher Cheryl Kyrias, do not have the advantage of meeting with students 5 days a week.
"This year, we have adjusted our order of topics and emphasis a bit but are still striving to ensure students get a full AP Calculus curriculum," said Schwartz. 
"Since we have shorter classes this year, it can be difficult to fit all of the material in," said Kyrias. The College Board remained committed to giving full-length exams this year, so AP teachers need to get creative with less time."
Students will have the option to take their exams in-person or online. They will receive a Google Form Survey after spring break where they can select an "in person paper/pencil" or "at home digital" version of the AP exam. 
Students taking the exams digitally will need to download a lockdown browser before their exams. Click here for a full list of supported devices for the exams. Smartphones are not allowed. 
Another feature of this year's at-home AP exams is the inability to revisit previously answered questions. Students, now, need to consider that there is no such thing as "I'm struggling on this question, I'll come back to it later" on the digital exams. 
Students taking the exams remotely will, unfortunately, have to sacrifice their ability to use this effective test-taking strategy. Stepping away from a question and returning to it after answering other questions regarding similar content may provide a student insight to the original problem. Even more, returning to questions that take too long to solve may aid with time management. 
While we disapprove of their decision to eliminate this freedom, we support the College Board's other efforts to minimize cheating. The digital exams have been programmed with plagiarism software, security features that prevent students from collaborating, and questions that cannot be answered from a Google search or textbook. 
We also appreciate the College Board's efforts to prepare students. AP Classroom, for example, is a great resource for students to access videos and practice questions uploaded by their teacher. 
"Sometimes the AP Classroom website is a little tough to navigate but the resources there are incredible," Schwartz said. "Videos! Progress Checks! Practice Problems! We implement AP Classroom extensively during our April Reviews."
YouTube is also a great resource. The College Board's Advanced Placement channel, as well as other independent channels such as Khan Academy and Heimler's History, review AP curriculum and offer handy study and test-taking tips. 
Review books from CliffsNotes, the Princeton Review, and Barron's Test Prep are available on Amazon for $12 to $25. They condense the AP curriculums and include practice tests. 
While we are frustrated with the College Board's decisions to keep the exams full-length and prohibit online students from toggling between questions, there's a lot that they've done right. We acknowledge their efforts to keep everyone safe and equip students with some of the necessary resources to perform well. 
We recognize the teachers as the true heroes, however. They have worked tirelessly to support students throughout the pandemic and adapt to frequent updates and changes from the College Board. 
"The people that really want the students to succeed are, more than anyone, the teachers," said junior Catherine Morris. "They've been working so hard to help students this year."