Closets with Carmel: Sydney Rubinstein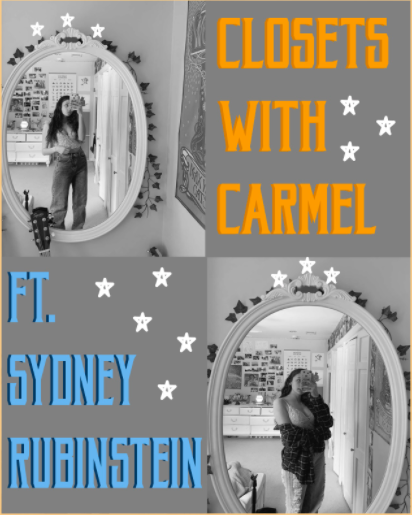 This week's Closets with Carmel features sophomore Sydney Rubinstein. With the help of her sister's closet and inspiration from Stevie Nicks and Emma Chamberlain, Rubinstein has nailed a funky and experimental style that is unique to her.
What is the oldest item in your closet? The newest?
"The oldest item that I have Yale crewneck sweatshirt that was my dad's from college, which I like to style with a collared shirt underneath. My newest item that I have in my closet is a pair of fishnet tights, which I can't wait to style."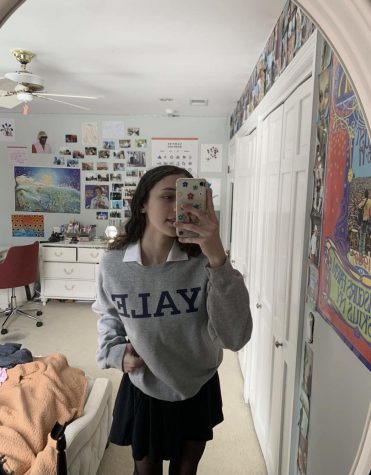 What is an item you splurged on? 
"Something that I splurged on is my GOLD le FLEUR oversized black sweatshirt. I love Tyler, The Creator, and his clothing brand, and I had been wanting that specific piece for a while. I'm always looking for unique clothes to add to my wardrobe, and I liked how simple and odd it was."
What is the most affordable item (that you use a lot)?
"A majority of my closet is pretty affordable because I  tend to get most of my clothes from thrift shops and second-hand stores. The piece that I wear the most is an oversized black and white flannel, that I probably wear three or four times a week. I like to avoid winter coats when I can, so I use flannels or jean jackets instead."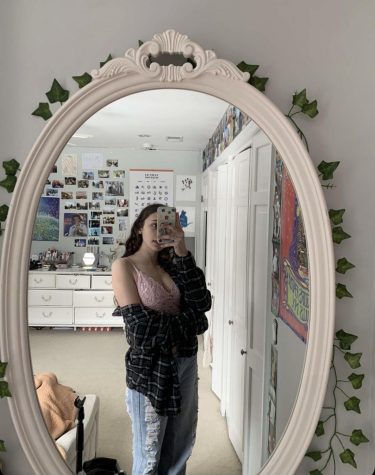 What are your top 3 items right now?
"My top three items right now are the mesh tights that I just recently got, which I'm looking forward to pairing with a skirt or under really ripped jeans. My second favorite piece is a pair of high-waisted baggy jeans that I actually found at a thrift store. I wear them all the time, usually with a crop top. My third favorite piece that I have is my oversized orange flannel which I got for a birthday gift. It is super cozy and thick so I can wear it out in cold weather."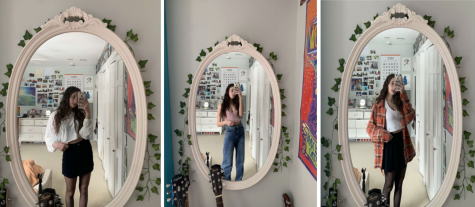 What is your favorite piece that you've gotten as a gift?
"My favorite piece that I got for a gift is from my sister's jewelry brand called Broken Pearl. She made me this super cool pearl/charm necklace, which I wear all the time."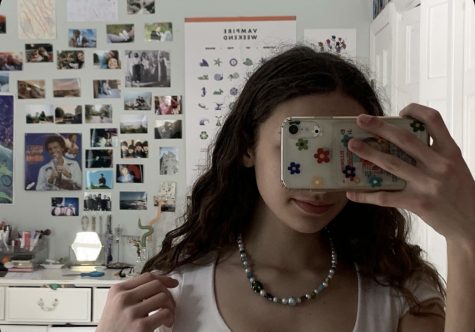 What is your most comfortable item?
"The most comfortable item that I have is my Pink Floyd t-shirt. It was also given to me by my sister  (like a majority of my closet), and I wear it with a lot of things, but usually either to bed or with light-washed jeans."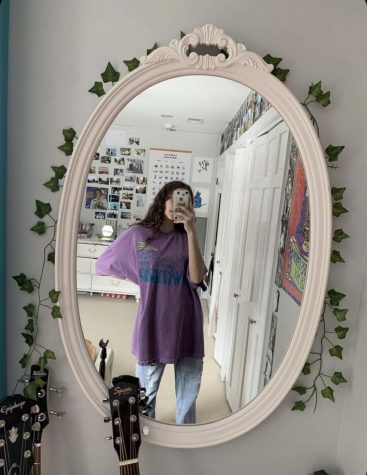 What is the most unique item in your closet?
"The most unique item in my closet is probably a pair of flowy pants. My friend gave them to me, and I love them so so much. They're something you would see in the '7os at Woodstock. Since they're super flowy and big, I like to wear them with a simple white tube top or halter top."
What are your favorite brands?
"Since I get a lot of my clothes from thrift stores and second-hand stores, I don't have super specific brands that I love. However, I do love Urban Outfitters and Free People, and when thrifting Goodwill is definitely my go-to."
Who are you inspired by most? 
"My sister has great taste, so I usually take a bit of a grungier spin on her style. And when it comes to jewelry, I get a lot of inspiration from my friend Felicity, who has a jewelry brand called Felicity Makes Jewelry. Celebrity-wise, I really like Emma Chamberlain's style, as well as Sophia Lillis, and Joan Jett, Stevie Nicks, and Grimes." 
See you after spring break where another stylish Scout will be featured!